Traveling to cheer for sports tournaments often brings us opportunities to discover new hiking trails. This June, we shared our summer hiking experience in Marin County. In early September, we had another great experience exploring Ellwood Mesa Coastal Trails during a tournament hosted in Santa Barbara County. This trail system is an integral part of Ellwood Devereux Open Space, a 652 acre multi-agency regional open space, including a Monarch Butterfly Grove and several public reserves. We also enjoyed lunch at a landmark restaurant and learned about local history. To my family, hiking is like learning in an outdoor classroom that intrigues our minds to ask questions and seek answers. In this travelog, you will find out how we discovered Ellwood Mesa Coastal Trails and what we learned on the journey and beyond. 
A Taste of Local History
After driving for 4 hours from the Bay Area, we reached the city of Goleta at Ellwood Mesa Coast. Our first stop was Timbers Roadhouse, a restaurant located just a few minutes off the highway 101. Its timber structure and taxidermy mounts looked so interesting that we asked the waiter about its history. This house was built in the 1950's using the pine timbers dismantled from Ellwood Pier, which was damaged by a Japanese submarine in 1942, the only attack on the American mainland during World War II. Knowing about this history made our dining experience very special and memorable.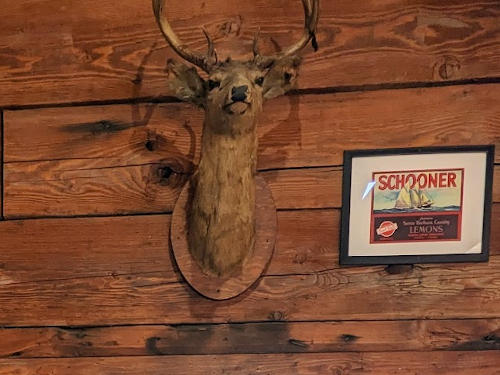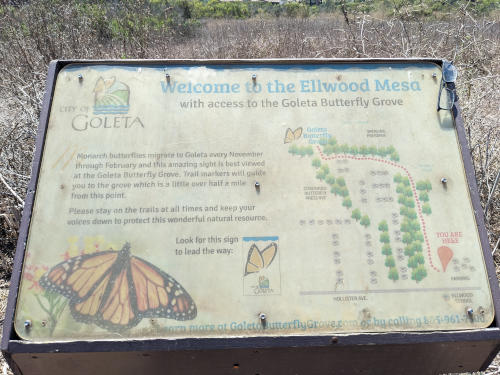 Monarch Butterfly Grove
After lunch, we checked on the tournament schedule and estimated we had 2 hours to spare before the first game. Quickly, we looked at the map to locate the closest hiking trail. It turned out that Goleta Monarch Butterfly Grove is right across the street from Timbers Roadhouse. In the past, we visited several Monarch butterfly groves and learned that September is too early in the season to spot Monarch butterflies, but walking around the Eucalyptus trees is always pleasant.
As we walked in the grove, we noticed some areas were blocked. A ranger told us it's for tree maintenance. According to the city of Goleta's website, many Eucalyptus trees are dead or dying, so the risk of falling trees is high in the grove. Since 2019, the city of Goleta has been implementing the Monarch Butterfly Habitat Management Plan to improve the Ellwood Mesa Eucalyptus forest for the benefit of Monarch butterflies, other wildlife, and public use. 
On the California coast, there are four major locations where Monarch butterflies congregate annually for overwintering, typically from November to February.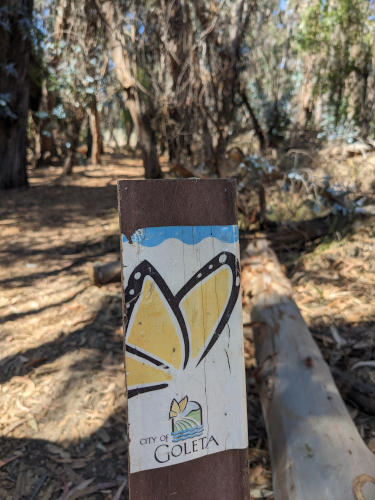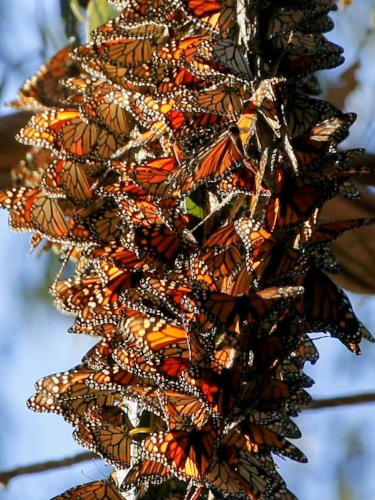 This photo of Monarch butterflies hanging around Eucalyptus trees was taken during our Pismo beach trip last November. What a magnificent sight! 
Ellwood Mesa Beach
Following the beach access signage, we walked a half mile from Goleta Butterfly Grove to Bluff Overlook Trail, and climbed down a dirt path between two canyons to step on the beach. Along the way, we saw beautiful plants and geological formations. Surprisingly, very few people were on the beach. We did spot some birds, but not as many as expected. Then, we remembered what a team parent shared about his coastal hiking experience in Santa Barbara, warning us to watch out for "tar balls" on the beaches due to oil spills offshore.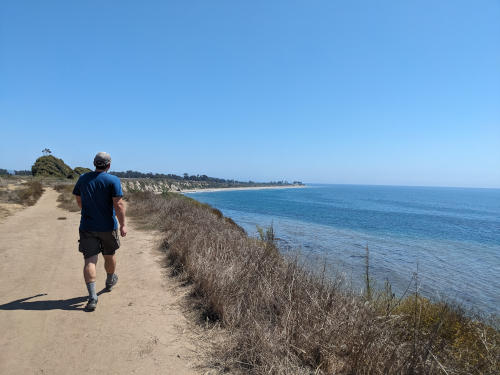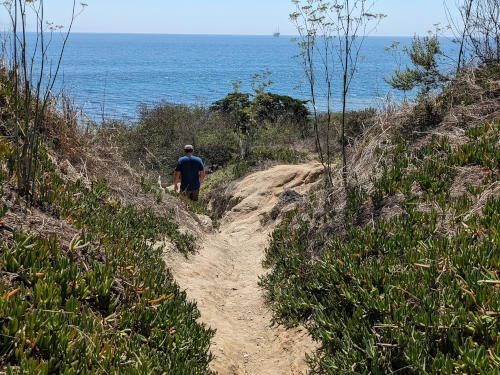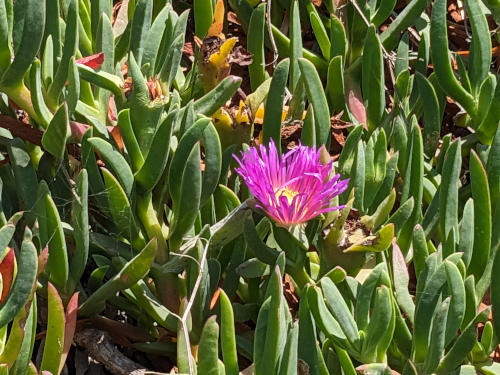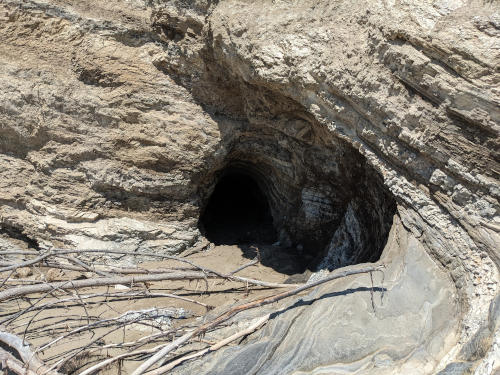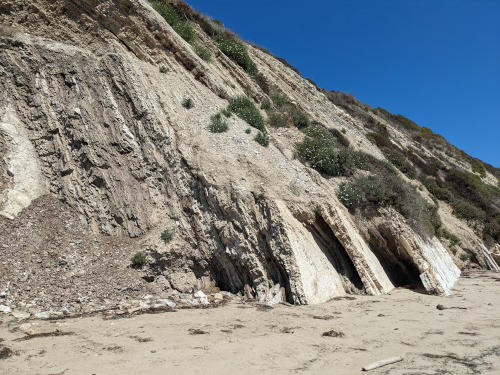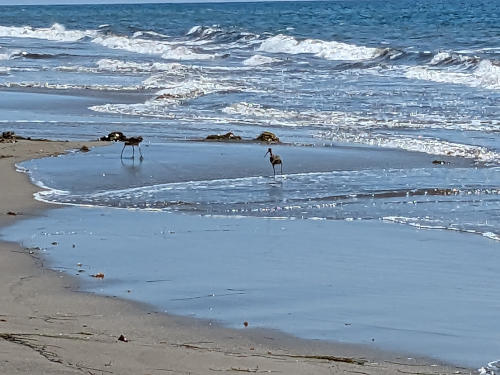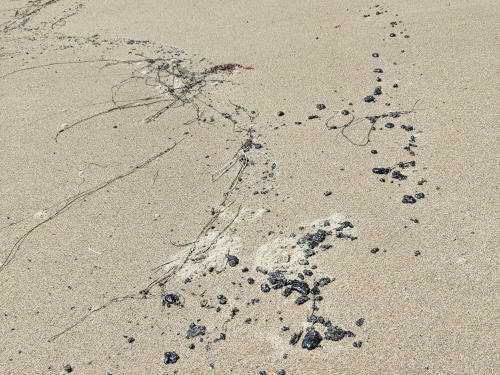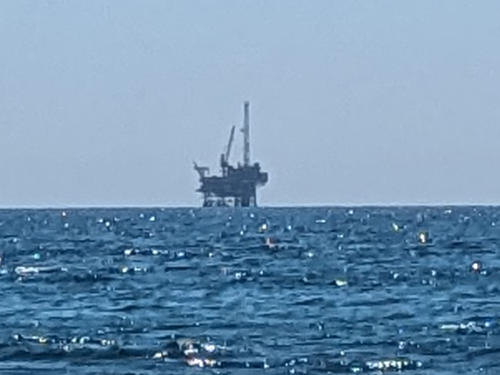 Looking closely at the sand, we saw pea-sized tar balls scattered around. In the distance, an oil platform stands above the ocean. 
After our hike, we searched online to learn more about Ellwood Mesa. So glad to read about the community's effort in preservation and restoration.
I hope you enjoyed reading this travelog and learned something meaningful! If you would like to share your own stories in nature, please email info@walkbikecupertino.org. Looking forward to hearing your outdoor classroom experiences!