Our Mission
Walk-Bike Cupertino identifies and supports safe and easy bicycling and walking routes for our community. We communicate to Cupertino City Leaders specific upgrades to the city's pedestrian and bicycle amenities and plans. We promote safer and easier ways for citizens to actively move within and through our neighborhoods.
On behalf of Walk-Bike Cupertino, Larry Dean, a founding board member, and Seema Lindskog, Board Chair, received the Star Award "Non-Profit of the Year 2021" at the Cupertino Chamber of Commerce celebration event on August 26 2021. Read more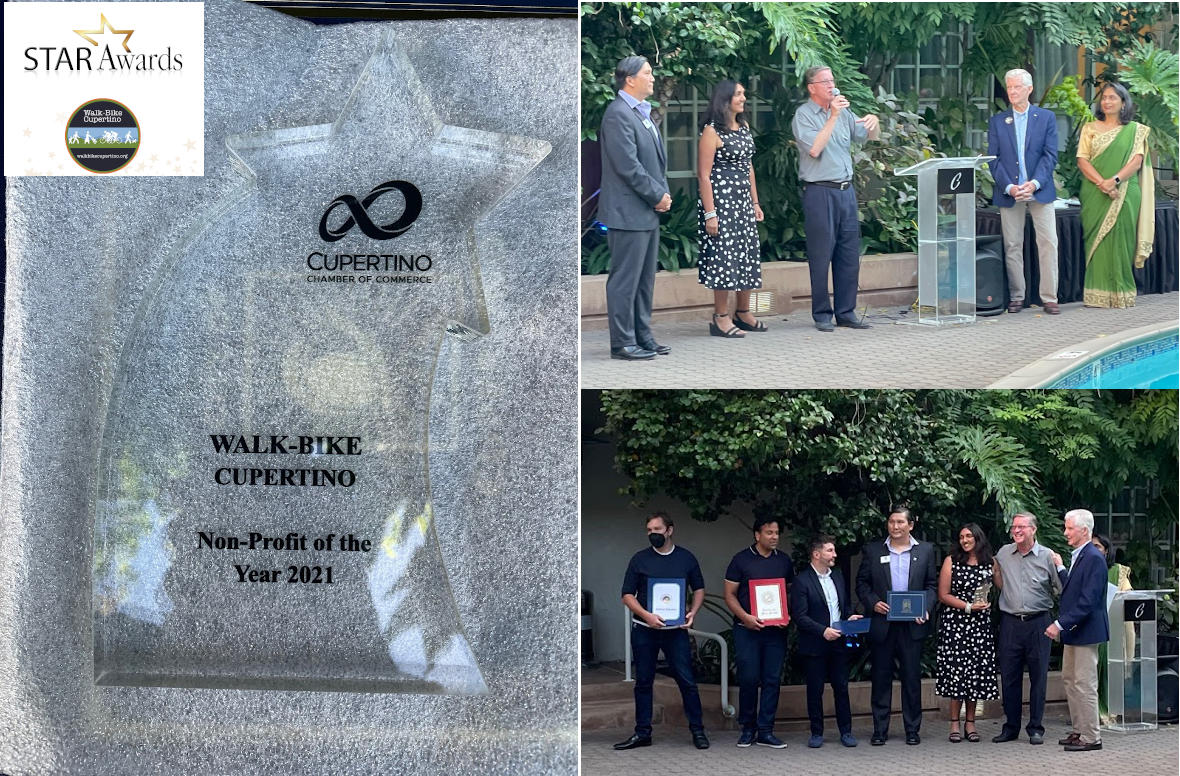 Click Here to Get Involved
Joining Walk-Bike Cupertino is a great way to get involved in our biking and walking community. Here is how:
Safe Routes to School:  Meet with FUHSD and CUSD parents to determine safe bike & pedestrian routes to your local school.
Education:  Learn the best ways for you and your children to stay safe while biking or walking. Add your training safety tips and videos to our website to educate cyclists, pedestrians, and motorists.
Projects: Help identify bike/pedestrian projects that you'd like the city to build.
Advice: Let your voice be heard at the Cupertino Bike Commission meetings. Attend City Council meetings when your projects are under budget consideration.
Fun Events: Participate with us at Earth Day, Bike to Work Day, Cupertino Fall Bike Fest, and other city celebrations to promote Walk-Bike Membership.
2019 Goals:
Encourage and support the city to aggressively execute the 2018 Pedestrian Plan and the 2016 Bike Plan for the:
— Bike Boulevard Network;
— Monta Vista to Cupertino High protected bikeway, including the Regnart Creek Trail;
— Development of the Junipero Serra Trail;
— Stevens Creek Boulevard protected bikeway from Tantau to DeAnza Blvd;
— The Carmen/Stevens Creek Boulevard bike/ped bridge;
— Developing a bike/ped trail along the Union Pacific rail line;
Encourage citizens to identify new improvements and enhancements to the city's bike and pedestrian infrastructure;
Participate actively in local events where walking and biking are the focus;
Improve the WalkBikeCupertino.org website's role as a key source of information about all things walking and biking related in Cupertino, CUSD and FUHSD;
Partner with key community organizations (CUSD, FUHSD, DeAnza College, Apple Computer, the Y, Chamber of Commerce, Rotary, Western Wheelers and ACTC) to develop programs and features that promotes greater and safer biking and walking in the community.
Create easy to use digital bike and walking maps for Cupertino and the surrounding area.
History
Walk-Bike Cupertino was founded in 2014 by Larry Dean and a small group of volunteers with the simple idea of making Cupertino a better place to walk and bike. Larry is a long-time Cupertino resident and an active community leader (Past President and Board member of the Rotary Club of Cupertino,  Board member of Trustees and Past Chair of Cupertino Educational Endowment Foundation, and Past Board member and Chair of Northwest YMCA).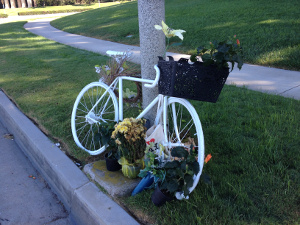 Since the beginning of 2014, Larry has been researching, developing and acting on how to make walking and biking safer in our community. After many meetings with the city leadership from elected, to the City Manager, to the Public Works Department, he organized a bicycle/pedestrian advocacy group in Cupertino. In June 2014,  67 members joined the group. Many more members joined the effort since a 15-year-old Monta Visa High School student was killed in an accident on McClelland Road in October 2014. Today the group has an Advisory Board of 10 members and its membership risen to over 2000 community individuals all working in support of its mission.
Walk-Bike Cupertino Goals: Encourage elected City Officials and Staff to highly prioritize and fund physical improvements in the city to improve ease and safety for pedestrians and cyclists.
Increase the amount of pedestrian and bicycle use in the city;
Help mitigate congestion near CUSD and FUHSD school sites;
Improve the health of its citizens and families;
Make it easier, safer and more pleasant to travel within neighborhoods
Reduce the number of automobile trips by its citizen to/from schools, shopping and community amenities.
Walk-Bike Cupertino was created in June 2014 with 67 members. At the time, the City of Cupertino had not funded any material amounts for bicycle and pedestrian infrastructure during the prior 4 years.  WBC advocated and radically improved Bike/Ped City budgeting:
$0 budgeted 2011- 2014
$250K budgeted 2014-15
$430K additional in February 15.
$800K budgeted for fiscal 2015-16 and
$2M budgeted for fiscal 2016-17
Walk-Bike Cupertino: 
Strongly supported and contributed to Cupertino's first formal strategic Bike/Ped Plan
Promoted/facilitated a 2016-17  bike/ped safety training program for CUSD Middle and elementary students;
Published a dozen informational newsletters to members since July 2014;
Promoted:

The new signage and "sharrows" on McLelland Road from MVHS to Foothill;
The green bike lanes on Stevens Creek Boulevard from DeAnza to Foothill;
The project with DeAnza College to open up bike entrance on McClelland Road;
Collaboration with Cupertino Rotary to fund a bike repair station at DeAnza College;

Improved green bike lanes and intersection at Stelling/McClellan Road;
Supported numerous community bike events –  "Bike on Main", CEEF Run for Students, Silicon Valley "Bike to work Day"