Our Mission
Walk-Bike Cupertino identifies and supports safe and easy bicycling and walking routes for our community. We communicate to Cupertino City Leaders specific upgrades to the city's pedestrian and bicycle amenities and plans. We promote safer and easier ways for citizens to actively move within and through our neighborhoods.
On behalf of Walk-Bike Cupertino, Larry Dean, a founding board member, and Seema Lindskog, Board Chair, received the Star Award "Non-Profit of the Year 2021" at the Cupertino Chamber of Commerce celebration event on August 26 2021. Read more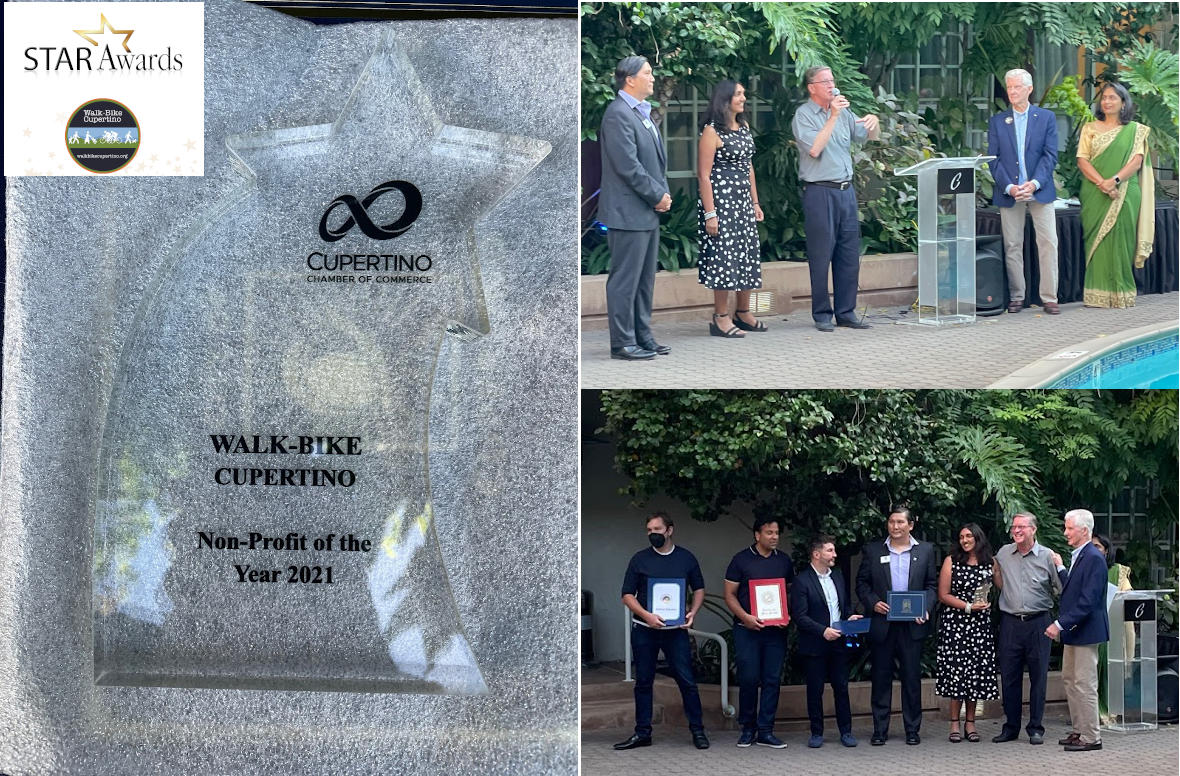 Click Here to Get Involved
Joining Walk-Bike Cupertino is a great way to get involved in the local biking and walking community. Here's how you can make a difference and have fun, too.
Safe Routes to School:  Be a part of the Cupertino Safe Routes to School Working Group, and work on safe bike & pedestrian routes to your local school and encouragement events.

Education:  Learn the best ways for you and your children to stay safe while biking or walking. Write articles for our newsletter or add your tips and videos to our website to educate cyclists, pedestrians, and motorists.

Projects: Help identify bike/pedestrian projects that you'd like the city to build, or safety issues and areas that need the most attention now.

A hiking or biking group: We'd love to work with you to set up a group that meets for regular rides, walks, or hikes. 

Advice: Let your voice be heard at the Cupertino Bike Commission meetings. Attend City Council meetings when your projects are under budget consideration.

Fun Events: Participate with us at Earth Day, Bike to Work Day, the Cupertino Bike Fest, and other city celebrations to encourage walking and cycling.
History
Walk-Bike Cupertino was founded in 2014 by Larry Dean and a small group of volunteers with the simple idea of making Cupertino a better place to walk and bike.
Since the beginning of 2014, Larry has been researching, developing and acting on how to make walking and biking safer in our community. At the time, the City of Cupertino had not funded any material amounts for bicycle and pedestrian infrastructure during the prior four years.
After many meetings with the city leadership from elected, to the City Manager, to the Public Works Department, he organized a bicycle/pedestrian advocacy group in Cupertino and quickly signed up 67 members.
Then a tragedy happened, and bicycle safety was brought more into the spotlight. In October 2014, a 15-year-old Monta Visa High School student was killed in an accident on McClellan Road. Several hundred more residents joined WBC after this terrible accident to try to stop it from ever happening again.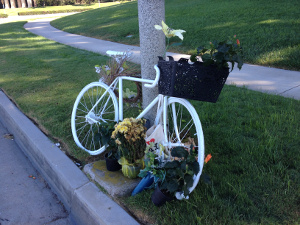 Today
Today, Walk-Bike Cupertino:
has an Advisory Board of 15 members plus three Youth Advisory Board members and its membership risen to over 2500 community individuals all working in support of its mission.
has dramatically improved the budgeting for city bicycle and pedestrian projects, with approximately $35M spent on this work (most from state and local grant funding).
publishes monthly newsletters to over 2500 WBC members, local leaders and city staff.
has successfully advocated for protected bike lanes on McClellan, the Regnart Trail, the Linda Vista Trail, protected lanes on Stevens Creek Boulevard (in progress), the Tamian Innu (I-280 trail, in progress), the Stevens Creek Trail in Sunnyvale and many other smaller projects throughout the City of Cupertino and beyond.
has added bike repair stations at all local middle schools, high schools, and at DeAnza College
continues to be Leads and volunteers for Cupertino's Fall Bike Fest and Earth Day Festivals each year.
has donated hundreds of helmets and provided thousands of helmet checks to local residents in our community.
continues to provide an easy method for community members to share their concerns with staff and community leaders about biking and walking locally.
has been an integral stakeholder in creating the Local Road Safety Plan for Cupertino and has been an active member of Cupertino Safe Routes to School since its inception.