WBC has discussed many times that "Class III Bike Infrastructure"–those with painted symbols and a sign–are not as safe for cyclists than separated bike lanes and trails. (See my posts  here from 2019 and here from 2020).
Now, a new 13-year study by the University of Colorado Denver and the University of New Mexico brings new data that separated bike lanes or trails significantly reduce fatalities and injuries, painted bike lanes have no effect, and painting the bike symbol in a shared lane decreases safety.
They show that where bike symbols are painted in the middle of lane that it was actually safer to have no bike markings at all.
The study was focused on whether physically separated bike lanes improve safety. The data showed they clearly do. After analyzing traffic crash data over a 13-year period with various biking architecture, it was found that having a protected bike facility results in 44 percent fewer deaths and 50 percent fewer serous injuries.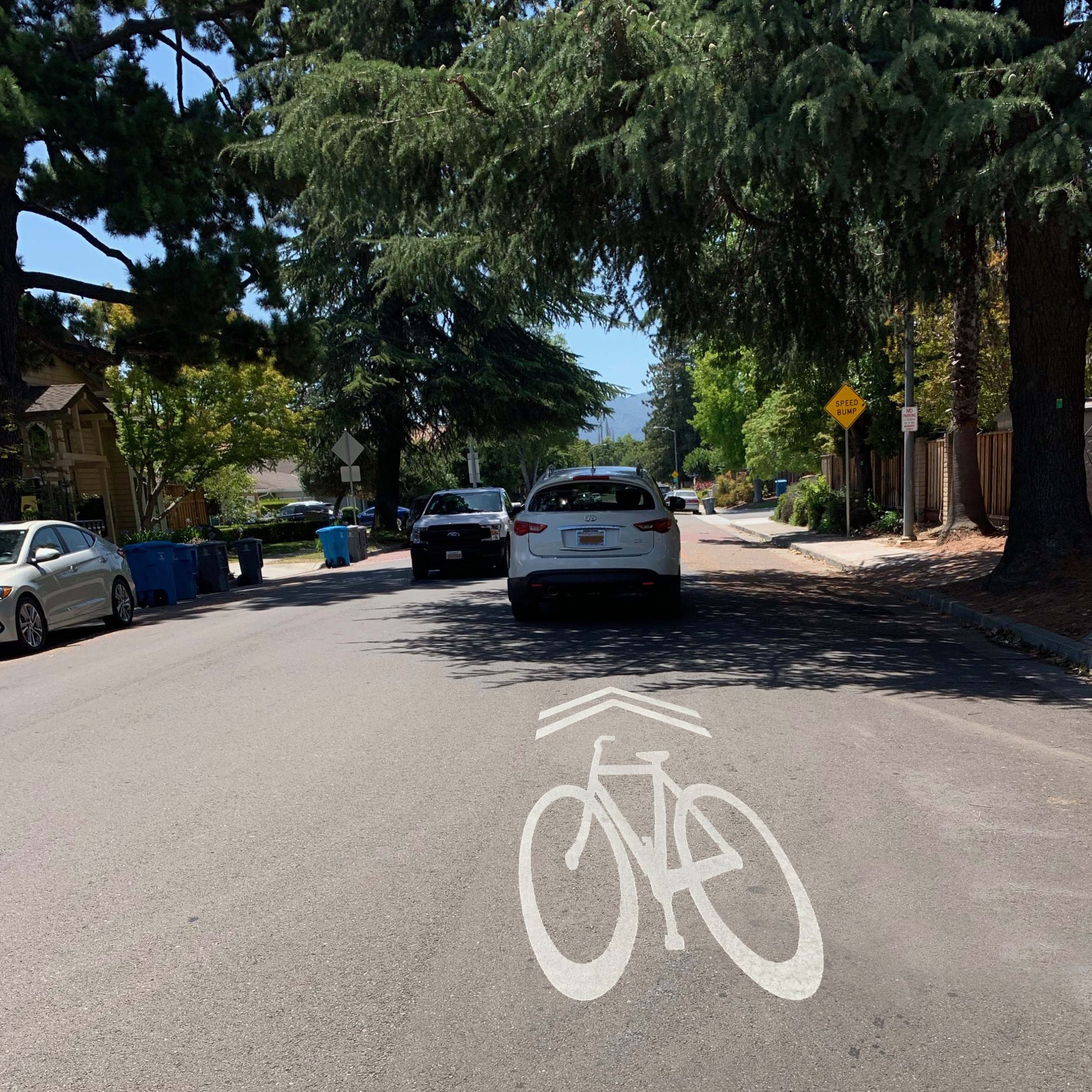 An example of a "sharrow", or painted bike markings in Cupertino. This one is just south of Lawson Middle School, where students on their way to school share the road each day with cars.
To reduce fatalities and injuries, we need to encourage our Councilmembers to look at the data and see that protected bike lanes and trails are what the city should spend its money on. This isn't necessarily what is happening today.
In Cupertino, some City Councilmembers are strong advocates for Bike Boulevards (painted bicycle symbols and signs) instead of trails, paths, or separated bike lanes. Councilmember Liang Chao has on many occasions repeatedly stressed that the city should focus on on-street Bike Boulevards and discontinue work on off-street multi-use walking and biking paths At the July 2019 City Council meeting, she stated, "This [Bike Boulevards] is what we should be focusing on…this should be the priority of the city."  (Video is here, time stamp 7:17:15.)
As they make the spending decisions, it's important that our Councilmembers are aware of data that shows which infrastructure is best for safety. As residents, we can be that avenue for sharing this information.
Cities with high cycling rates had fewer traffic crashes, as noted in a 2017 study.  But it turned out this wasn't because of the high number of cyclists changing driver behaviors, such as encouraging them to slow down. Instead, they found that biking infrastructure, especially those that physically divided cyclists from cars, such as "Class IV" lanes and bike paths, significantly lowered accidents and fatalities. Painted bike lanes showed no improvement, and roads with the bike symbol and arrows were even less safe than unpainted roads.
One other positive note: all the cities that were studied that had added new protected biking infrastructure saw increases in biking in those locations.
Adding separated bike lanes not only decreases injuries and deaths in current bike riders, but also encourages more cycling–a further traffic and sustainability bonus for cities.
WBC will continue advocating for the best and safest ways for community members to get to destinations and enjoy recreation in active ways. Thank you for being a part of that effort!
The information expressed in this post are solely the opinions of the author and Walk-Bike Cupertino, and do not reflect the opinions of any other organization, including the City of Cupertino or its commissions. More information on the study can be found here.