Your input is needed! Have you had an accident or near miss? Do you know of an area where cars make it dangerous to walk or bike? You can make a difference in whether Cupertino addresses these issues, through the public input on the Local Road Safety Plan that the City of Cupertino is creating.
UPDATE: Input is needed before the end of April 2022.
Why does the city need my input?
Cupertino has access to the collision data (see pictures at the bottom of this article) from the Santa Clara County Sheriff, but that data does not include a lot of valuable information, such as collisions that weren't reported, near miss collisions, places where pedestrians feel unsafe walking or crossing, and locations that cyclists may avoid due to the potential for injury. They need that data from residents and people who pass through the city to make a sound plan.
Reporting is as easy as clicking on the link box on this page and then reporting the area where you've seen a problem.
Why does Cupertino need a LRSP?
Cupertino needs an LSRP for two reasons:
1. It can help focus where to spend our staff time and city funds on improvements;
2. It is required to receive many municipal grants that the city applies for that cover the cost of projects without spending city tax dollars. Recent grants have been millions of dollars that covered fully or partially the bike lanes on McClellan, the Regnart Creek Trail (trail only), and the design for the I-280 Junipero Serra Trail.
What are examples of what I can report?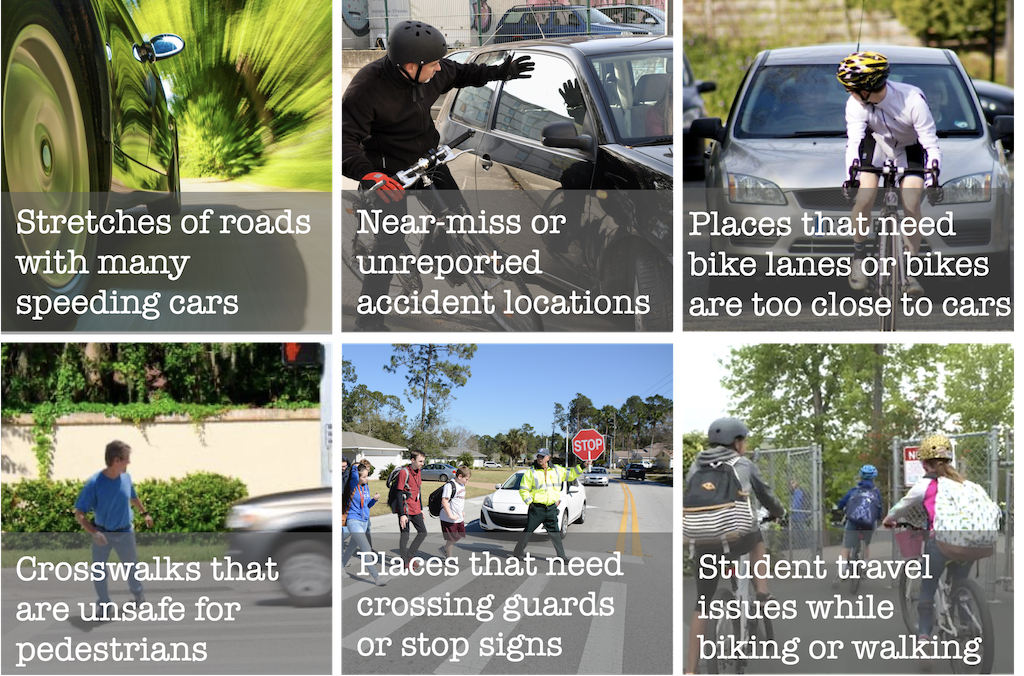 Areas which have already been identified based on collision data
Below are two maps showing the high-risk interections and corridors that the city has already identified. It doesn't mean that you can't still report an area, however; it can move it up the rankings, which can make changes more likely to get time and funding. (Click on the maps for a larger view.)
We at Walk-Bike Cupertino have seen firsthand how public input can dramatically affect the priorities and spending in our municipality. (See here to learn about all the city projects we've advocated for.) Your input makes the difference to create a city that is a safer place to walk, run, or ride!