A new trend has begun taking place: painted crosswalks. While this trend is yet to be seen everywhere, localities in California such as Los Angeles, Modesto, and many other municipalities across the country have adopted this innovative approach. They've found these crosswalks enhance the safety in their community and add to their community pride.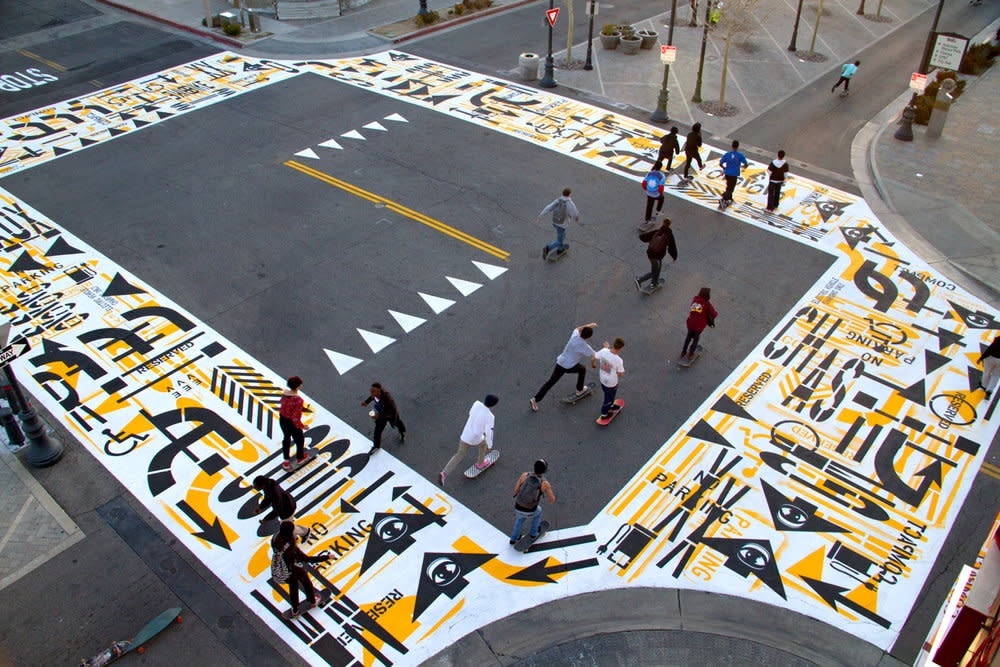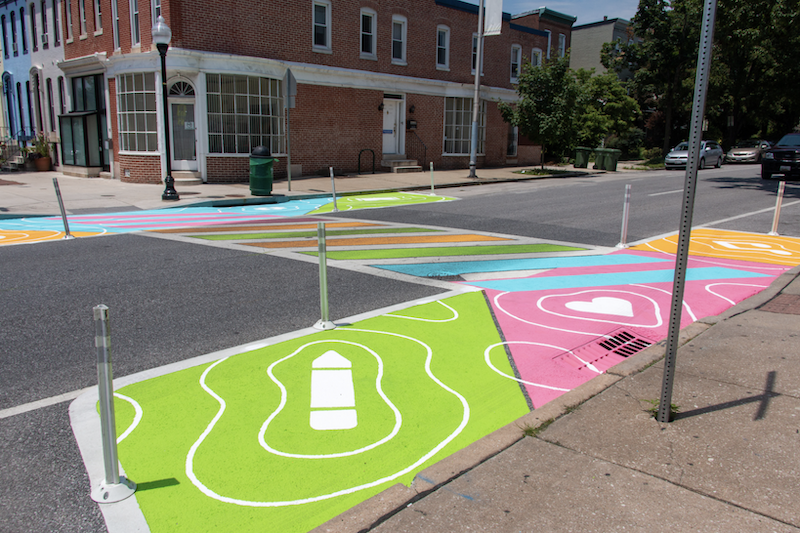 In these cities, citizens of the towns have painted all sorts of art in their crosswalks, including abstract art, art reflecting community culture, and fun images. Some paint 3-D stripes for added safety and some add specific colors to be supportive, such as the rainbow pride crosswalks now common in many cities. 
Safety of brightly painted crosswalks
According to Chris Visions, a regular citizen who took action by painting crosswalks in his hometown, data he collected shows that "the intersection became safer for pedestrians and motorists, with episodes of cars braking quickly to avoid pedestrians and other close calls reduced by eight incidents, a decline of more than 56 percent."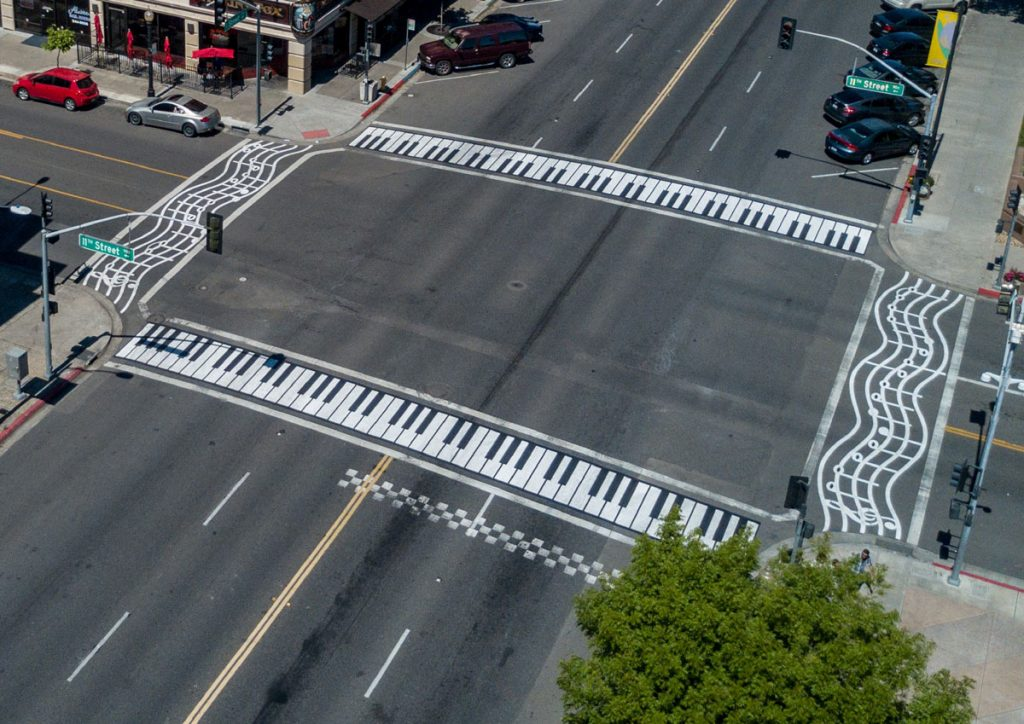 Other Benefits
There are also other benefits and aspects with this trend that are just as important.
Painting crosswalks as a large group has shown to grow a sense of community through a shared activity and working together on a project. Even if not handpainted, the designs often express a sense of the place where they are painted, whether it is a key cultural part of the locale or support for its residents.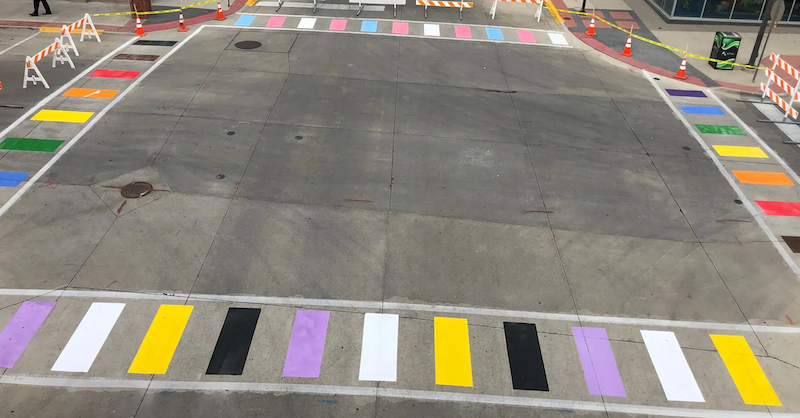 What does the safety data say?
A 2019 New York Times article talks about how the Federal Highway Administration (FHWA) called the new bright crosswalk in Ames, Iowa, a "liability" and "safety concern". [The crosswalk is pictured above.] There is, however, no data to support this.
Michael Lydon, a founder of the urban design firm Street Plans, has developed street art projects for almost a decade. He makes it clear that there is no study or data to support that these crosswalks are any less safe than conventional white ones.
"There are hundreds around the country, if not thousands around the world, and I don't know of any study that has been able to show that they are actually causing any problems," Mr. Lydon said. "In some instances," he continued, "communities can find that they're actually improving safety."
Read more here on this issue from streetsblog.org.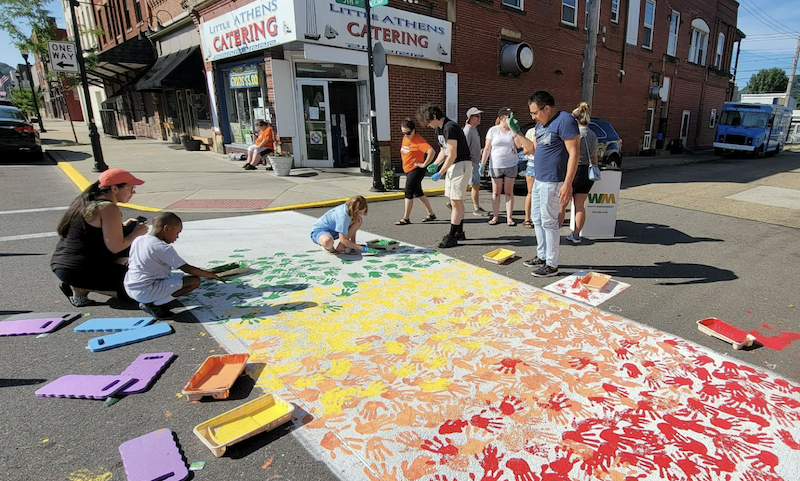 Adding street art in this way can also lift the moods of users of the intersection. Taking a look at colorful artwork can have a positive impact on sad feelings, creating positive, calm feelings. As ItalModa, a company where furniture and artwork is designed, stated "artwork fosters the feeling of relaxation, creativity, and inspiration."
Last, it can also foster a sense of agency and ability in our younger citizens. Students at Brooks Elementary School in Medford, Massachusetts led a successful campaign to get a 3-D painted crosswalk to improve safety in front of their school.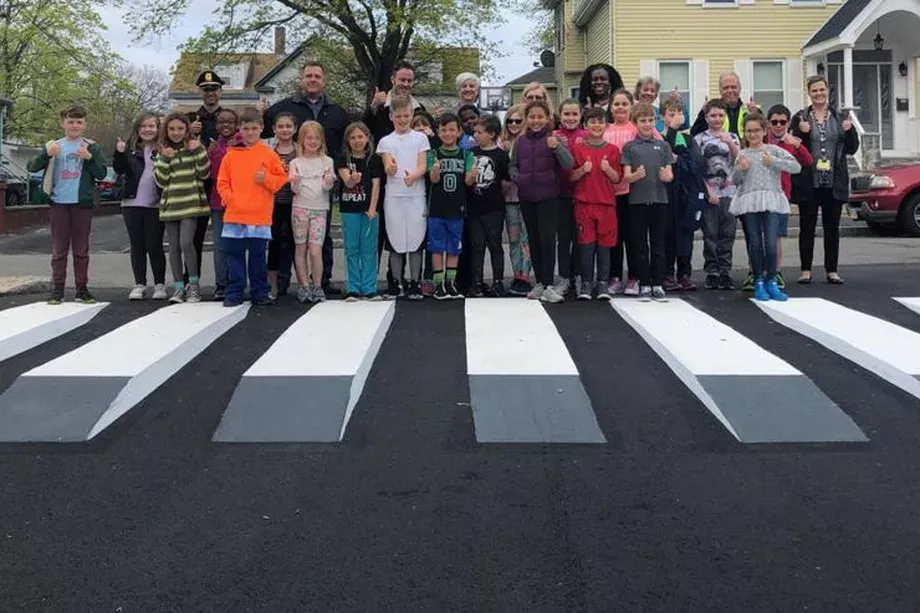 Brooks Elementary School students in Medford, MA
We have not yet had a painted crosswalk in Cupertino. The previous push for one several years ago–a rainbow crosswalk on Stevens Creek at Finch–was not approved by the previous council at the recommendation of the City Staff. Instead, a very narrow painted rainbow stripe was painted near the crosswalk.
A great place for a painted crosswalk would be the intersection of Blaney and Suisun, near Eaton Elementary School. The school crossing guard was removed starting this school year. Adding a painted crosswalk would be a great way to enhance the safety of this intersection and bring the community together in a fun activity.
There is an opportunity for our community to enjoy all the benefits of painted crosswalks here. Let's make that happen!
The information in this article is solely the opinion of the author and Walk-Bike Cupertino and does not reflect the opinions of any other organization or entity. For more information, contact WBC at info@walkbikecupertino.org.