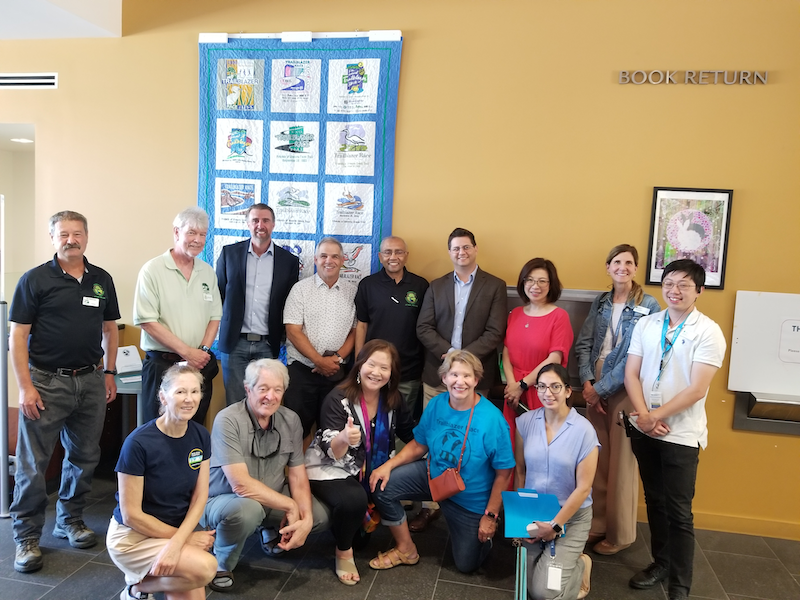 The Friends of Stevens Creek Trail are celebrating three decades of support for the great Stevens Creek Trail that is enjoyed in four different local cities. Here in Cupertino, the trail is an enjoyable mile and a half stretching from Stevens Creek Boulevard, across McClellan Road and ending at Linda Vista Park via the Linda Vista Trail. The portion farther north in Mountain View/Los Altos is 4.6 miles, and Sunnyvale has approved a plan for 2.4 more miles heading south. Currently, there is no connection between the Cupertino portion and the trail farther north.
FOSCT and the Trailblazer Ride
The Friends of Stevens Creek Trail was founded in late 1992 by Mountain View Planning Commissioner Rhona Farrar and was incorporated in the spring of 1993. Since then, the Friends has grown significantly. Each year, the FOSCT holds a Trailblazer Ride, which raises money for the trail and the organization's activities. The T-shirts from these rides were made into a special 30th Anniversary quilt which will be on display in the four cities over the coming year.
Quilt Display
The Trailblazer quilt was unveiled on June 21, 2023 at the Sunnyvale Senior Center. In attendance were Cupertino Mayor Hung Wei, Cupertino Councilmember J.R. Fruen, former Cupertino Mayor Richard Lowenthal (who donated the land for the Linda Vista trail portion of the Stevens Creek Trail), Walk-Bike Cupertino members Helene Davis and Byron Rovegno, and Sharlene Liu on behalf of Silicon Valley Bike Coalitiion. Sunnyvale Mayor Larry Klein presented FOSCT with a proclamation, congratulating the organization on their 30th anniversary and giving thanks for the Friends' "great contribution to our community." 
Throughout most of August, the quilt will be on display at the Cupertino Library.
Throughout most of August, the quilt will be on display at the Cupertino Library. In September, it will move to the Mountain View City Hall. A Cupertino proclamation will be presented in the coming months to the FOSCT by Mayor Hung Wei to celebrate their hard work over the past 30 years. 
We at Walk-Bike Cupertino applaud the long-term dedication and hard work of the Friends of Stevens Creek Trail to make this trail welcoming to residents in the Bay Area, and keep clean, beautiful, and a desirable resource for all. Congratulations!