Homestead Rd is a priority east-west county bike route that sits on the border of Cupertino and Sunnyvale. It has 3 schools, Apple, and several shopping centers along it.  In Sunnyvale's jurisdiction, the north side of Homestead Rd currently has segments that have part-time bike lanes: after 6 pm and on weekends, they turn into parking lanes, requiring cyclists to weave in and out of 40 mph car traffic to get around parked cars and giving each parked car enough berth to avoid the door zone (see photo). For the safety of cyclists, these bike lanes need to be converted to full-time bike lanes.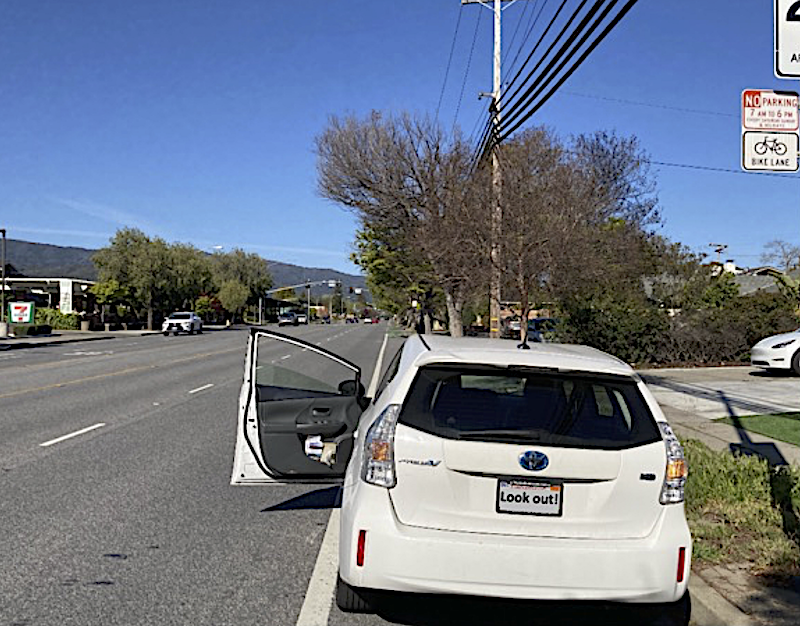 Options under consideration
The Sunnyvale City Council will be making a decision on the Homestead bike lanes on August 8, 2023. City Staff will offer 3 alternatives for Council consideration. These alternatives were the ones presented to Sunnyvale Bicycle and Pedestrian Advisory Commission on 5/18/2023.
Alternative 1: Convert all part-time bike lanes to full-time, and preserve 18% of street parking by removing or narrowing car and bike lanes.
Alternative 2: Convert all part-time bike lanes to full-time, by simply changing signage to "No Parking Anytime". This alternative will remove street parking in these segments.
Alternative 3: Do nothing, thus maintaining the current part-time bike lane situation.
Best Solution: Alternative 2
From a bicycle safety perspective, Alternative 2 is by far the best solution.  Certainly, it is better than Alternative 3, which maintains part-time bike lanes. More subtle is how it is better than Alternative 1, which also results in full-time bike lanes. There are several important reasons why Alternative 2 is better than Alternative 1.
Time to Implement
Alternative 2 takes much less time to implement, as it requires a simple change in signage. Alternative 1 in contrast will take much more time as it requires Sunnyvale to negotiate with Cupertino on lane reconfiguration and re-striping of roadways.  During the extended time needed to implement Alternative 1, the dangerous situation of part-time bike lanes persists.
Cost to Implement
Alternative 1 costs almost twice as much as Alternative 2: $270K vs $142K.
For the cost, Alternative 1 saves street parking in front of only eight homes, making Alternative 1 even less compelling.
Getting "Doored"
Alternative 1 introduces a dooring hazard in the segments with reclaimed parking. The dooring hazard does not currently exist today in these segments since there is no parking lane adjacent to the bike lane. The dooring hazard is especially problematic in the segment with narrowed lanes, as the bike lane will be in close proximity to the parked cars.
How to help
Join us at the Sunnyvale Council meeting on August 8! Contact Bike Sunnyvale here and they will give you talking points and all the information to help out.
Or, write an email to the council telling them that you want full-time bike lanes on Homestead. The council email is council@sunnyvale.ca.gov.
Future Protected Lanes
Alternative 1 precludes future buffered and protected bike lanes, bike facilities that are necessary for safety on a road where cars go 40 mph. The narrowing of travel lanes means there's no room to add a buffer. A parking lane on the inside of the bike lane means barriers can't be added for protected bike lanes. Alternative 2 does not have these limitations.
Weaving Hazard
Alternative 1 introduces a weaving hazard that doesn't exist today. At each reclaimed parking zone, drivers and cyclists have to weave away from the curb and back again. In these transition zones, drivers may encroach into the bike lane and cyclists may encroach into the car lane, especially during busy commute times.
Controversy over implementing full-time bike lanes
The controversy with full-time bike lanes is that street parking will be lost. Residents on Homestead Rd say they need street parking. However, the City's Land Use and Transportation Element policies (p. 3-26 to 3-27, LT-3.8 to LT-3.10) explicitly prioritize cycling safety over parking. Furthermore, the vast majority of street parking is not being used: only 4% of street parking spaces are occupied at night on average.  The low street parking rate is consistent with the high number of parking spaces that residents have on their properties: on average, residents have 6 parking spaces on their property (4 in their driveway, 2 in their garage). Most residents also have street parking available on side streets located 1-2 minutes walk away.
Homestead has high student bike usage
Homestead bike lanes are regularly used by school children.  Homestead High School, Cupertino Middle School, and West Valley Elementary School are located on or near Homestead Rd. For many, riding on Homestead Rd is unavoidable. With Alternative 1, school children at these schools would be subjected to the dooring hazard and the weaving hazard, both of which they didn't have before. Moreover, Homestead HS has many nighttime activities that end after 6 pm: almost all sports, Marching Band, Robotics Club, Krew Dance Club, Cheer, Equestriettes Dance Team, among others. These students have to ride home at night when the bike lanes have turned into parking lanes, which is why Alternative 3 is dangerous for them.
In addition, many Apple employees bike on Homestead Rd to get to/from work at the Apple headquarters off of Homestead Rd. The same hazards in Alternative 1 and 3 exist for them as well.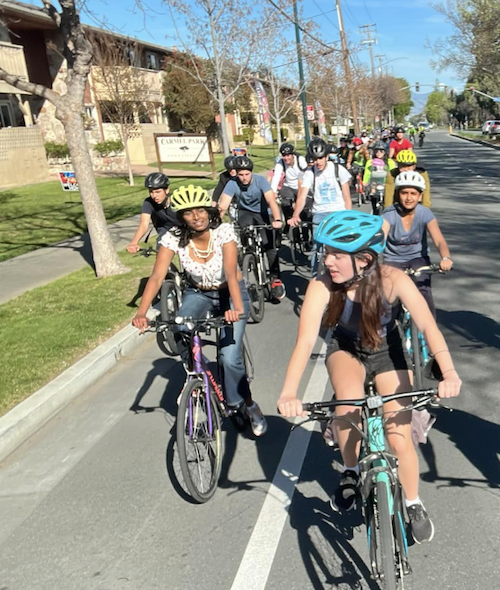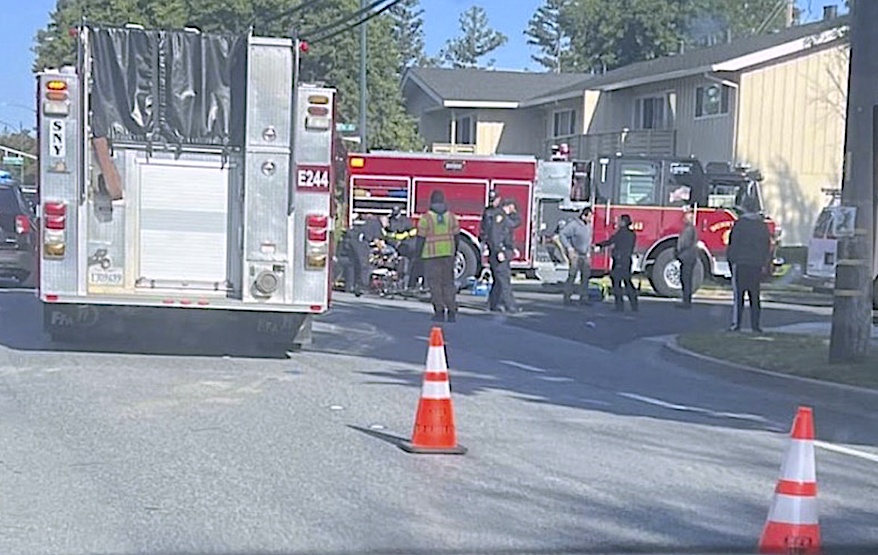 Homestead Road is Dangerous Now
Homestead Rd is a dangerous road to bike on. In 2022 and 2023 alone, there were 2 collisions involving bikes. One collision was a driver striking down a student cyclist at Homestead High School in April 2022 (see video). Another collision happened on June 2, 2023 at the intersection of Homestead Rd and Ontario Dr. (see photo). Although neither collision was due to the lack of full-time bike lanes, these collisions illustrate the dangerous conditions that cyclists are subjected to.
Now is not the time to look at how to save street parking for a few, but the time to look at how to make cycling safe for all. Speak at the upcoming Council meeting on August 8 or write an email to encourage safer, full time bike lanes for community members of all ages.
The information in this article is solely the opinion of the author and Walk-Bike Cupertino and does not reflect the opinions of any other organization or entity. For more information, contact WBC at info@walkbikecupertino.org.