Homestead Road is a key east-west transportation corridor at the far northern edge of Cupertino, connecting Los Altos in the west to San Jose in the east.
The road provides access to several large strip malls, apartment blocks, detached single family housing, Homestead High School, Cupertino Middle School, and Apple's international headquarters at Apple Park.

Despite the high value destinations on the road, it can be daunting to bike on it due to its patchwork of full-time and part-time bike lanes where cars can park between 6pm and 7am. It also suffers from significant congestion and ped/bike/vehicle conflicts around Homestead High School at pickup and dropoff times.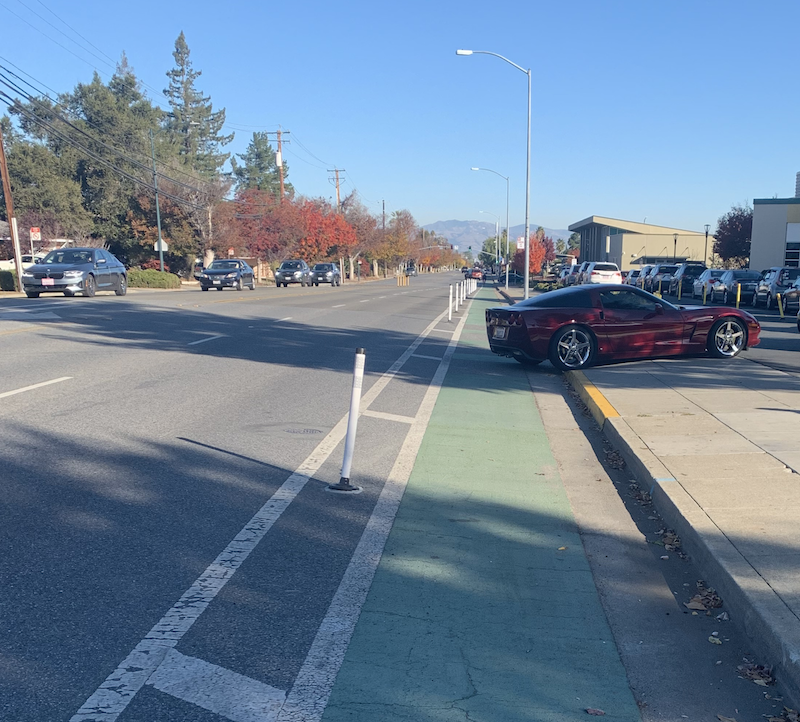 Between 2013 and 2018, there were 7 reported bicycle-involved collisions, though many collisions go unreported so there were likely many more.
One of my friends and coworkers was struck by a person driving a sedan while riding in the bike lane, destroying his bike and leaving him injured. He never commuted to work again after that incident. I bike on Homestead Rd. every weekday and it's the most dangerous part of my route by far. The bike lanes are already narrow and needing to weave into a stream of 40 mph car traffic to avoid parked cars must be done with extreme care. I go out of my way by about 15 minutes each way to avoid the most heavily-trafficked parts of Homestead.
The picture below shows which lanes on Homestead as of November 2022 are currently full-time lanes (green) and part-time (blue) bike lanes. Click on the image for a larger view.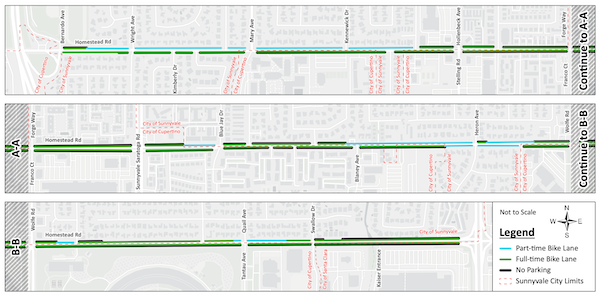 In 2017, Sunnyvale City Council had a chance to make the bike lanes full-time, but opted to table the decision and revisit the situation in 3 years. In August of this year, Sunnyvale City Staff engineer Angela Wong started the community input process again with a series of community meetings. These meetings were relatively well-attended, with residents who live along Homestead objecting to giving up the opportunity to park additional vehicles on the road.
There was also a strong contingent of bicyclists who lobbied to make the bike lanes full time. An additional community input meeting will be held in early 2023 to collect more comments from the public.
City staff will use the feedback from these community meetings to determine what is the community sentiment. They will then share this with the City Council when the issue is decided, likely in April 2023. It could be a determining factor in whether the lanes go full time or not.
If City Council decides to move forward with scoping out the project, it would be handed off to a design contractor to find out what options are available to the city.
How you can help
There will be a new community meeting to be held in early 2023. Come to that meeting to show your support for safe full-time bike lanes. We will let you know when that date is set.