"This is so cool!" is the common reaction when someone sees a Book Bike library pedaling up to an event.
Librarians around the country say Book Bikes spark joy wherever they go, with residents smiling and waving as the bike pedals by. A library on a bike is also a great way to promote mental and physical activities that are good for both body and brain.
The first documented Book Bike was started in 2008 in Chicago, by Gabriel Levinson, a literary activist who parked his Book Bike in Chicago parks to distribute free books to the community and promote a love of reading. 
Since then, Book Bikes have exploded in popularity and can now be found in over 100 cities in the US such as San Francisco, Oakland, Berkeley, Austin, Boston, Boulder, Cleveland Heights, Denver, Evanston (IL), Longmont (CO), Los Angeles, Maricopa County (AZ), Montclair (NJ), Omaha, Pima County (AZ), Rochester (MN), and Seattle.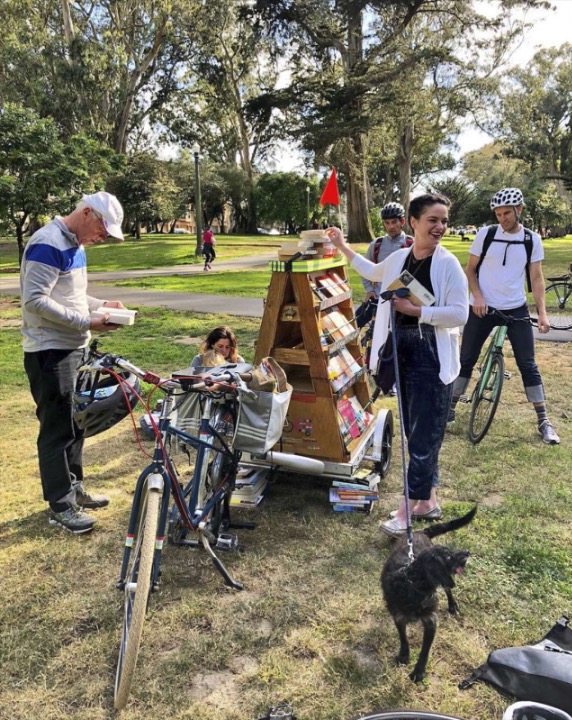 A Book Bike attracts browsers in the Golden Gate Park, San Francisco.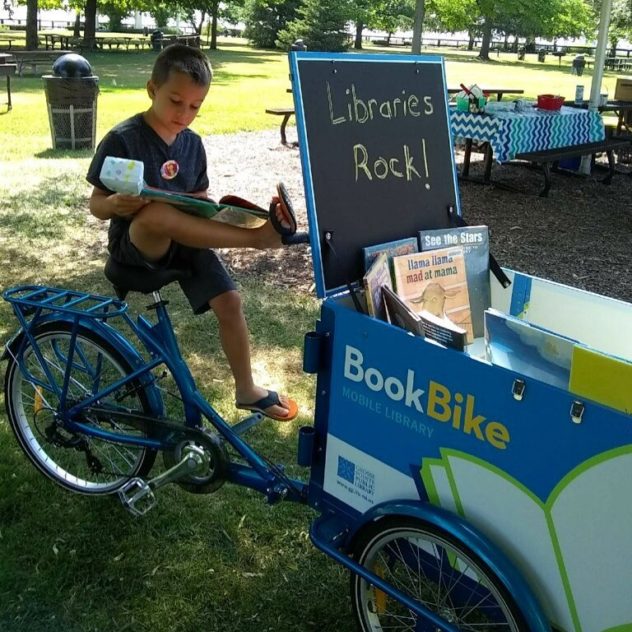 Book Bikes are especially irresistible to younger readers.

Book Bikes are an extremely popular way for public libraries to expand their reach, especially to underserved populations. The positive PR alone that they generate makes them a very good return on investment.
Public libraries with book bikes will often use them to visit senior centers, community kitchens, unhoused shelters, and special community events such as 4th of July parades, Earth Day celebrations, Holiday Tree Lightings, and more to give away free books or lend out items from the library.
Here's what some cities are doing.
San Francisco Public Library

Spoke & Word, the San Francisco Public Library's newest and nimblest program, is an electric assist bike that pulls a trailer loaded with 75 paperback books, a WiFi hotspot, a laptop to issue library cards, a bubble machine, a rainbow umbrella, three bells and one (very loud) horn. People can check out and return books or apply for a library card. It was funded by a $10,000 grant from Friends of the San Francisco Public Library.
The bike helps reach people who don't live near a library and spreads news of upcoming events and programs. Spoke & Word was pedaled in the Pride Parade and on Bike to Work Day. It's also been to the Haight Street Fair, Portrero's Peace Walk, the Mission Bike Party, and a Giants game.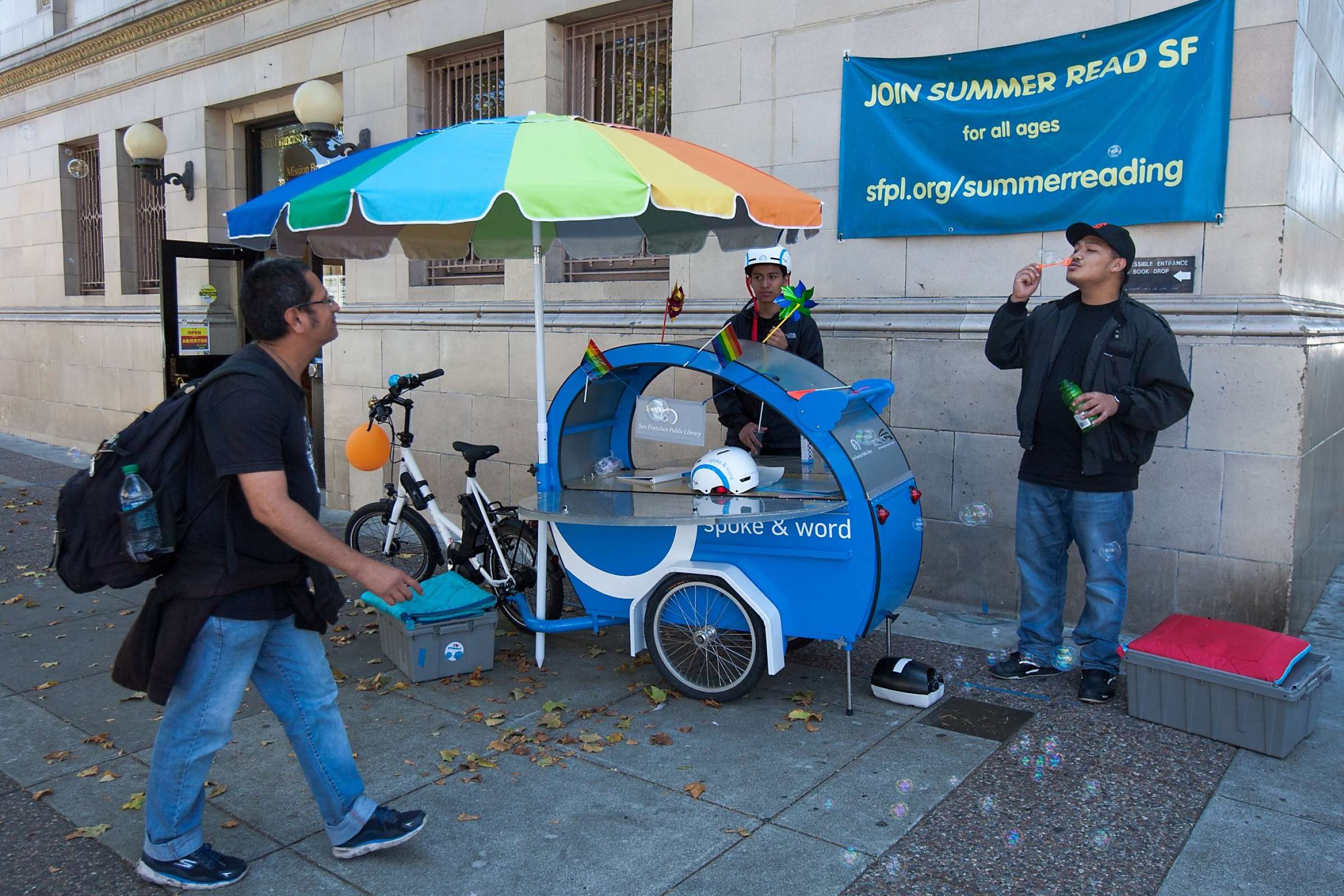 San Francisco Bibliocicleta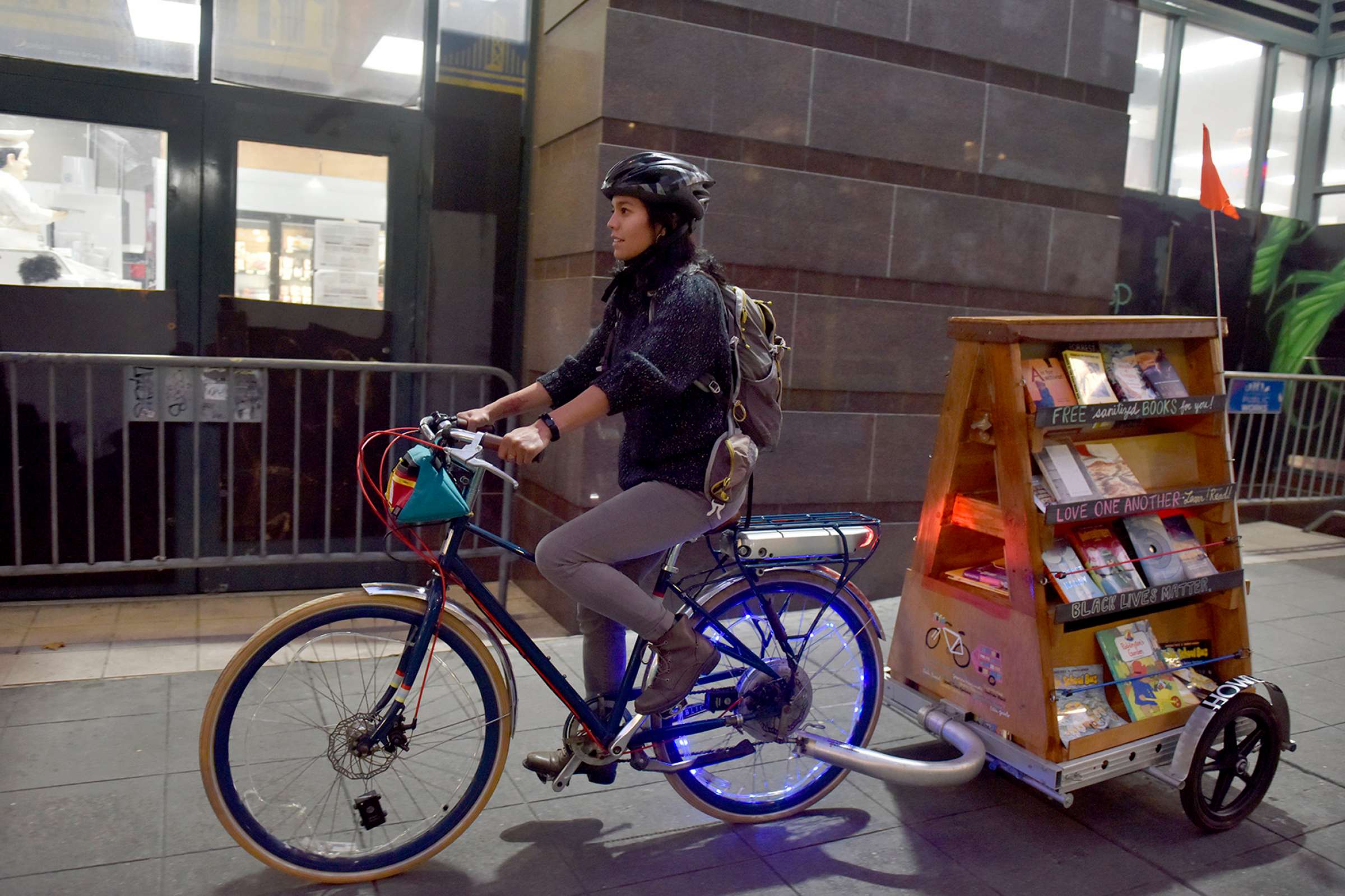 Alicia Tapia riding the Bibliocicleta in San Francisco.

Alicia Tapia, Director of library and information services at Sacred Heart Cathedral Preparatory in San Francisco, founded a Book Bike called Bibliocicleta in 2013 as a way to give away free books.
Since that time, she has explored parks, beaches, and sidewalks in just about every corner of San Francisco, stopping by dozens of locations throughout the city such as City Hall, the Divisadero Farmers' Market, the Presidio, Haight-Ashbury, Embarcadero, the Great Highway, the Contemporary Jewish Museum, and the Roxie Theater.
She has given away hundreds of books to delighted local residents and loves the surprise on people's faces when they realize the books are free.
Los Angeles Public Library

SThe Los Angeles Public Library Book Bike, captained by children's librarian Ednita Kelly, debuted in August 2014. The Book Bike premiered at a community Healthy Start Back-to-School Fair where children received free backpacks, school supplies, haircuts, shoes, and a free book from the book bike. 
The back-to-school fair and all of the book bike's subsequent events have been unmitigated successes, enjoyed by all in attendance.  Events are publicized on Twitter and Instagram. The biggest challenge in Kelly's experience has been stocking up with enough free books to give away.  Many times a single school visit has completely wiped out her inventory.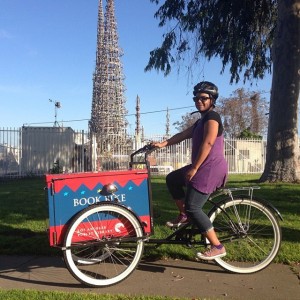 Austin Public Library and Street Books ATX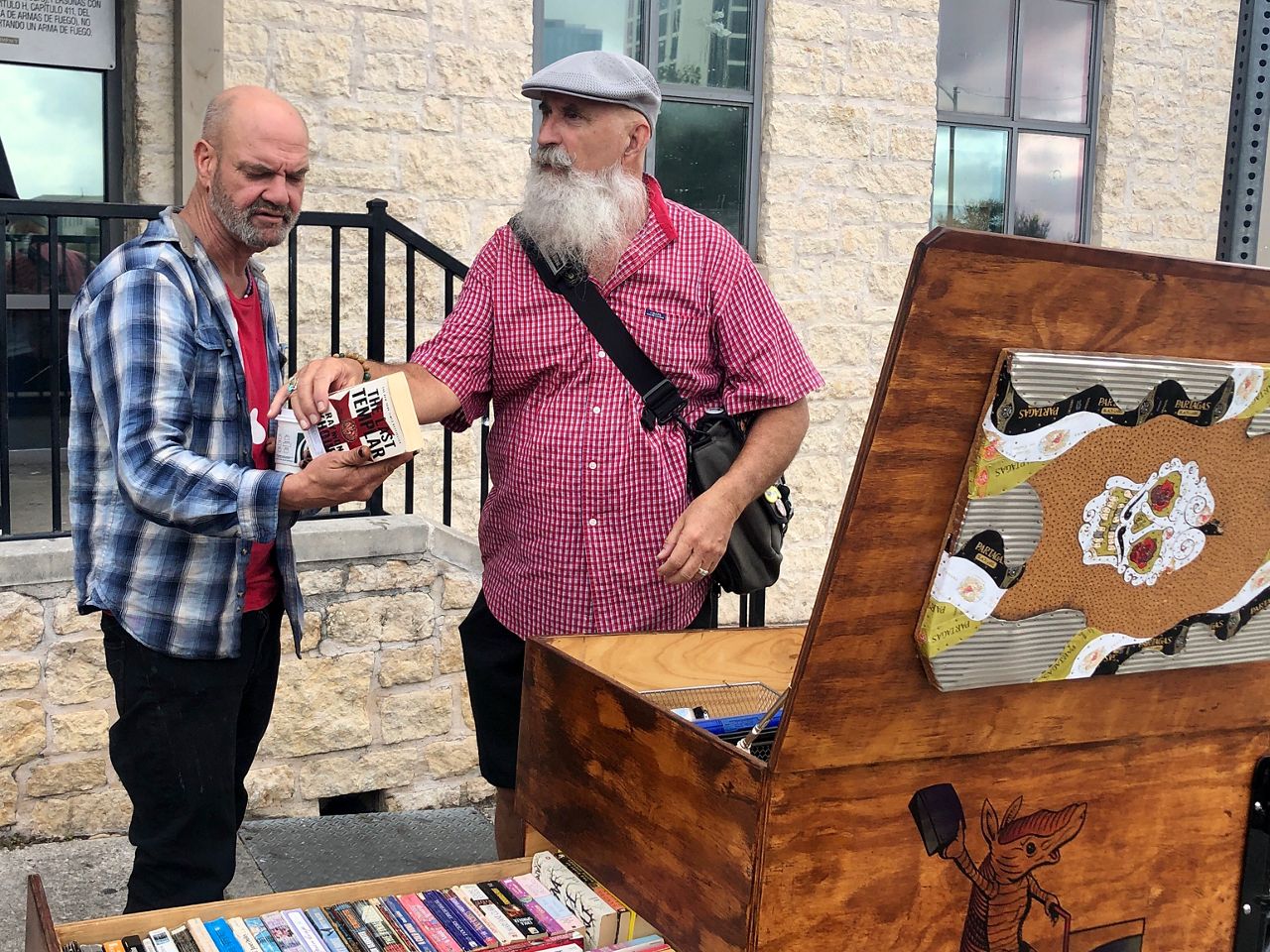 Patrick Crowley and a reader discussing books.

Austin Public Library's Mobile Library fleet includes a Book Trike and a Bike Trailer that share books and other items from the library resources with the community at non-traditional venues and community events such as senior centers, washaterias, and local festivals.
Another Book Bike in Austin is focused on the city's unhoused residents. In order to get a library card, people need to present a proof of address which can be difficult for those experiencing homelessness. In 2017, Patrick Crowley, of Austin, tried to solve that problem by launching Street Books ATX, inspired by a similar program in Portland.
At least three days a week, Crowley rides his self-made library bicycle from an East Austin storage unit to different places across the city to lend out literature to those without a fixed address. Crowley, who is himself recovering from addiction, also lived on the streets years ago. "Their options are very limited. Anything that happens that can kind of change their day is something that makes a difference to them. If it just makes somebody smile or they get something they weren't expecting out of the day, that's more than enough for me," Crowley said.