Come rain or shine… enjoy the ride!

Fall brings falling temperatures, falling leaves, and if we're lucky, falling water from the sky. Rain doesn't mean we need to put our bikes away until Spring. Kids can still ride to school so parents can enjoy those extra 20 minutes with a warm cup of tea. Employees can still ride to work and get some fresh air cardio without taking any extra time out of their day.
There are just a few things needed to make it comfortable and safe to bike in the rain:
Rainproof clothing

Full bike fenders

Bike lights 

Backpack rain cover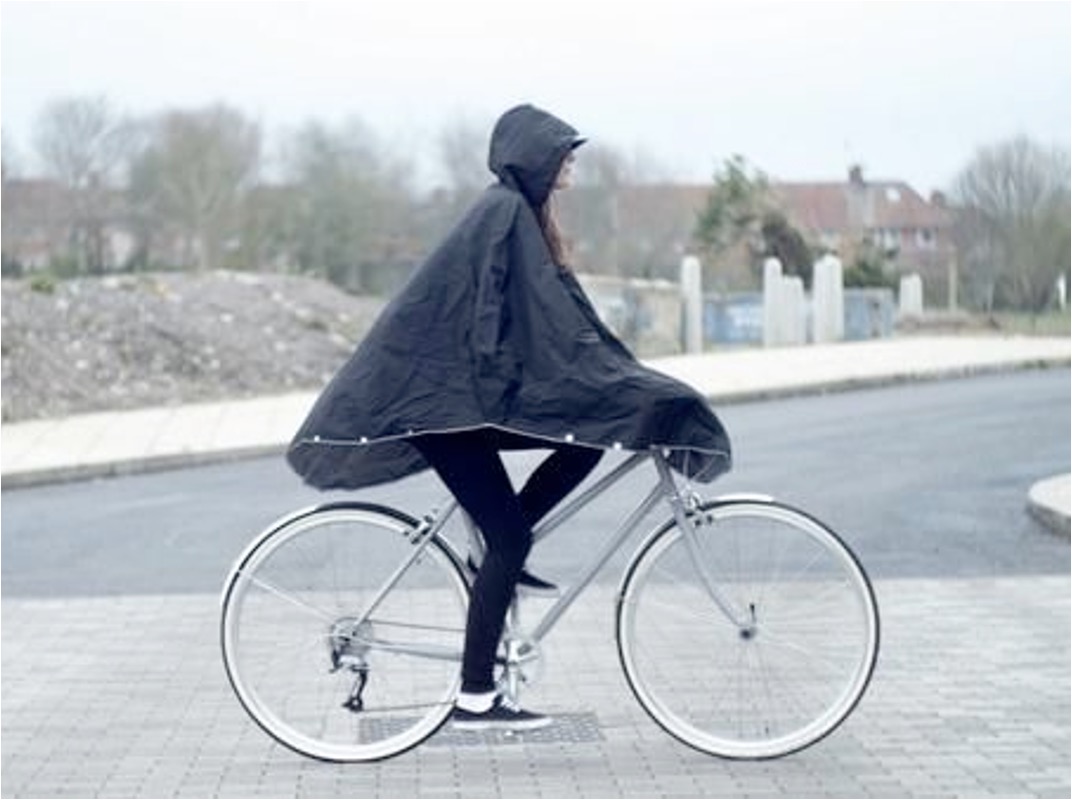 A rain cape is an easy way to protect everything. It packs away compactly when not needed.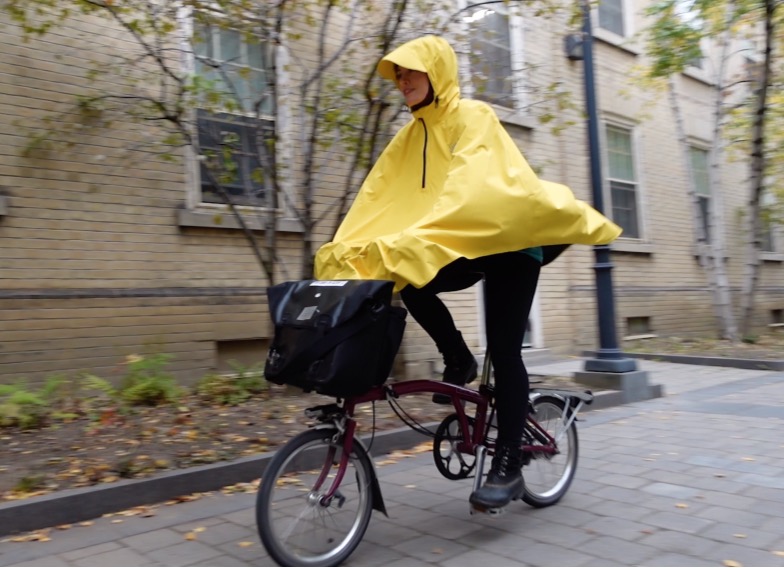 A good rain cape includes thumb loops and a waist tie to create a snug fit.

There are a couple of options for staying dry – a rain cape or a waterproof jacket and pants combination.
A rain cape is a single waterproof cover which will protect all of you from top to bottom. It's a great option for  casual or short distance cyclists who don't want to get caught in the rain. Make sure to look for a rain cape not a rain poncho. The key difference between a rain cape and a rain poncho is that the body of a rain cape extends over the handlebars to create a solid tent that keeps the cyclist, backpack, and bike dry.
Because it's open underneath, it breathes and is comfortable to wear. A cape often includes thumb elastic loops, and a waist fastener to make sure it stays on snugly. It packs conveniently in a little pouch that can hang discreetly on the bike until it's needed. Here's a good rain cape for $30.
A waterproof jacket and pants combination is a good option if the cyclist is going to be out in the rain for a longer time, on or off the bike. Waterproof jackets come in a wide variety of designs, with and without insulation. A thin waterproof shell jacket is light and packable while an insulated waterproof jacket is a good all-around option to keep the cyclist dry and warm all day.
The most convenient waterproof pants are thin shells that go over the cyclist's regular pants to keep them dry, then pack away compactly when not in use. Here's a good set of rain pants for $34.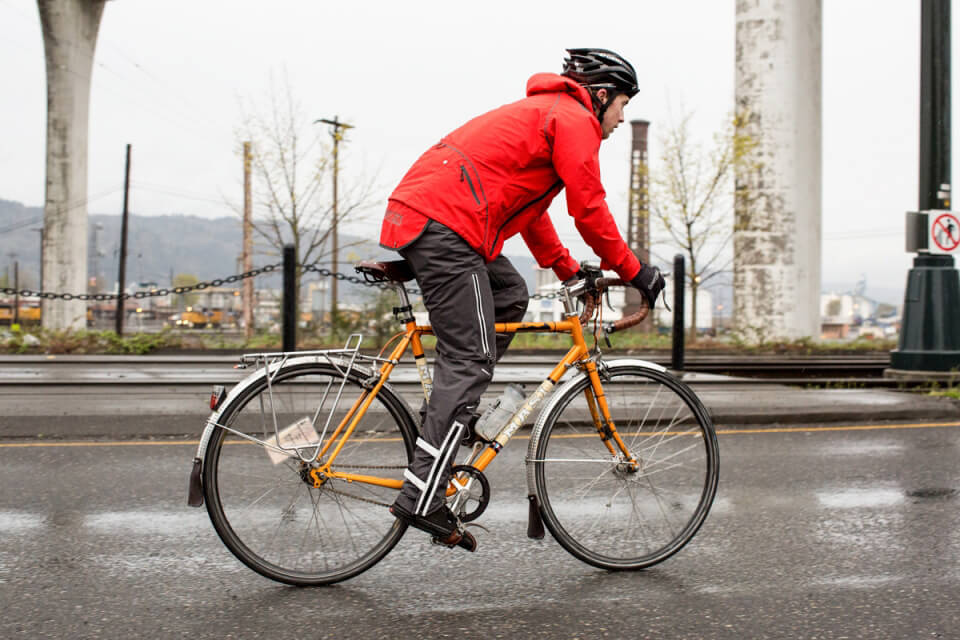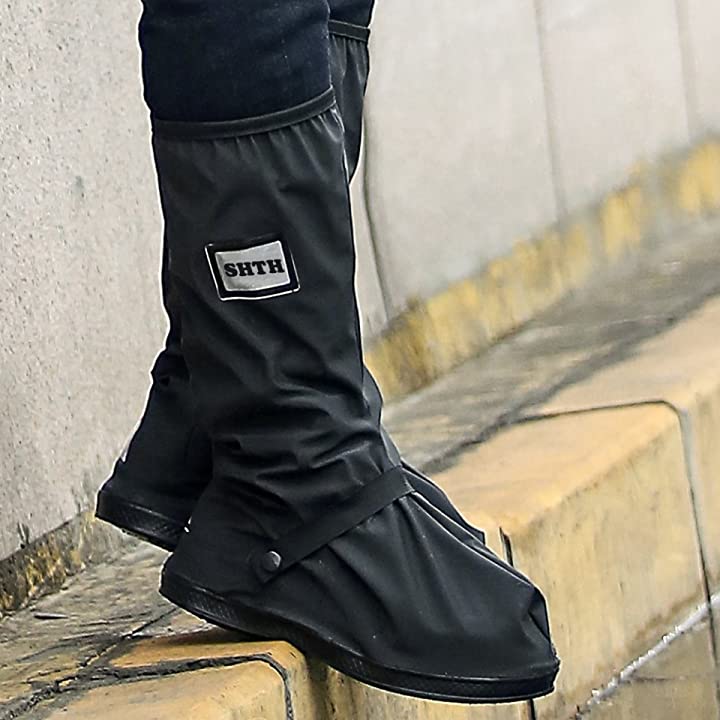 A good set of shoe covers will keep your feet toasty and dry on long bike rides or in heavy downpours.

On longer bike rides or when it's raining buckets, waterproof shoe covers become important to keep shoes dry.
Shoe covers are handy because the cyclist can wear their regular (flat-soled) shoes underneath and simply roll up and put away the shoe covers when they arrive at their destination. Much better than walking around all day with wet feet or in non-breathable waterproof boots.
Look for shoe covers that go up the leg for maximum protection and that zip open so they are easy to take on and off.
Here's a good set of shoe covers that will keep your feet toasty and dry no matter the weather for $20.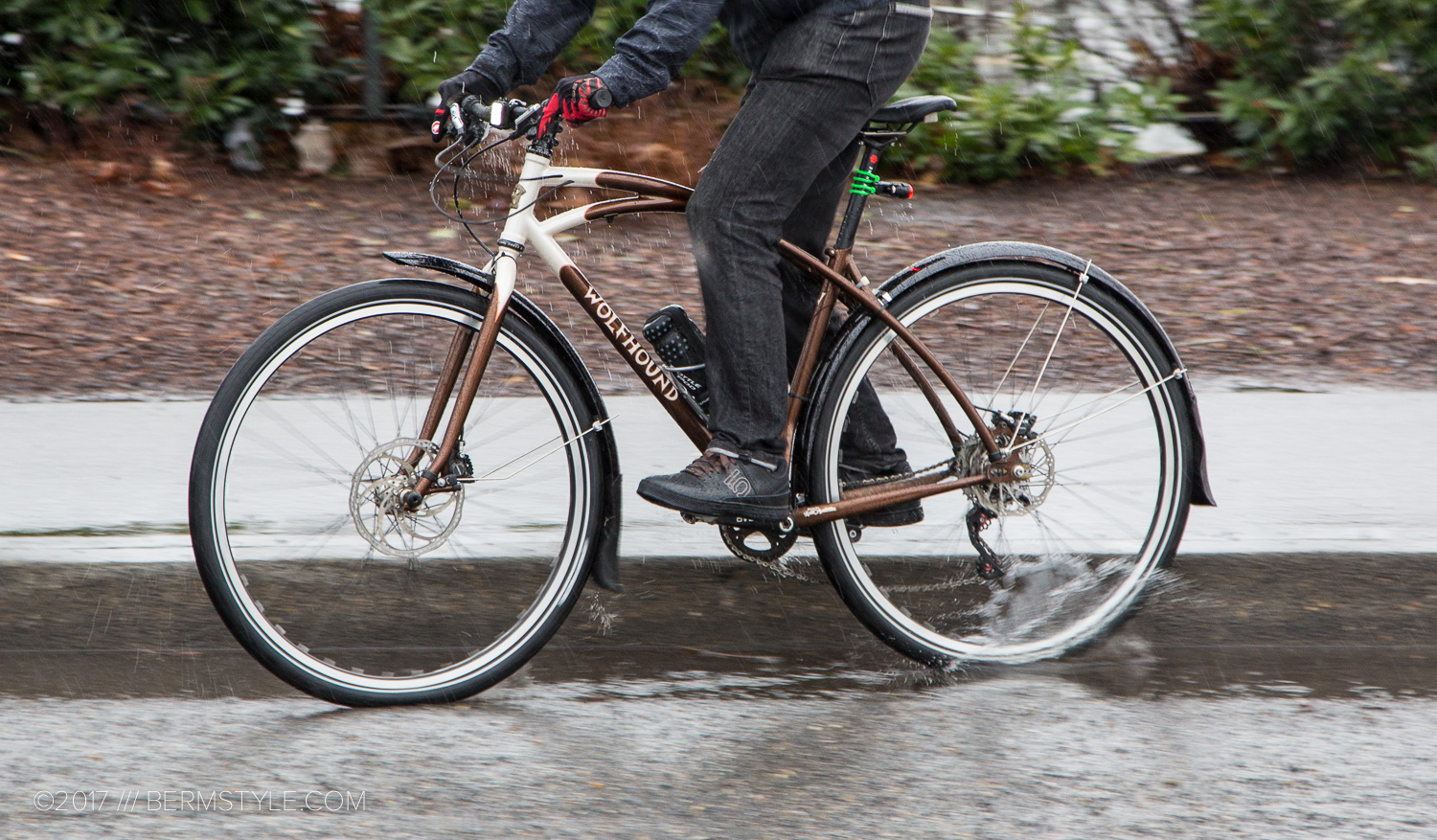 Full bike fenders are the best protection from water and mud from below.
When it rains, most of us worry about the water falling from the sky, but cyclists also need to think about the water and mud coming from below. Full bike fenders will ensure no water kicks up onto the rider. They are an inexpensive way to save clothes from getting wet and muddy.
Make sure to purchase full size fenders that cover as much of the tire as possible and that they fit the tire size of the bike. Bonus if the fenders have little built-in mudflaps at the ends. Most local bike shops will help you pick the right fenders for your bike and install them for a small fee. Here's a good set of bike fenders for $50.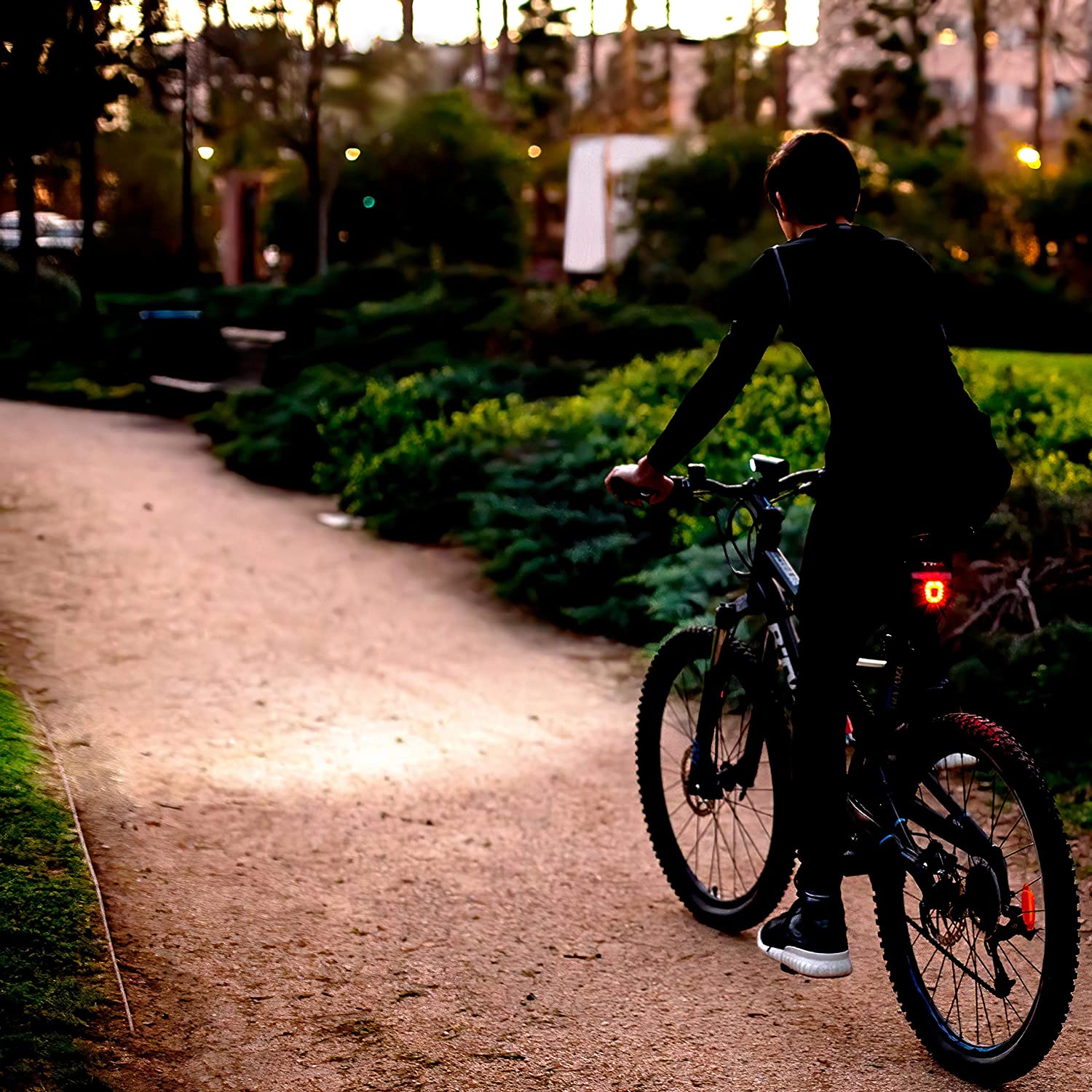 Front and back lights provide front and back visibility.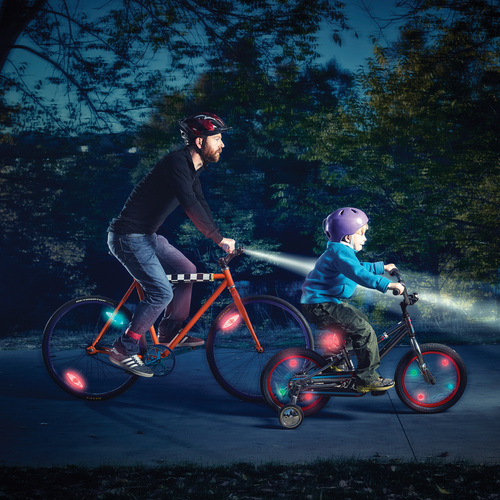 Spoke lights provide side visibility.
These are important to have during the winter anyway, as short days lead to poor visibility in the mornings and evenings, but they are especially essential in the rain to make sure the cyclist is visible to cars.
All bikes need a good strong front light and a bright red back light. The light mounts stay on the bikes, and the lights are easily unclipped and carried with the cyclist. Here's a good front and back light combo set for $70.
Something that many cyclists don't often think about, but is equally important is good side visibility. A pair of spoke lights are well worth the investment for the added safety they provide. Spoke lights come in a wide variety of colors, shapes, and costs. Here's a good pair of spoke lights for $25.
A backpack rain cover is a good investment for kids walking to school, biking with a rain jacket, or carrying their backpack in a bike rack. They are easy to wrap on quickly and will keep the backpack and its contents nicely dry in the heaviest downpour.
They come in all sizes which makes them a great option for protecting musical instruments. Rain covers stow away compactly until they are needed, so it pays to keep one in a side pocket as insurance. Here's a good backpack cover for $12-14.
Backpack covers can also protect musical instruments.