At the July Cupertino Bicycle Pedestrian Commission meeting, the staff report covered two options to improve the safety of Bollinger Rd. Bollinger runs east-west at the southern border of Cupertino, connecting De Anza Blvd. (7-lanes with 2 left-turn lanes to turn onto Bollinger) to Lawrence Expwy. (6-lanes with 2 left-turn lanes and a right-turn on-ramp to Bollinger). 

Along its 2 mile span in Cupertino, it has two lanes in either direction, often with a center turning lane. Bollinger is a key route for bicyclists to traverse south Cupertino — the nearest feasible east-west connection is either Prospect Rd. 1.2 miles south or through Sterling Park a half mile north.
On Lawrence Expressway, Saratoga Creek Trail is a safe, off-street bike path that awkwardly crosses Bollinger Rd. As an arterial, it's a difficult road to make safe and has Hyde Middle School, strip malls, many driveways, and several bus stops.
On December 12th 2019, a driver of a car hit a man crossing Bollinger Rd. near Wunderlich Dr, which seemingly prompted this attention.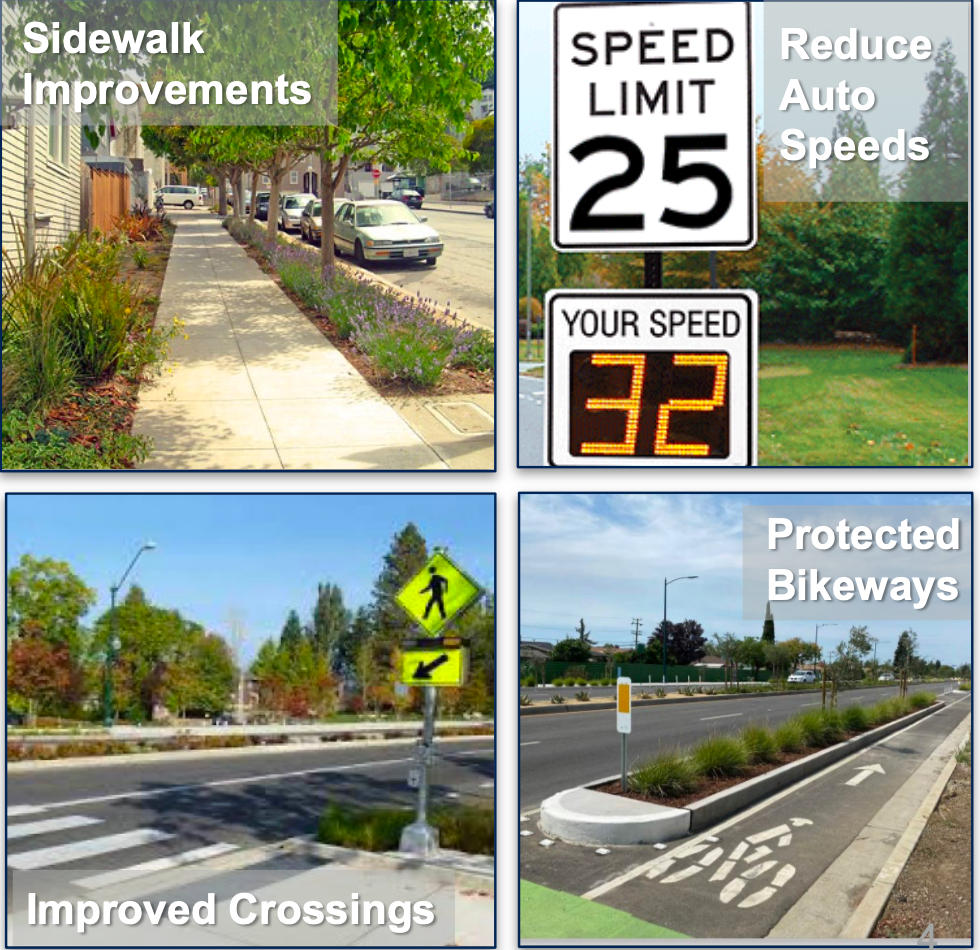 The staff report summarized a study by Kimley-Horn of two potential approaches to improve the safety of Bollinger Rd. Both approaches have some physically-separated bike lanes where driveways aren't present, speed feedback signs, more pedestrian crossings, curb radius narrowing, and other minor improvements. 
Alternative A goes further to remove one car lane in each direction to slow cars down, replacing them with buffered bike lanes, potentially at a cost of $11m. 

Alternative B features spot improvements at some intersections, but keeps the status quo, at a slightly lower cost of $10m.

Other notable improvements were also discussed in the meeting, including:
Add pedestrian-scale lighting
Tighten curb radii, remove "free" right-turns at Miller Ave and Johnson Ave, and provide directional curb ramps to shorten crossing distances and slow vehicle speeds
Upgrade curb ramps, crosswalk striping, and provide leading pedestrian intervals to additionally improve crossing safety
Relocate bus stops closer to crosswalks
Provide bike boxes and two-stage bike turn boxes to facilitate bike turning movements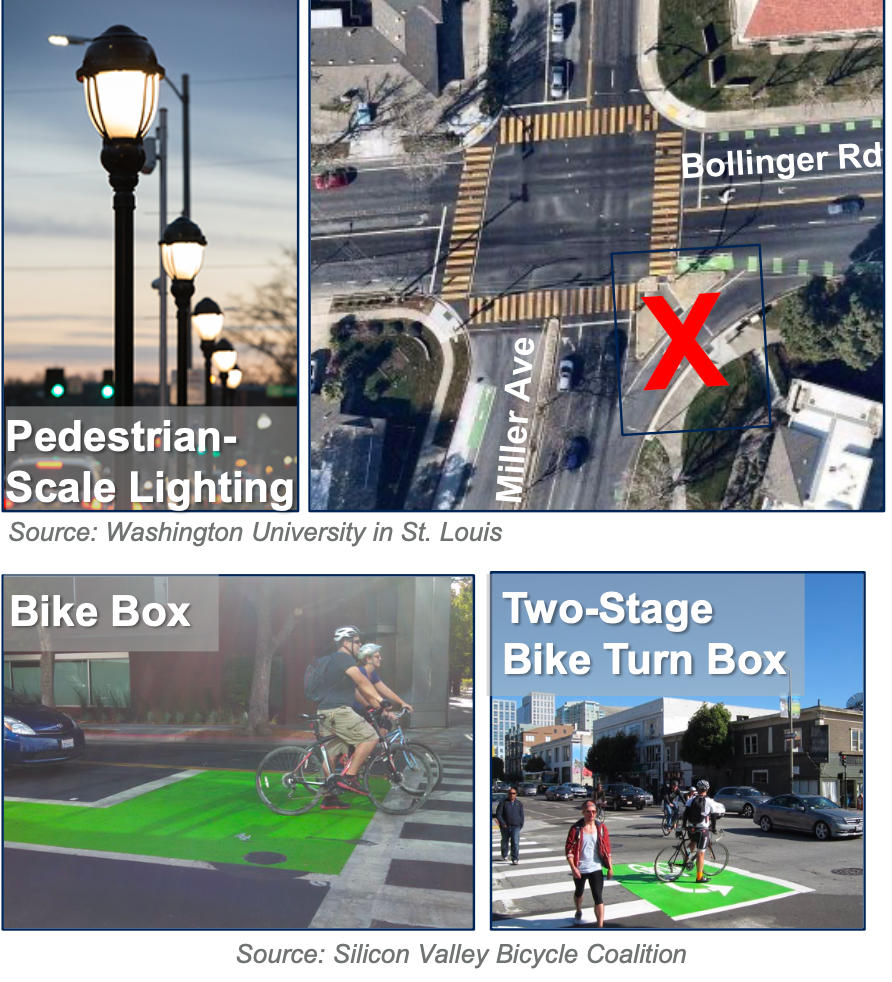 The report did not include any analysis of vehicle traffic impact, bus ridership at Bollinger's stops, or recent crash analysis. Neither of these alternatives will be explored unless the City Council approves further study of the corridor. Write to the Cupertino City Council and the Bicycle Pedestrian Commission if you'd like to see Bollinger Rd. improved.