It's never too soon to get outside and walk with your toddler! Shortly after my granddaughter learned how to walk, our favorite activity became strolling around the block in the neighborhood. What a great way to learn to enjoy walking and have quality time together!
There are so many possible topics of conversation while walking together — colors, flowers, bees, birds, butterflies, leaves, seeds, trees – and wonderful opportunities to have fun in nature – stomping through leaves in the fall, splashing in puddles in the winter, smelling flowers in the spring.  And you can even sneak in some safety lessons – "look to the left, look to the right, no cars, we can cross!"  My granddaughter is now 3 years old and it warms my heart that she remembers one of the first observations we made during a summer walk: "Thank you, tree, for the shade!"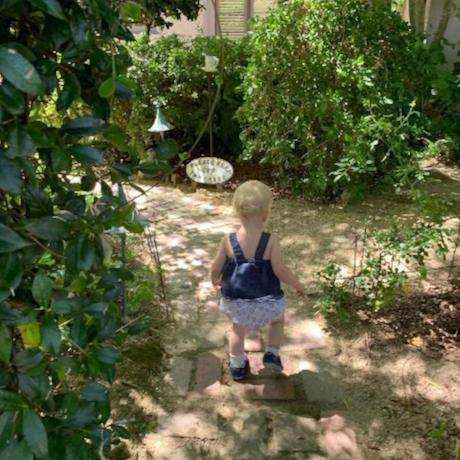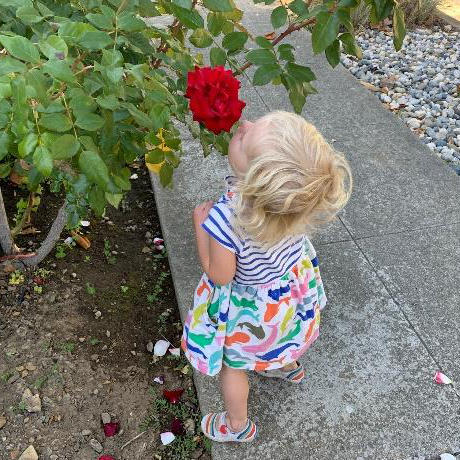 Speaking of shade, one of our very favorite walks not too far from home is the 6-acre Redwood Grove Nature Preserve in Los Altos. This is a perfect place to walk with young children. The paths and boardwalk around the redwood grove make it convenient for strollers and safe for toddlers and youngsters who want to walk on their own.  Our first walk there was in a stroller, the next one with a little backpack equipped with a safety harness, and now that my granddaughter is an independent 3-year-old, I'm comfortable letting her walk on her own – though once in a while I need to employ the "red light/green light" game to get her to wait for me.  Beyond the boardwalk, there is a short trail with just enough elevation to offer a little challenge. In the redwood grove itself, children can have fun hiding behind trees and exploring. There is also a dry creek bed that can be explored on foot.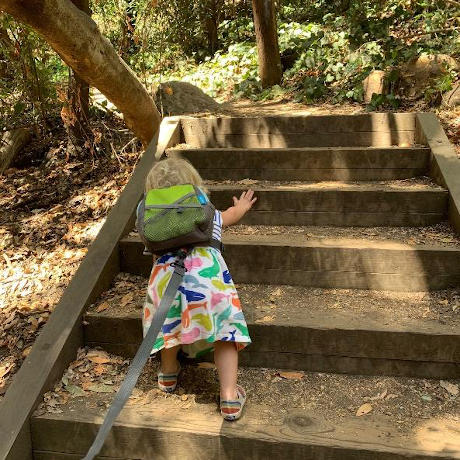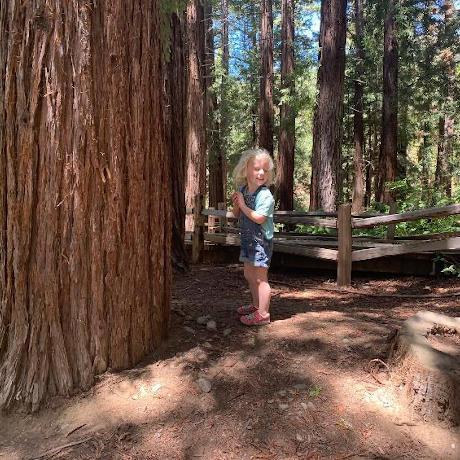 Parking is available on University Avenue or in the adjacent Shoup Park parking area. You might want to follow your walk through the redwoods with some playground time in this lovely park.  We also love to visit the fabulous Linden Tree children's bookstore in Los Altos and have a refreshment afterwards.  
Wishing you some fun walking adventures with your toddlers and young walkers one of these lovely summer mornings.