As a member of Walk-Bike Cupertino (WBC) and Silicon Valley Bike Coalition (SVBC), I volunteered to help with the Bike-To-Wherever-Day (BTWD) event in May. More than 80 BTWD Energizer stations were set up across the bay area to connect enthusiastic bicyclists and encourage more people to ride bikes wherever they go.  
Many thanks to SVBC for providing detailed training sessions for all volunteers. It's especially helpful for new volunteers like me. After the training, I reached out to the other two volunteers assigned to the same station at the Santa Clara Central Park Library. So glad to know that they are SVBC rockstar volunteers Hesham Naja and Gabby Landaveri. Hesham serves as the Bike Ambassador, and Gabby took on the Santa Clara SVBC team lead position for 2021. We discussed how to prepare for the BTWD station and make it successful.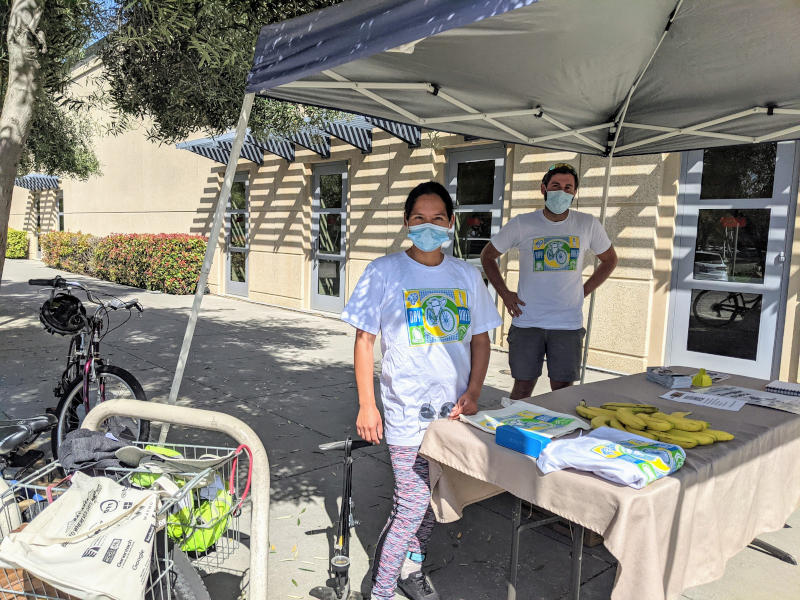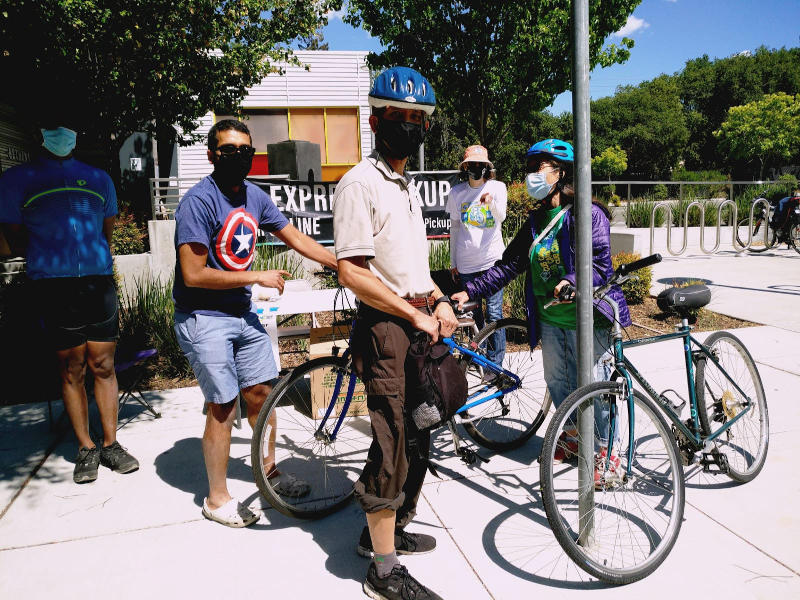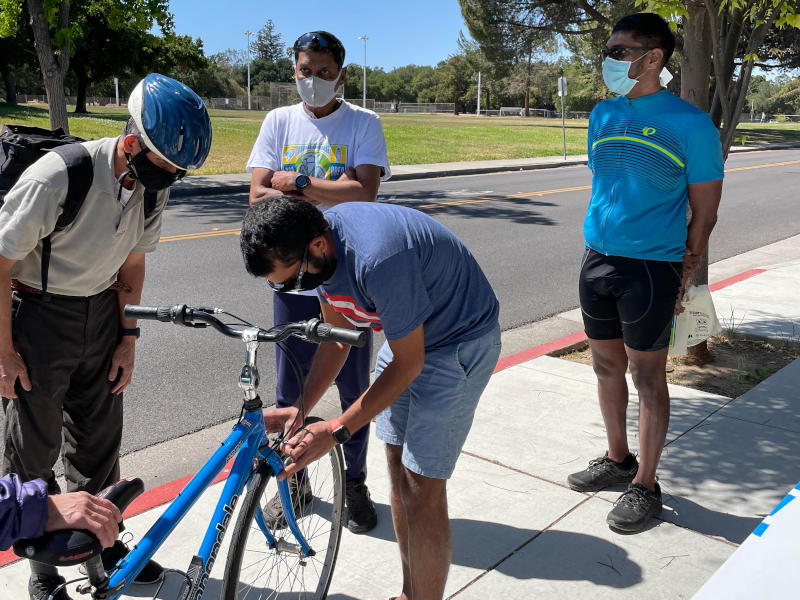 Another WBC board member Helene Davis volunteered at the San Jose Library Calabazas station. It was her first time too. Helene was very glad to get to know the other two volunteers Anne Ng and Siva Annamalai. They had 19 bicyclists stop by to chat. Some were families riding for an outing, some were hardcore cyclists who had trainings for the Death Ride. One lady even biked with her cute little dog in a basket. What a great way to take a pet for a ride! The station visitors enjoyed trading biking histories and adventures, and sometimes helped each other adjust bike gears like brake pads etc.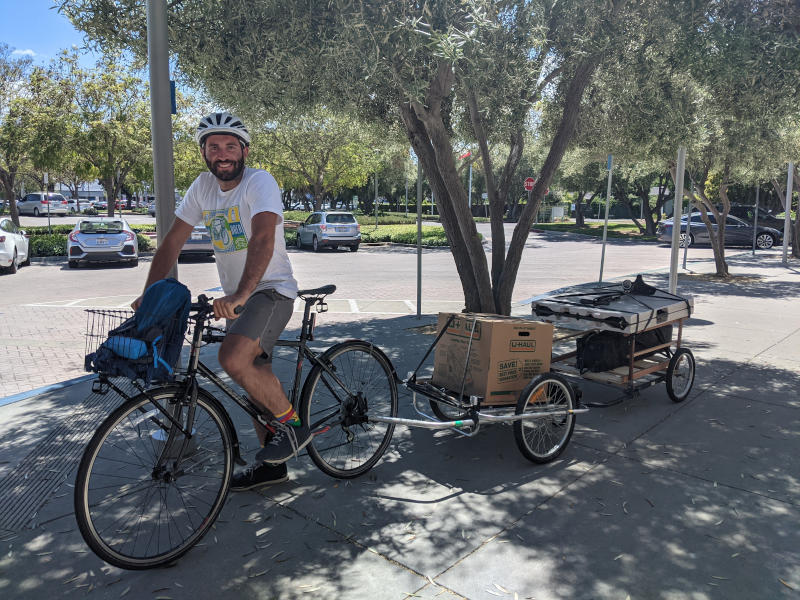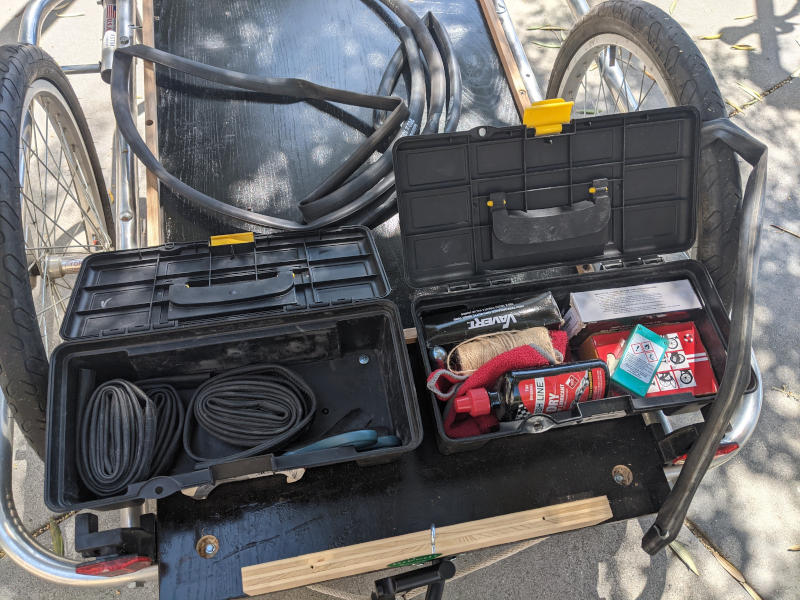 For my station team, one big decision we made was to transport all the event supplies on bikes. Can you imagine how a canopy, a table, and a large box of goodie bags and t-shirts are carried along using only one bike? Hesham linked double trailers equipped with smart toolboxes. Even broken bike tubes played a role in this solution! They were used to securely fasten the objects on the trailers.
To prepare my bike ride to the BTWD station, I studied the map carefully and selected the safest route. I biked on Stevens Creek Blvd, then over the Mary Bridge and along Homestead Rd to reach the destination. It took about 38 minutes to cover 6.5 miles. Biking on the bridge is absolutely safe and enjoyable! On Homestead Rd, sometimes parked cars and trash cans blocked my way on the bike lane. I paid full attention to keep a safe distance from parked cars and avoid being hit by a suddenly opened door. Occasionally, I biked onto the empty sidewalk when the entire bike lane was occupied. A clear mind with alertness is critical for safety.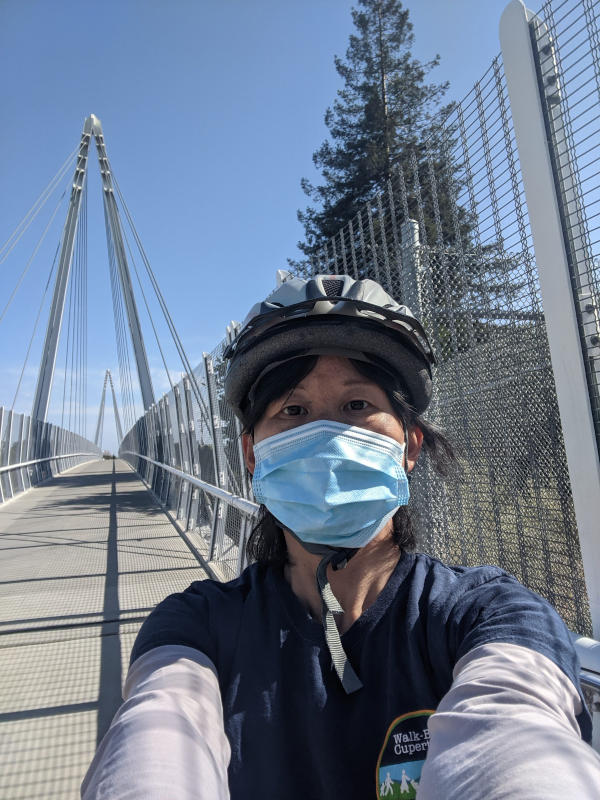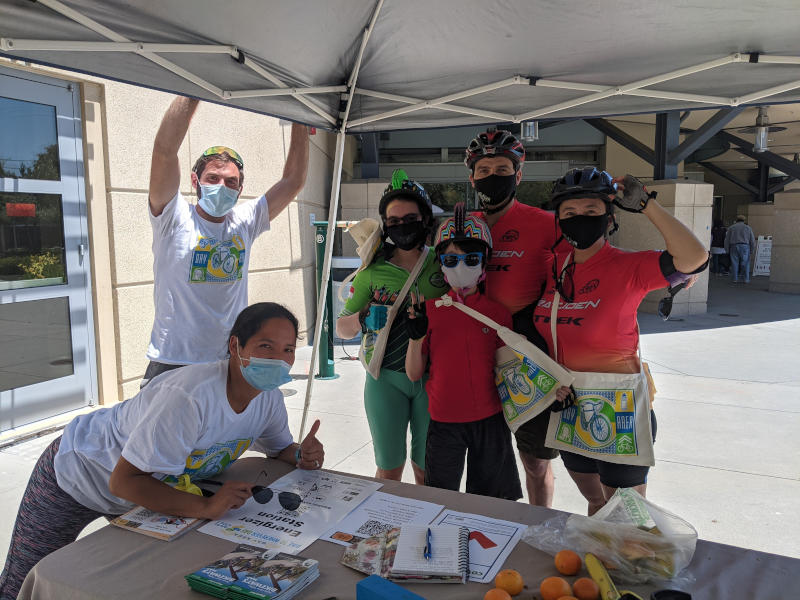 During our 4-hour station time, about 35 bicyclists stopped by to pick up pledge-to-ride goodie bags. Many came as a family with a great spirit of celebrating the annual bike month of May.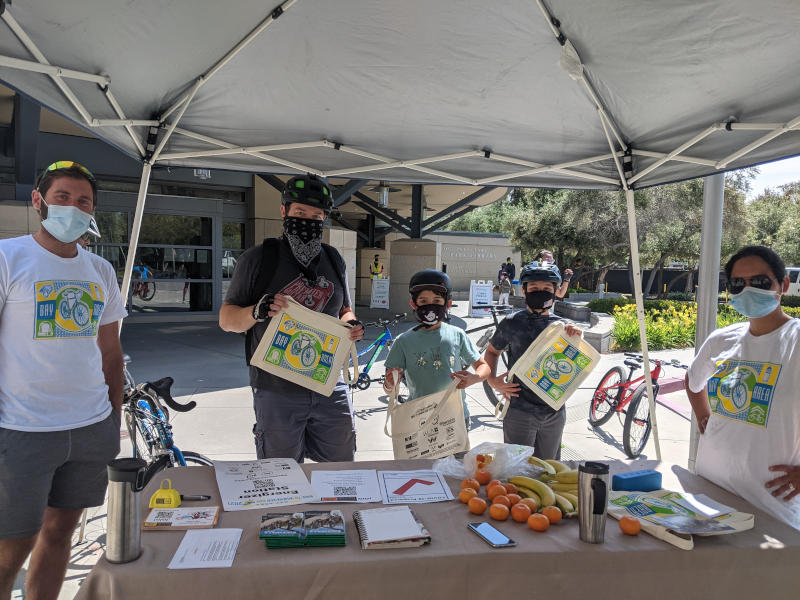 It's so inspiring to exchange our biking experiences, safety tips, and biking gear recommendations.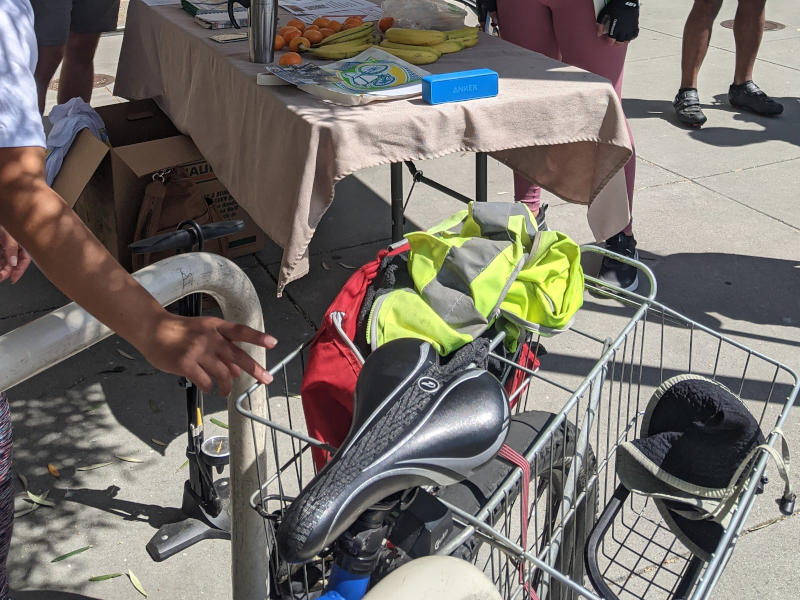 This large basket is installed on the back of an E-bike. It's very spacious and sturdy for carrying loads, even on hills.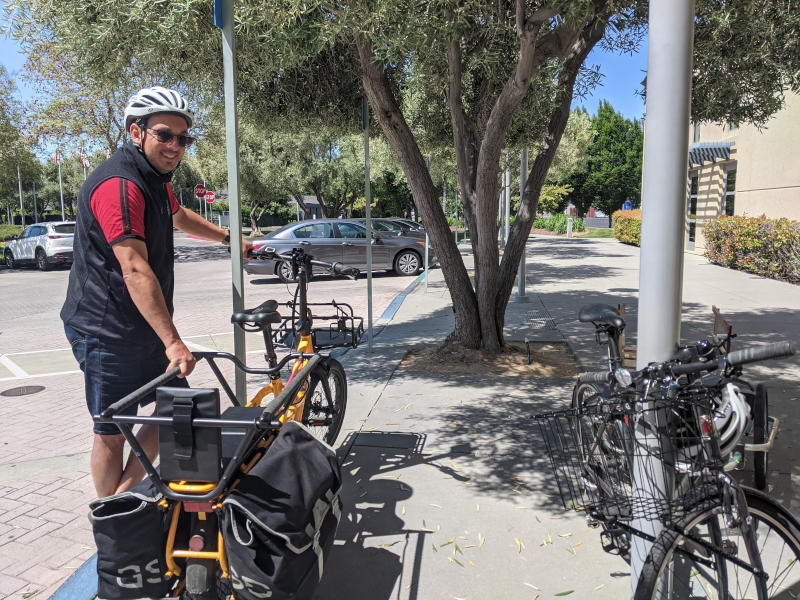 This heavy duty cargo bike has two large storage bags and a back seat for a child. It's used daily for school/work commutes, soccer practices, and grocery shopping etc.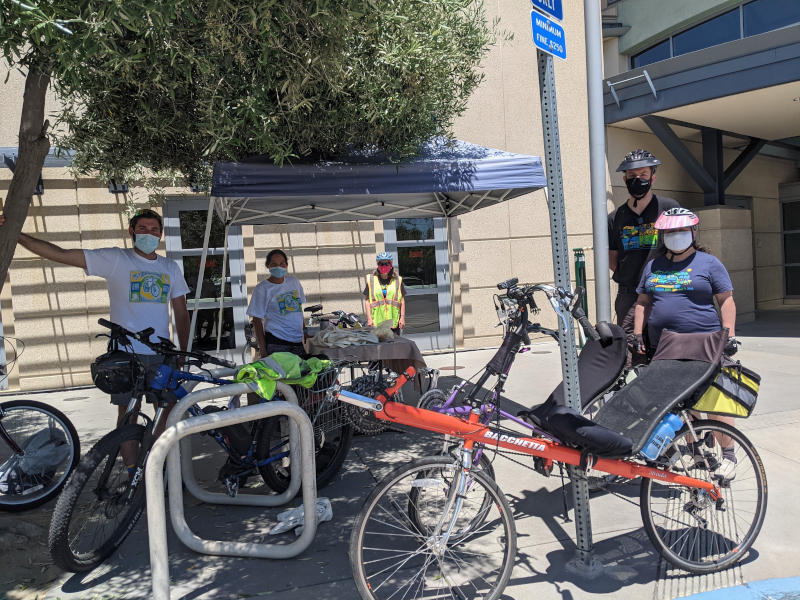 This is a recumbent bicycle that places the rider in a laid-back reclining position, so that the weight is distributed comfortably over a larger area.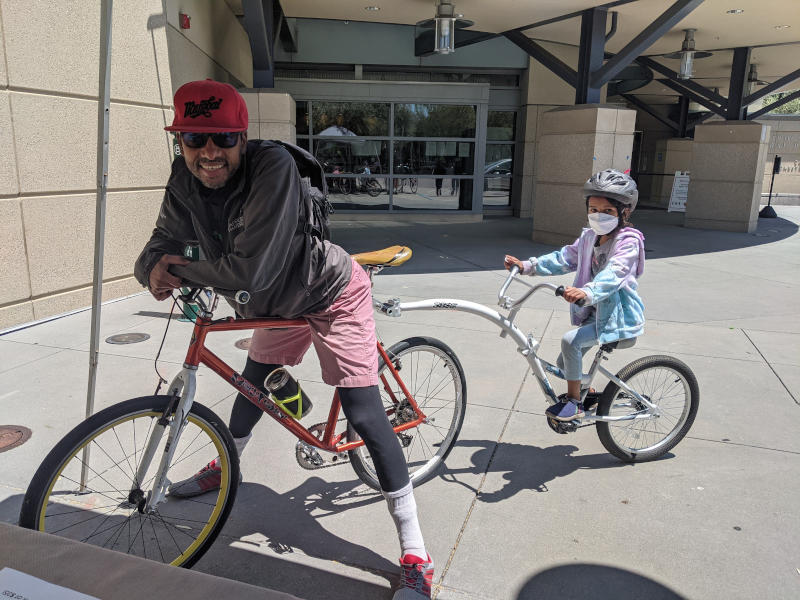 This is a typical trailer bike, great for taking a young child for rides. This father and daughter came to the library to pick up books, before heading to the farmer's market.
Out of curiosity, I asked my fellow volunteers what inspired them to bike so often. Hesham told me that he used to play sports as a student, but now busy work schedule doesn't allow much time for physical exercises. Biking is a perfect way to commute to work, while getting plenty of workouts. He suggests any distance within 5 miles is bikeable and we should avoid using cars for short trips. What's more, he even biked to the airport before business trips!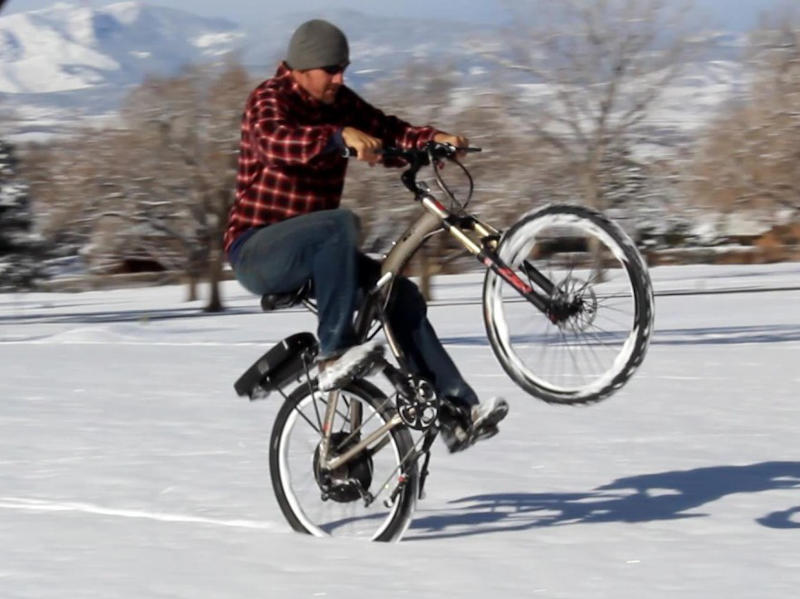 Gabby shared how Mr. Money Mustache's blogs inspired her to bike for the past 5 years. I never heard about Mr. Money Mustache, so I looked him up on the Internet. Since 2011, Mr. Money Mustache has been writing blogs to guide people to make wise lifestyle choices. Biking is one of his favorite topics. You may enjoy reading his "Get Rich with… Bikes" blog published in 2011, very practical, humorous and inspiring! 
Thanks to these inspiring blogs, Gabby has been biking wherever with her family almost everyday. Collaborating with her SVBC team and the city council of Santa Clara, she is working diligently to promote the "Vision Zero" program that ensures safe streets for all in Santa Clara. They believe that "every traffic collision is preventable, whether through engineering, education or enforcement". Slowing down cars could be one of the key solutions to make biking safer on the street.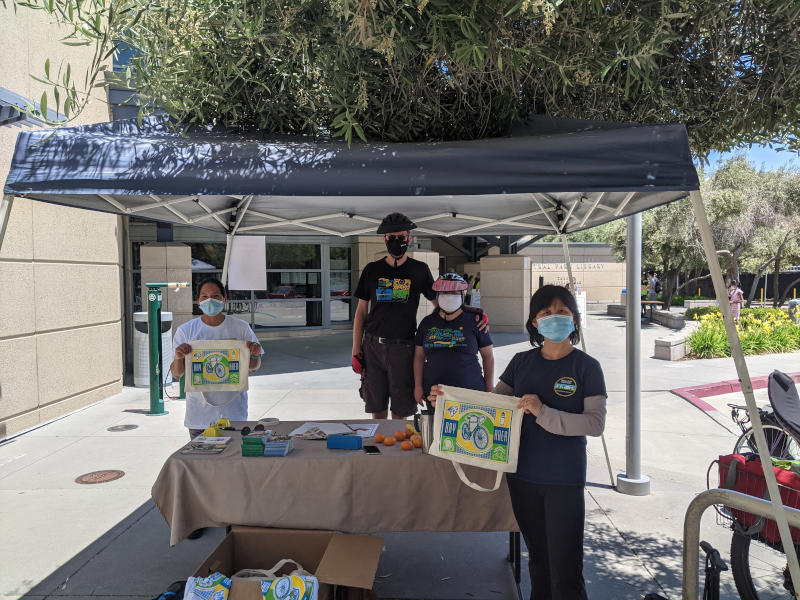 As for me, growing up in China, biking was a daily experience. It was easy and safe most of the time, because the bike lane is much wider and many times it is separated from car traffic. My friends and I biked to school, to stores, to movies, and to anywhere we wanted. It was truly a "biking to wherever" day everyday! After I came to the U.S. as a graduate student, I still biked wherever even in snow, then I noticed very few people biking on the street. Soon, I realized that the narrower bike lane is one of the biggest reasons behind. That's why I joined the WBC to help promote safer and easier routes for walking and biking.
So, what is your biking story? Welcome to share your biking stories and experiences to inspire more to join in the biking movement. Look forward to seeing you at the next BTWD event! We may run into each other on bikes soon!