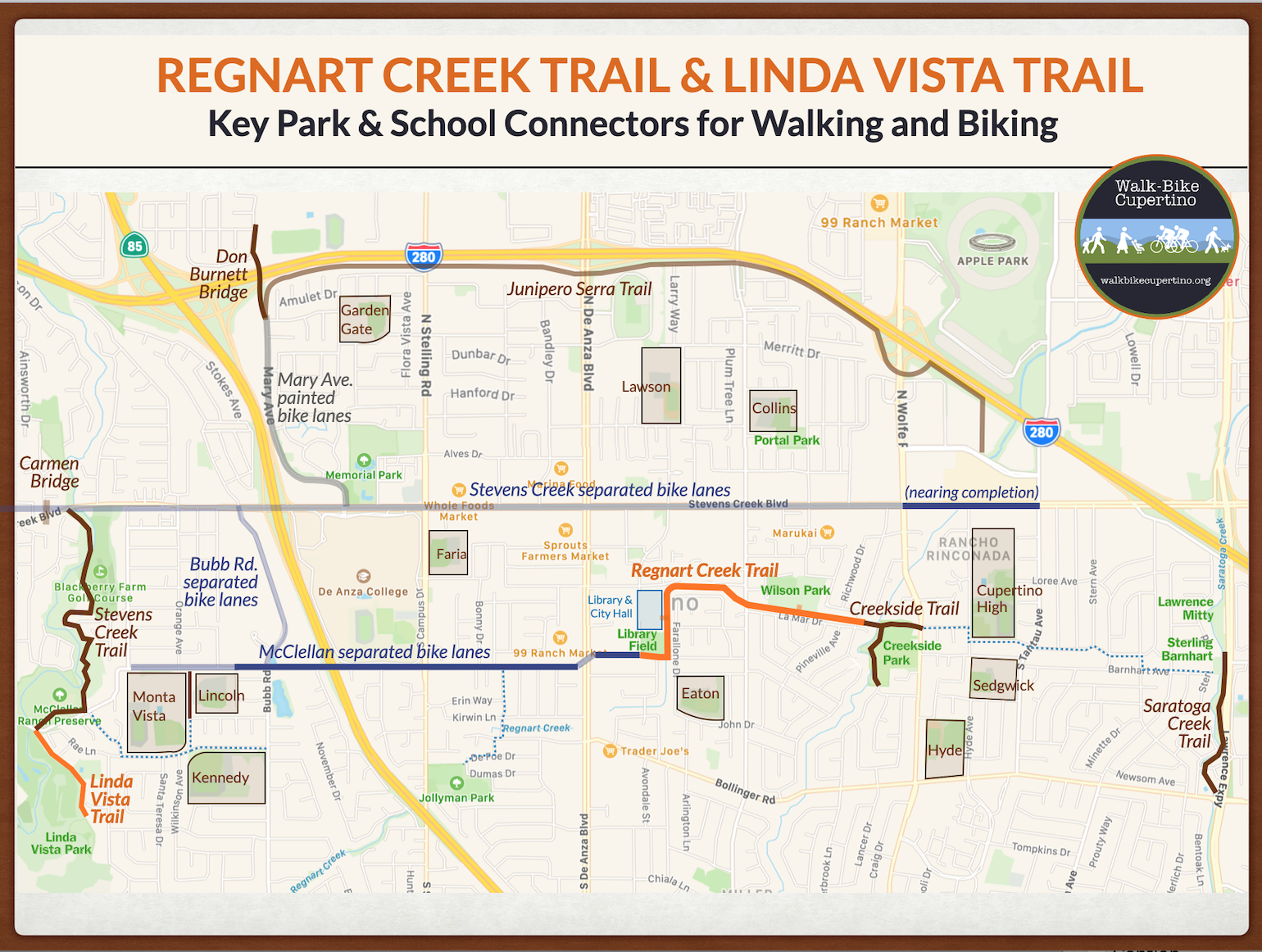 We did it! THANK YOU to all community members like you for your emails and comments. You made it possible for the Regnart Trail to go forward to construction.
The Cupertino City Council voted unanimously (5-0) to move forward to construction on Tuesday, November 17, 2020. The council members voted to:
Allow the City Staff to commence construction upon receipt of an on-budget contractor bid for the trail

NOT increase the city funding of the private fencing/walls on adjacent neighbors' land.
Almost 50 residents spoke in the meeting and 65+ sent emails to urge the Council to not delay this project any longer and start construction as soon as possible. This vote avoids a potential 8-10 month delay due to nesting season and due to more discussions/outreach with the adjacent neighbors about their fencing selections.
The Linda Vista Trail was also approved unanimously last night to go to construction without another vote, assuming a bid submitted by an acceptable contractor is on budget. We have been informed that a bid has already been accepted today by the City Staff from a contractor, coming in under budget. This is wonderful news. Construction on the Linda Vista Trail is expected to start in Dec 2020.
Key Facts About the Vote on the Regnart Creek Trail

Unanimous Vote

Like every other vote on the Regnart Creek Trail, this vote was unanimous to move the project forward. There was however a great deal of pushback during the discussion from Councilmember Liang Chao as in previous meetings on the trail.

During the September 2019 vote, Councilmember Chao presented a 20+ slide Powerpoint presentation on all the reasons she opposed the project. At this meeting, she presented verbally her reasons opposing the motion and scolded "be patient" to residents who felt 3 years was long enough to wait for a simple trail project.

Construction to Start Jan 2021

Construction on the trail needs to begin in January 2021 or it will be delayed until Fall/Winter 2021 due to nesting season.

By voting to allow the project to move forward without another vote upon receiving and accepting an on-budget bid, the project will be able to commence in January 2021 and avoid an eight month delay.

The requests-for-quote went out early Dec, and bids are expected to be returned by early-to-mid January. Construction would commence immediately after review of the bids and contractor selection.

No Additional City Funds for Fencing

The residents opposing the trail who have chosen to build concrete walls on the back of their yards asked the Council on November 17 to add $154,000 in city taxpayer funds to pay for the full cost of their walls, for a total of ~$28,000 per home. The Council did not approve their request.

In comparison, the cost to the city for residents who chose a standard wood, composite, or mass-loaded-vinyl fence will be approx. $6,000-$13,000.

For more on the fencing, click here.

Trail Funded Through VTA Measure B Funds

Cupertino city staff will use $1.885M in state Measure B (grant) funds for the trail. This designation has been accepted by the VTA so the trail itself will not be paid for by city funding.

The private fences will be paid out of the city's general fund (i.e. public funds) and currently have a budget of $756,000.

It should be noted that using public funds for private land improvements is unprecedented both in Cupertino and locally.