Your voice makes all the difference!
On Tuesday, November 17, the City Council will vote on whether the city should start construction on the Regnart Trail without another vote and discuss the city-funded new fencing for the adjacent neighbors. Read on for why this is an important vote!

#1  The Council can decide that another vote isn't necessary, if the bids come in on budget. If they decide to have another vote, construction will be delayed another 7 months due to nesting season.
#2 The trail itself is fully funded with state Measure B funds. The only cost is for the private land improvements (fencing), for which Cupertino is spending $765,000. It is likely a proposal will be made to spend yet more money on this item.
What the Council needs to hear
➤ Vote to allow the trail to go directly to construction without any more votes or delays assuming the bids meet the budget. 
If this project hasn't started construction by February, we're facing another 7 month delay as the project cannot be started during nesting season. Let's stop the delays and move forward.
➤ The trail cost itself will be covered by a state Measure B grant so doesn't cost the city any money. Fences will come out of the city general fund. Don't spend more public funds on these private land improvements. 
It's an unprecedented use of public funds, and there is no evidence it is needed. The Sheriff has said no increase in crime is expected, and the CEQA environmental study doesn't show any expected increase in noise. $765,000 has already been budgeted, almost 30% of the total project cost (more than $9000 per homeowner). That's enough of a good-faith effort.
➤ This is still a great project because it adds recreation and exercise space that is needed now more than ever; it will help CHS and Eaton students get to school more safely; it connects three parks and the City Center, encouraging alternative transportation; it reduces the demand for parking at the city center; it connects to the McClellan bike lanes, providing a safe cross-town connector; and it satisfies the request of 80% of Cupertino residents to have more trails.
This vote can be the last vote — make sure your voice is heard.
The number of people emailing and speaking at a City Council meeting has a direct influence on at Council members' votes on issues.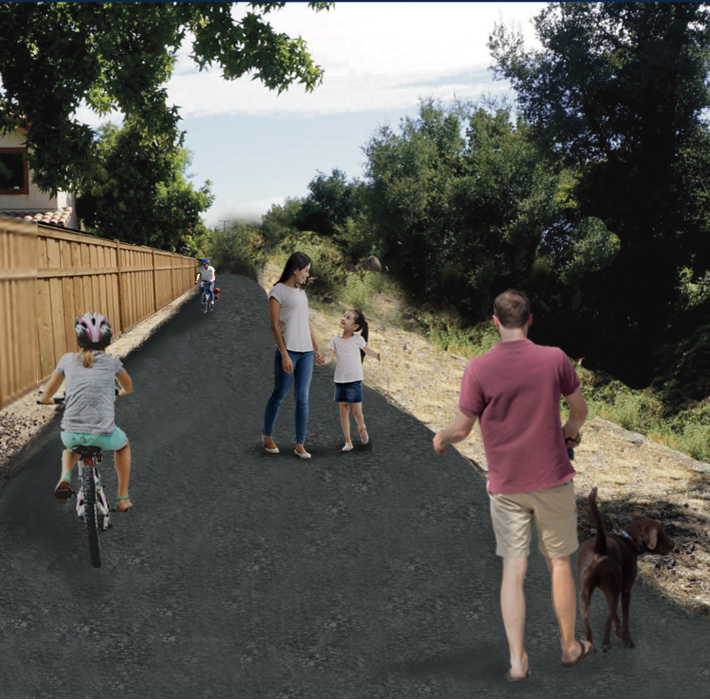 Not sure what to say? We can help.
Friends of Regnart Creek Trail are happy to provide tips and talking points, or even a full script. They will also make sure you know how to sign in for the meeting and more.
You can speak at the Council meeting Tuesday evening comfortably from your home
Speaking can easily fit into your schedule.
All Council meetings are now over Zoom and speaking is off-camera (voice only) so you can relax comfortably in your home until it is time for you to speak. We can even text you to let you know when the agenda item is up so that you can do what you like until then.
Try to speak at Council… but if you really can't, send an email!
We understand that not everyone is able to speak at the City Council Zoom meeting, for a variety of reasons. If you can't speak, the second best thing to do is send an email!
A personal email is the best. You will be able to edit and add your own personal touch to a support email.
Thank you for your support. Your voice makes the difference!
The information in this article is solely the opinion of the author and Walk-Bike Cupertino and does not reflect the opinions of any other organization or entity. For more information, contact WBC at info@walkbikecupertino.org.