Every CUSD and FUHSD School Board candidate answered our survey on walking and biking. The survey focused on getting students safely to school and encouraging healthy exercise for them. The results of the survey were generally positive, though it's clear that there is still work to be done to make Safe Routes and walking and biking a higher priority in the district. We encourage all the candidates to continue to look for ways that these important issues will be a part of the district work.
For the full unedited responses from each School Board candidate click here. 

CUSD School Board Candidates, from left: Wil Fluewelling, Sylvia Leong, Sudha Kasamsetty, and Phyllis Vogel.
Sylvia Leong and Wil Fluewelling get top marks, scoring green for all questions but one. Sudha Kasamsetty's score is close behind, with all answers scored as green except for two questions.
Wil Fluewelling* earned top scores on all the questions though detailed, thoughtful and knowledgeable answers. He has also clearly shown his dedication to improved walking and biking for our students through his previous actions in his advocacy for Safe Routes to school (SR2S) as a Parent Champion and for city infrastructure project.  Some of his ideas include "Continue to push the efforts at school sites using great programs like Walk/Bike Wednesdays via city programs. Continue the bike trainings and helmet fittings at the schools via city programs. Advocate for reducing vehicular traffic around school sites, especially during morning and afternoon commutes."  Keeping kids healthy is a top priority for Mr. Fluewelling: "Yes, the safety of our children is our a top priority, but not just physical safety. We have to stay vigilant with the long term effects of social isolation." 

*read disclosure here
Sylvia Leong gave specific and positive answers to the survey questions. This, combined with her past actions, place Ms. Leong, an incumbent boardmember running for reelection, at the top of our rankings. Ms. Leong is a former Safe Routes parent from Meyerholz Elementary and Miller Middle Schools. She ran a walking school bus every Wednesday for four years and actively participated in Walk Audit work. Ms. Leong had thoughtful and detailed plans on how to increase exercise and safety for students, including a four-part plan to increase the number of students walking and biking to school. Student exercise, safety and active commuting have been a longtime concern for her:  "I have promoted walking and biking to school for many years when my own children were in elementary school, and I remain committed to promoting walking and biking for our students."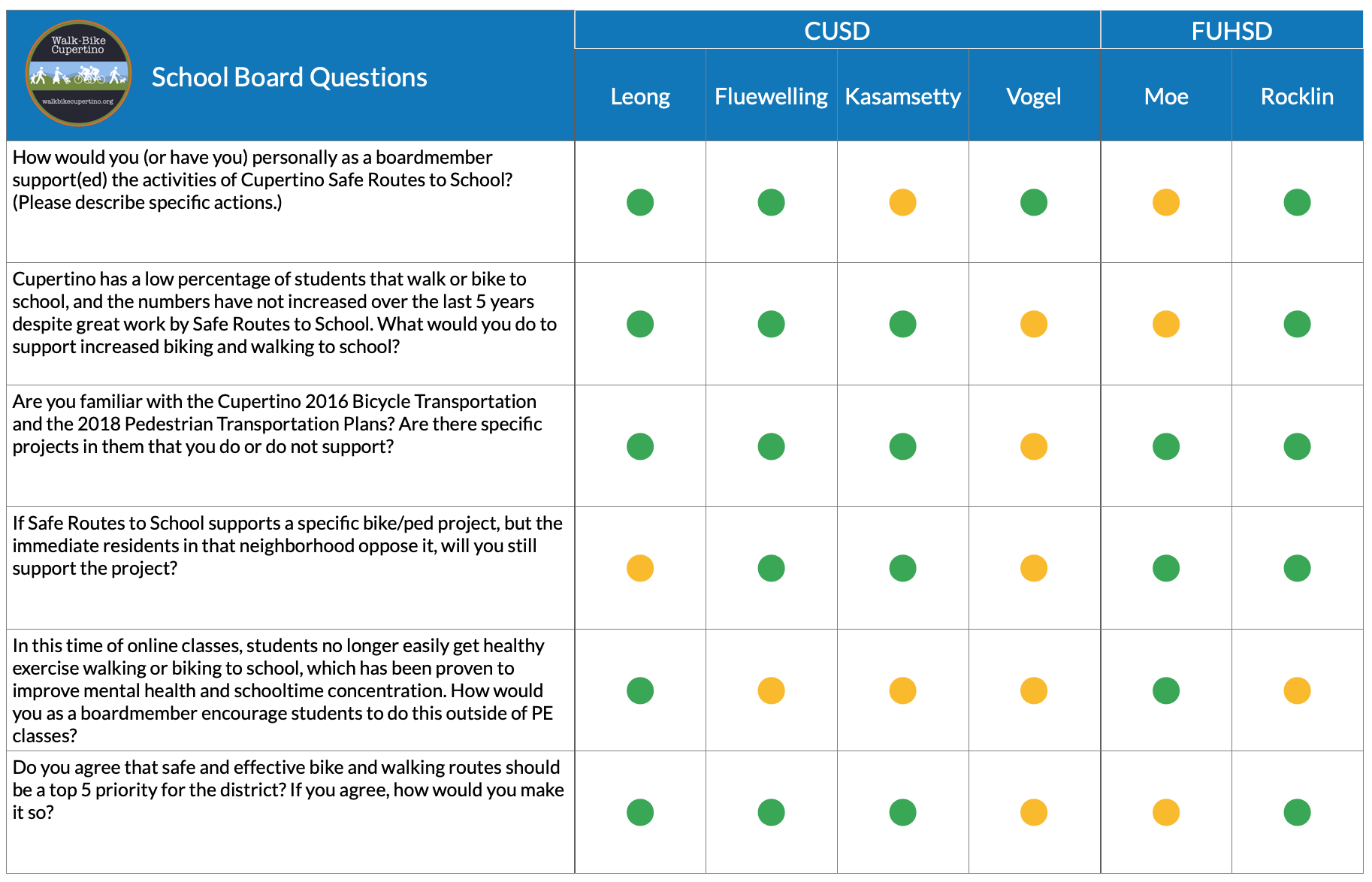 Click on the scorecard for a larger image.  To learn about how these scores were generated, click here.
Sudha Kasamsetty gets close to the scores for candidates Fluewelling and Leong, with green for all questions except for two.  She states that she is a strong believer in SR2S, though she doesn't yet have a track record of support to point at.  She says "I have extreme confidence in the thought process that Safe Routes to School Team puts into their proposals. I will fully support and will continue to bridge the gap with proper communication and educating the community on the importance of such projects. " Ms. Kasamsetty, who is also associated with the Better Cupertino organization, further states that she "absolutely agrees" that safe and effective bike routes should be a top priority, and  she will make sure  that there are "proper conditions/ infrastructure in our schools so Safe Routes to School can develop projects to increase the safety of our kids and make walking/biking experience a fun one."
Phyllis Vogel,
an incumbent boardmember running for reelection, has worked on student safety during her time on the CUSD board. "During 2017 and 2018, I was a member of committees…the purpose of those committees was to discuss safety procedures for students waking and biking to school", as well as participated in a bike rodeo.
Ms. Vogel feels that the cities should be leading the effort on biking and walking: "I believe the major responsibility for biking and walking routes lies with the cities.
The school district should be involved in safety education and encouraging biking and walking.
For me it is not a top 5 priority, but it is important that the district continue to work with our 6 cities in developing safety plans."
Both Jeff Moe and Roy Rocklin are incumbents running for re-election unopposed.  We appreciate that they still took time to fill out our survey, though they will naturally win their elections.
Roy Rocklin, a strong supporter of biking and walking for many years, scored all top marks but one. Mr. Rocklin has been active with SR2S, helped with the Homestead Road Corridor improvements, has advocated personally for improved walking and biking infrastructure in Cupertino and has helped with bike rodeos.  His detailed ideas to increase bike riding to school are, "Support improved bicycle lane markings and dividers, support building more Class I bike/pedestrian paths, encourage more frequent communications to parents and students promoting bicycle ridership."
Jeff Moe also supports SR2S, noting, "Traffic congestion around schools is a concern for the entire community and Safe Routes to School is an excellent solution to that problem." He further states, "I consider myself to be a big supporter of the development of bicycle and pedestrian paths."
We at Walk-Bike Cupertino are grateful to all the School Board candidates for considering these important issues and for letting their views be known to their voters. 
As a voter, please use this information to help make your decision for the best future councilmembers here in Cupertino!
Disclosure: Will Fluewelling has been a Walk-Bike Cupertino Boardmember for several years. He did not have access to the survey questions in advance, and has not seen other candidates' answers before this publication. He received his questions in the same manner as other candidates, via a standard email. None of the answers to the survey, including his and others, have been discussed with him.
The information in this article is solely the opinion of the author and Walk-Bike Cupertino and does not reflect the opinions of any other organization or entity. For more information, contact WBC at info@walkbikecupertino.org.