The future UPRR Trail here in Cupertino seems to be at a standstill. Union Pacific doesn't seem to want to work with the City of Cupertino to allow a trail there, and it can't move forward without their approval. This trail is important to Cupertino: it is Tier 1 on the city's 2016 Bicycle Transportation Plan, and Tier 2 on the city's 2018 Pedestrian Transportation Plan. Many people use it informally today without it being a designated trail.
Though the trail itself is not having any progress, Mr. Roadshow–Gary Richards in real life–says in the Monday, August 31 Mercury News that all is not lost. VTA is now working on a conceptual bicycle corridor which includes the trail. Perhaps with VTA's "muscle", the project might be able to move forward. Below is the section from Mr. Roadshow's column on this topic.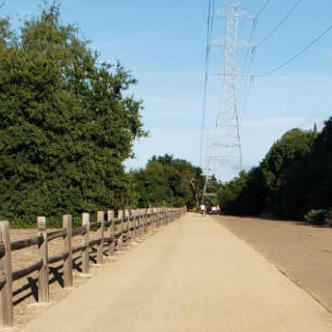 Q: You say that a bike trail along the Union Pacific Railroad (UPRR)  tracks parallel to Highway 85 is planned but not imminent. What does that mean?
Don Collins, San Jose
A: Cupertino has launched a study to build out a portion of the trail along UPRR — named the De Anza Trail. Alas, UPPR does not support any trail along their tracks. Despite a significant and protracted effort, Cupertino was not able to reach a compromise with the UPRR. Building a trail along this corridor is still a long-term goal, but is not feasible in the short term due to current UPRR policies.
But don't give up. The VTA has identified the 85 corridor and the proposed UPRR trail as an important element of a conceptual countywide bicycle superhighway network. Cities have separate plans that, when combined, would provide a continuous 20-mile bike path/low-stress bikeway/protected bike lane from the end of Stevens Creek Trail (at Heatherstone Way in Mountain View) to the Coyote Creek Trail in San Jose.
That would be cool.
The information in this article is solely the opinion of the author and Walk-Bike Cupertino and does not reflect the opinions of any other organization or entity. Thanks go to the Mercury News and Mr. Roadshow for highlighting this issue. For more information, contact WBC at info@walkbikecupertino.org.