The Uvas Canyon County Park is nestled on the beautiful Santa Cruz Mountains. It offers 7.2 miles of hiking trails traveling along the Swanson Creek and several waterfalls, which make this park a very popular destination. Through September 7th 2020, parking reservations with assigned entry time slots are required for all visitors (Please check their website for most updated information). To guarantee the availability, we reserved our parking permit ($6 fee) three weeks in advance. 
We visited the park on a weekend in June and the traffic was not heavy. Approaching the park entrance, the road narrowed to one lane, so we waited for oncoming traffic to clear. A park ranger was at the entrance checking parking reservations. At the parking area, restrooms are available with flush toilets, running water and soap.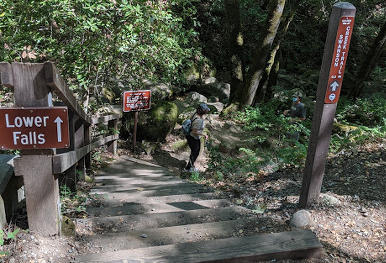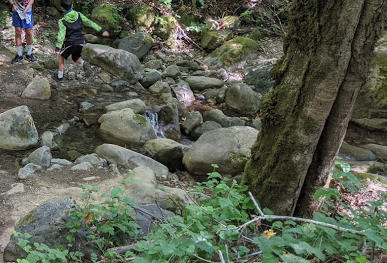 From the parking area, we walked along the Waterfall Loop Trail towards the campground and noticed an inviting wooden stairway descending to the creekside entering the Swanson Creek Trail. Kids enjoyed stepping on the rocks and crossing back and forth over the creek. The trail is a little narrow with twists and turns, going down most of the time. It's about 0.2 miles one way to reach the Lower Falls. It's very refreshing to hike along the bubbling creek, except that we had to watch our steps very cautiously so as not to fall on the slippery slopes with gravel. 
After returning to the entrance of the Swanson Creek Trail, we continued west on the Waterfall Loop Trail to visit Black Rock Falls, Basin Falls, and Upper Falls. We climbed uphill on a wide pathway about 0.5 mile to reach these waterfalls. Along the way, we had water breaks by redwood trees.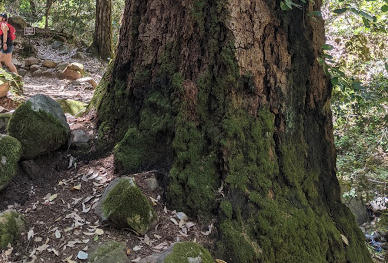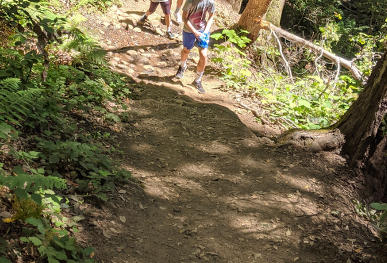 The Basin Falls and Upper Falls are very close to each other. Water streams are moderate in summer, so it is safe to explore around. This is a great place to enjoy a picnic if you don't mind sitting on logs or rocks by the creek. We almost completely missed the Black Rock Falls, because its stream was only trickling down.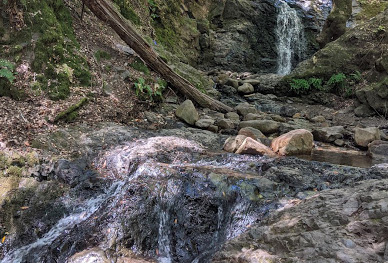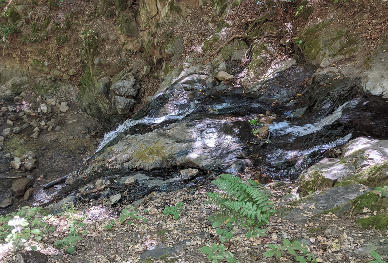 The last waterfall to check out was Triple Falls, located at the east side of the park. We hiked about 2.5 miles following the Contour Trail, then the Alec Canyon Trail connecting to the Triple Falls Trail. Even though this waterfall was completely dried up this summer, it was still a very pleasant hike, breathing fresh air on the mountain. We will definitely come back in spring to catch more spectacular views of cascading waterfalls.