A new report out from the Safe Routes Partnership and the YMCA of the USA analyzes state policy in all 50 states plus the District of Columbia to provide a snapshot of each state's support for walking, biking, and physical activity. The report cards were generated by evaluating each state across a total of 28 indicator areas, divided into four core topic areas (see box below). In each of these areas, states have the opportunity to play a significant role—through policies, funding, and other support—in increasing the number of youth and adults walking, bicycling, and being physically active. This information also gives an idea on how the states are improving, as the states were also scored in 2016 and 2018.
The complete California score sheet is below.  (Click on the picture for a larger image.)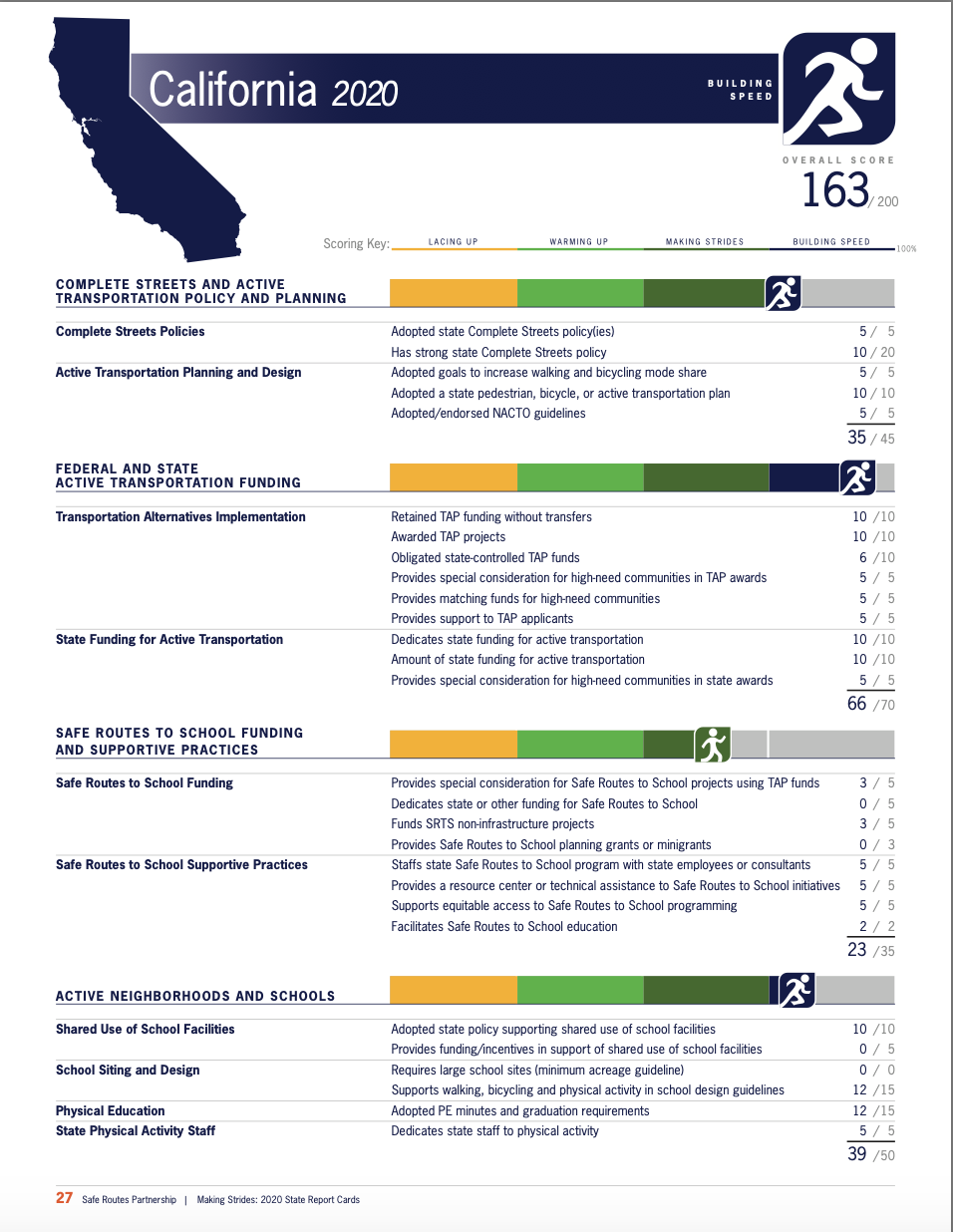 Core Topic Areas Scored in Study
Complete Streets and Active Transportation Policy and Planning

Federal and State Active Transportation Funding

Safe Routes to School Funding and Supportive Practices

Active Neighborhoods and Schools.
Where California is excelling, and where we need more work
The findings show that while California is doing very well compared to other states, more needs to be done.
Key areas where California is excelling are our state support for transportation alternatives and funding for active transportation within California, both with perfect or near-perfect scores. This includes funding and support for Complete Streets policies. Of course, this support can also vary amongst locally municipalities within California. In Cupertino, the City Council declined in June 2020 to create a Complete Streets Commission unlike several other neighboring cities. The Cupertino Bicycle Pedestrian Commission also decided to not work on creating a new Bicycle and Pedestrian Transportation Plan for next year, though the current (Bicycle) one expires in 2021.
California, like all states, still has work to do. Supportive funding is very low for Safe Routes to School, including funding for non-infrastructure work, such as education and grants. The State of California doesn't support (monetarily) using school facilities for local recreation, though local school districts FUHSD and CUSD do allow it on some of their properties.
For information on all the states' report cards, click here to access the full report.
A special thank you to Cupertino Safe Routes to School Coordinator, Cherie Walkowiak, for sharing the Safe Routes Partnership information with local residents. 
The contents of this article are solely the opinion of the author and Walk-Bike Cupertino.