YES, YOU CAN GET OUTSIDE, BUT THERE ARE A SOME THINGS YOU SHOULD ADJUST.BY JOE LINDSEY Mar 19, 2020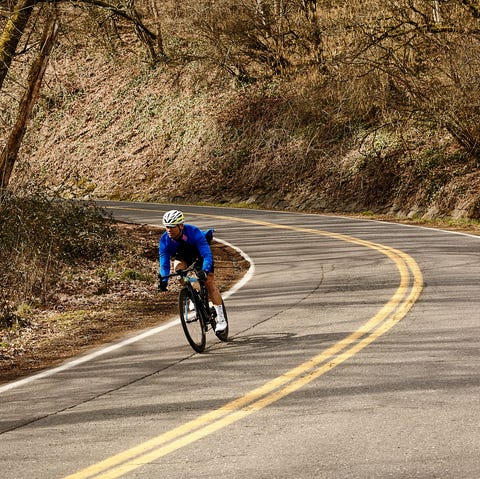 Brian Barnhart, Bicycle Magazine
This is a rapidly developing situation. For the most up-to-date information, check resources like the Centers for Disease Control and Prevention (CDC) and World Health Organization (WHO) regularly. This story will be updated as new information becomes available.
---
The rapid onset of the coronavirus pandemic in the United States leaves us all reeling. From worries about staying healthy to concern for the accelerating damage to the economy, it feels overwhelming, and we could all use a head-clearing bike ride right now.
And unless you're in quarantine, or a shelter-in-place order expressly forbids it, you can and should do exactly that. But during this unprecedented time, it's not business as usual. (Note: California is now under a stay-at-home mandate and others may follow so stay tuned into your local news and authorities). Here are some changes you should make to your usual riding routine.

MORE FROM BICYCLING
5 BOSU Exercises to Work Your Full BodyPrevious VideoPlayNext VideoUnmuteCurrent Time 0:00Loaded: 56.05%Remaining Time -0:59CaptionsFullscreen
Ride Alone
Seriously. We love group rides, but now is not 👏 the 👏 time👏. We're conditioned—culturally and by infrastructure—to ride close together, and that's simply not safe yet. Even if you think you can maintain the suggested distance of at least six feet, it's best to err on the side of caution here and go solo.
Take Everything You Need
One benefit of group rides is a form of social insurance. Someone on the ride always forgets food or tools, but someone else always has them. That support network is sidelined for now. Make sure you have plenty of food and water; your phone and necessary cards (ID, insurance, credit or debit); and a proper toolkit. Check the battery charge for parts like electronic shifting, lights, and computer after every ride and recharge regularly.ADVERTISEMENT – CONTINUE READING BELOWAdOpendoorSee why America's top builders partner with Opendoor
With a stamp of approval from their financial planner, Anne and Jim Nash sold their home to Opendoor, enabling them to move into a new cons…VISIT SITE NOWSPONSORED BY OPENDOOR
With a stamp of approval from their financial planner, Anne and Jim Nash sold their home to Opendoor, enabling them to move into a new construction home.SEE MORE
Double-Check Your Toolkit
Most of us bring at least a small assortment of roadside repair gear on rides. But right now, you may need to bring more to ensure you've got everything to address the most possible issues. It's also a great time to check to make sure that the inner tube that's been in your seatbag since last fall still holds air (jostling against items like mini-tools can wear holes in spare tubes over time). Here's what you need:
At least one spare tube
A glueless patch kit
A mini-tool with fittings for the most crucial bolts on your bike (most common are 2mm to 6mm hex keys, T25 Torx head, Phillips-head screwdriver)
A chain tool
Spare chain link or connector pin
Two tire levers
A pump and/or CO2 inflator (with two cartridges)
a tire boot (old Tyvek envelopes work great)
a spare derailleur hanger, especially for mountain bikers
Bonus: zip-ties and a short section of duct tape, wrapped around one tire lever
Consider Shorter Routes
While most shelter-in-place orders for the San Francisco area make an exception for exercise, don't abuse it. You might have time right now for a four-hour expedition, but it's wisest to stay closer to home.
Aside from the well-being of all, if you need further convincing: You don't need those long rides. A recent review of studies on the positive impact of being outside found that studies show as little as 10 minutes in natural settings can lead to an improvement in physiological stress markers like lower heart rate, blood pressure, and cortisol.
You can still get a great workout in a 60- to 90-minute loop. Bear in mind that high training loads (duration or intensity) can suppress the immune system. Not to worry: There aren't any races to do at the moment anyway. Building to peak fitness isn't the goal right now, but moderate workouts can help maintain your base and keep the legs fresh. After a 15-minute warmup, try one of these:
Tempo Time
Increase your effort to a hard but sustainable level—heart rate Zone 4 (75 to 85 percent max heart rate) or 7 to 8 on the Rate of Perceived Exertion (RPE) scale. Hold that pace for 10 to 20 minutes. Recover for half the interval time. Repeat 1 to 2 more times.
Under/Overs
Increase your effort to Zone 4 (75 to 85 percent max heart rate)/RPE 8 and hold for 5 minutes, then lift your effort just a few BPM (low Zone 5/RPE 9) for 1 to 2 minutes. Drop back down to Zone 4/RPE 8 for 5 minutes. Recover at an easy pace for 10 minutes, then repeat 1 to 2 times.
Gears for Hills
On a moderate climb, alternate climbing in a big gear at a lower cadence (below 70 rpm) for 1 to 2 minutes, then spin an easy gear (above 90 rpm) for 1 to 2 minutes.
---
More Ride-Related Coronavirus Resources
How to Ride Safely Amid Coronavirus Concerns
READ MOREA Cyclist's Guide to Self-Care In These Stressful Times
READ MOREFree Workout Streaming Services You Can Use at Home
READ MOREWhat You Need to Know About Spit and Snot During the Coronavirus Outbreak