This past Saturday, six of our Walk-Bike Cupertino Advisory Board members supported  the 5th Annual 2018 Cupertino Fall Bike Fest hosted by Cupertino's Safe-Routes-to-School and Bicycle Pedestrian Commission.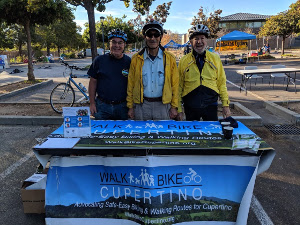 The WBC team helped with the helmet fitting for the bicyclists, shared bike safety information with attendees and helped with the popular bike blender. Two board members Jennifer Shearin and Gerhard Eschelbeck – who also serve on the Bike/Pedestrian commission, not only coordinated the event, but also personally led the bike rides for two different rides around the Cupertino. The shorter, 45 minute family ride was 4.5 miles with a water break in the middle at Sterling Barnhart Park, and the longer ride was a faster-paced 15 mile course through Cupertino which lasted approximately 1.25 hours. Fun was had by all of the 96 riders.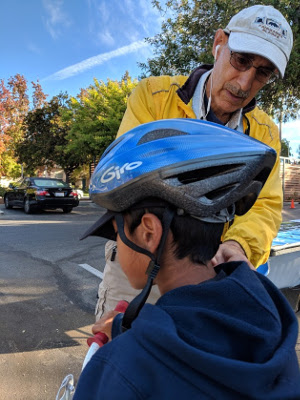 Held on a beautiful Fall Saturday, over 125 family members enjoyed the fun activities like bike rodeo/obstacle course (run by Safe Moves), bike blender for smoothies, e-Bike demo (courtesy of Mike's Bikes), bicycle repair (courtesy of Calabazas Cyclery) and face painting (courtesy of Cupertino Girl Scout Troop 60657) and more. Most importantly, young bicyclists learned safety skills and will be more confident and safer on the road!