Walk-Bike Cupertino has conducted a survey of the FUHSD (high school) and CUSD (elementary/middle) school board candidates. Specific questions were asked about their support for Safe Routes to School (SRTS) and their ideas to increase walking and biking to school in their districts. School board candidates make important decisions about the safety and education of our community's children. It's important voters have all the information to make an informed decision about which candidate will make these issues a priority.
The Walk-Bike Cupertino Board has rated the candidates' answers on a green-yellow-red scale (see the methodology box, below) as an easy voter guide. There are several FUSHD board candidates that have scored green overall, including incumbent Bill Wilson, Don Sun, and Naomi Nakano-Matsumoto. Lori Cunningham and Jerry Liu are the two CUSD candidates to have a top score. Others supported SRTS, but may not have had specific plans for increasing walking or biking, or reservations/caveats in their answers so therefore scored yellow overall. These included FUHSD candidates Rosa Kim and Meena Juttukonda-Gajula and CUSD candidates Will Fluewelling and Satheesh Kumar Madhathil. Only one candidate, FUHSD candidate Benaifer Dastoor, scored red overall due to opposition of a SRTS-backed bicycle/pedestrian trail in Cupertino and lack of support for SRTS/resident biking and walking projects that adjacent neighbors are against.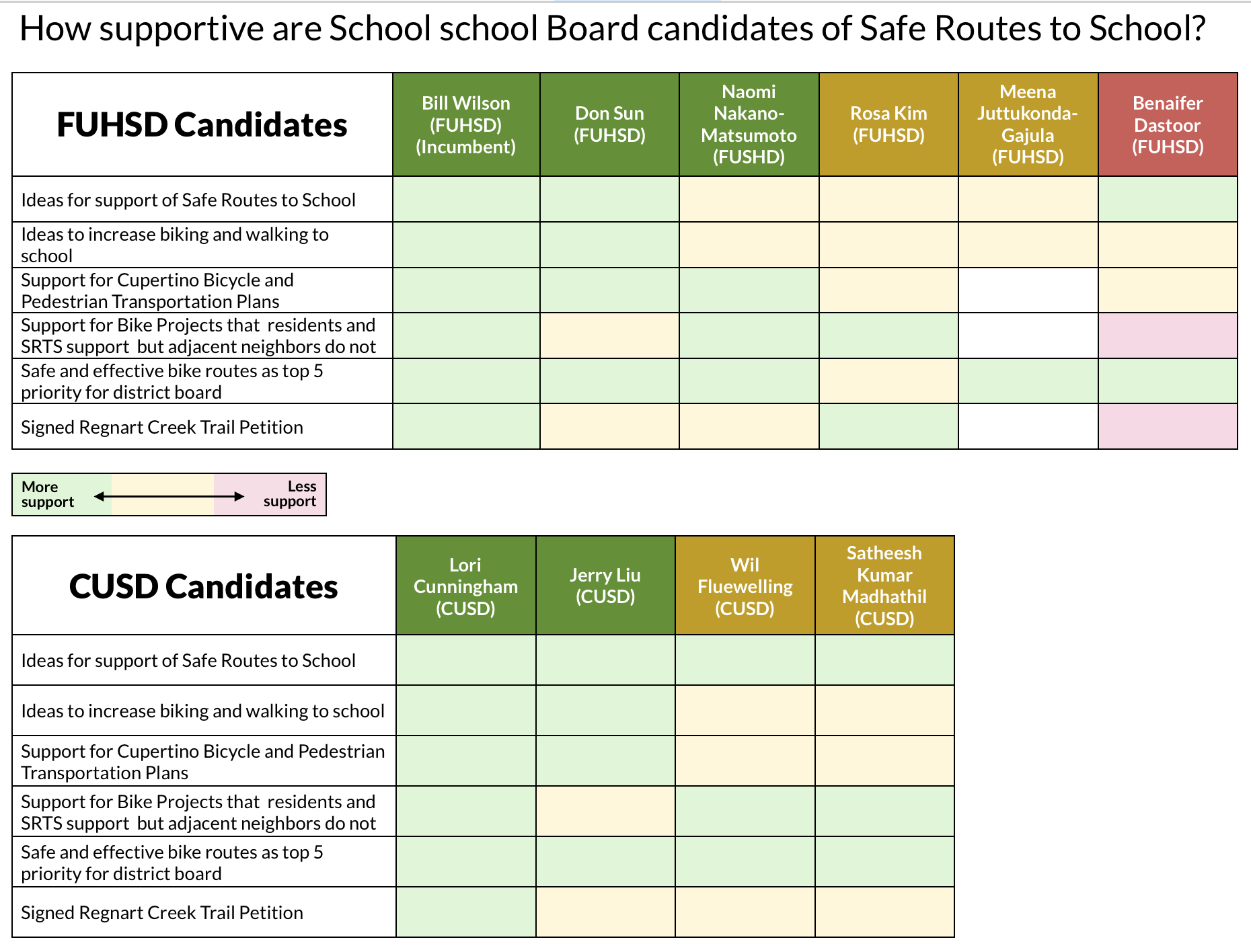 Each candidate was sent the survey multiple times to the email addresses provided on their websites. to make sure that they had adequate time to prepare. Thank you to every candidates who participated. We appreciate the time you spent to give thoughtful answers during this busy campaign season.
Though WBC does not endorse any candidate, we hope that we have provided useful information so that our neighbors can make an informed decision on their ballots. Please also look on this website for the survey of Cupertino City Council candidates, so you can be fully informed about those elections as well.

This content is solely owned by Walk-Bike Cupertino and reflects only the views of the WBC Board as a whole. Please contact us for permission if you wish to republish it or use it in campaign materials.