Creating the new bike lanes along Stevens Creek doesn't just mean putting in a barrier between the car lanes and bike lanes.  It also involves some decisions on how to handle crossing and merging vehicle traffic with bike traffic.  Here are the current Cupertino plans for handling these areas.
Driveways:
Most driveways onto Stevens Creek will have the same profile as today's roadway, except there will be a gap in the barrier between the bike lane and the main roadway to allow for cars to pull out through the bike lane.  There will be three driveways along Stevens Creek that will be handled differently, due to higher traffic volumes at those points and the need for increased visibility of cars at those locations.  These driveways will be raised to the parking lot height through (crossing) the bike lane, so the cyclists will be traveling over a 'hump'  with crosshatch markings. (Picture in this article, below.)  These locations will be at Torre in the westbound direction adjacent to the bus stop, and two more at the Target Parking lot exits.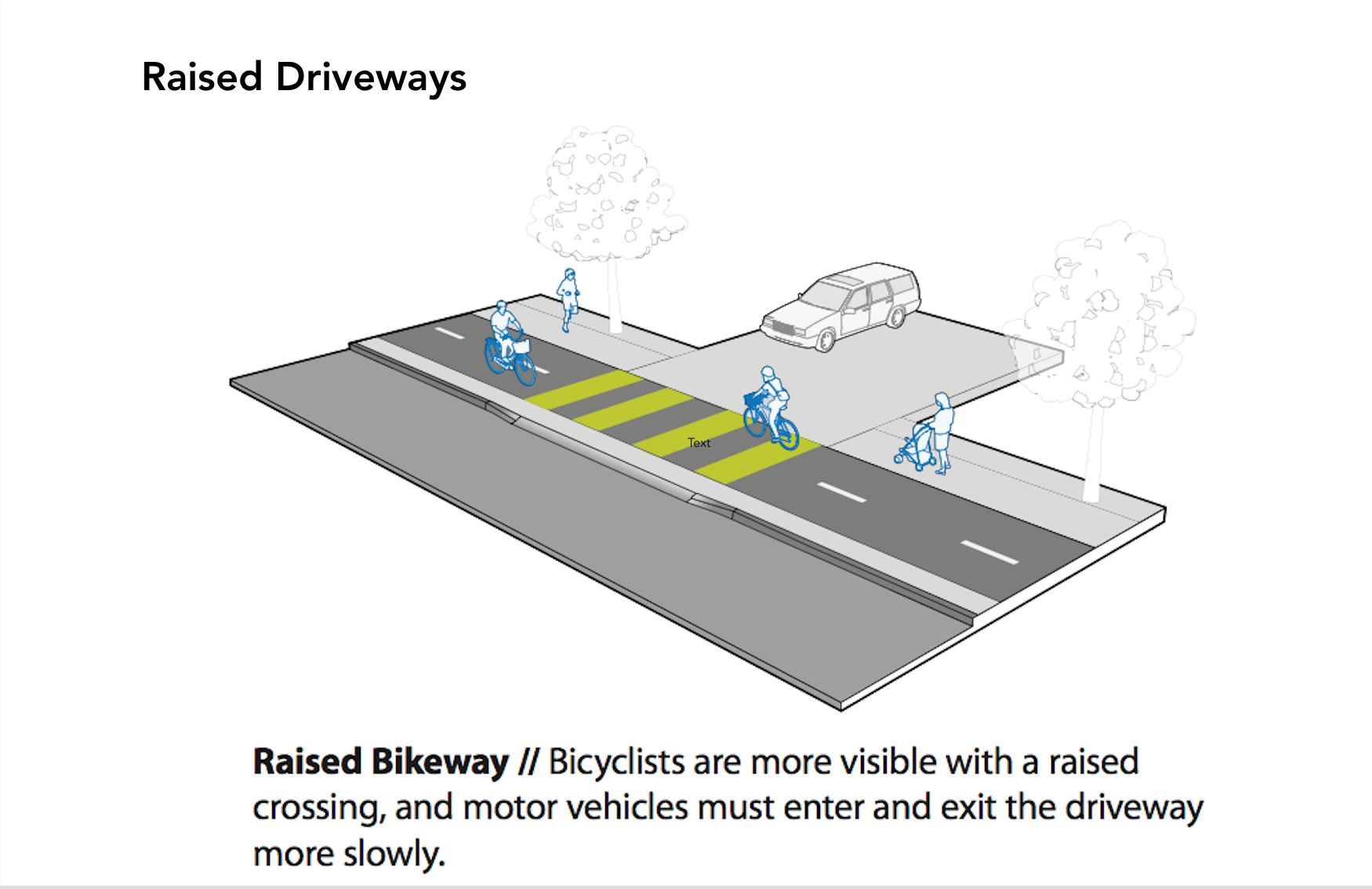 Bus Lanes:
As buses must merge into the bike lanes currently to allow passengers to embark and disembark, there are issues of safety for cyclists in the bike lanes.  Bus pull-offs will have three distinct treatments along Stevens Creek depending on number of bus entrants/exiters and the structure of the roadway and setbacks at a location.
The first treatment will be a 'floating' bus stop, where bike traffic rides behind the bus stop in its own lane, so buses do not merge into the bike lane at any point (as shown below).  This is offers the least disruption to bike traffic, but is the most difficult and expensive to implement.  These locations will be:
Eastbound at Mary Ave
Westbound at Saich Way
Eastbound & Westbound at De Anza Blvd
Westbound at Wolfe Road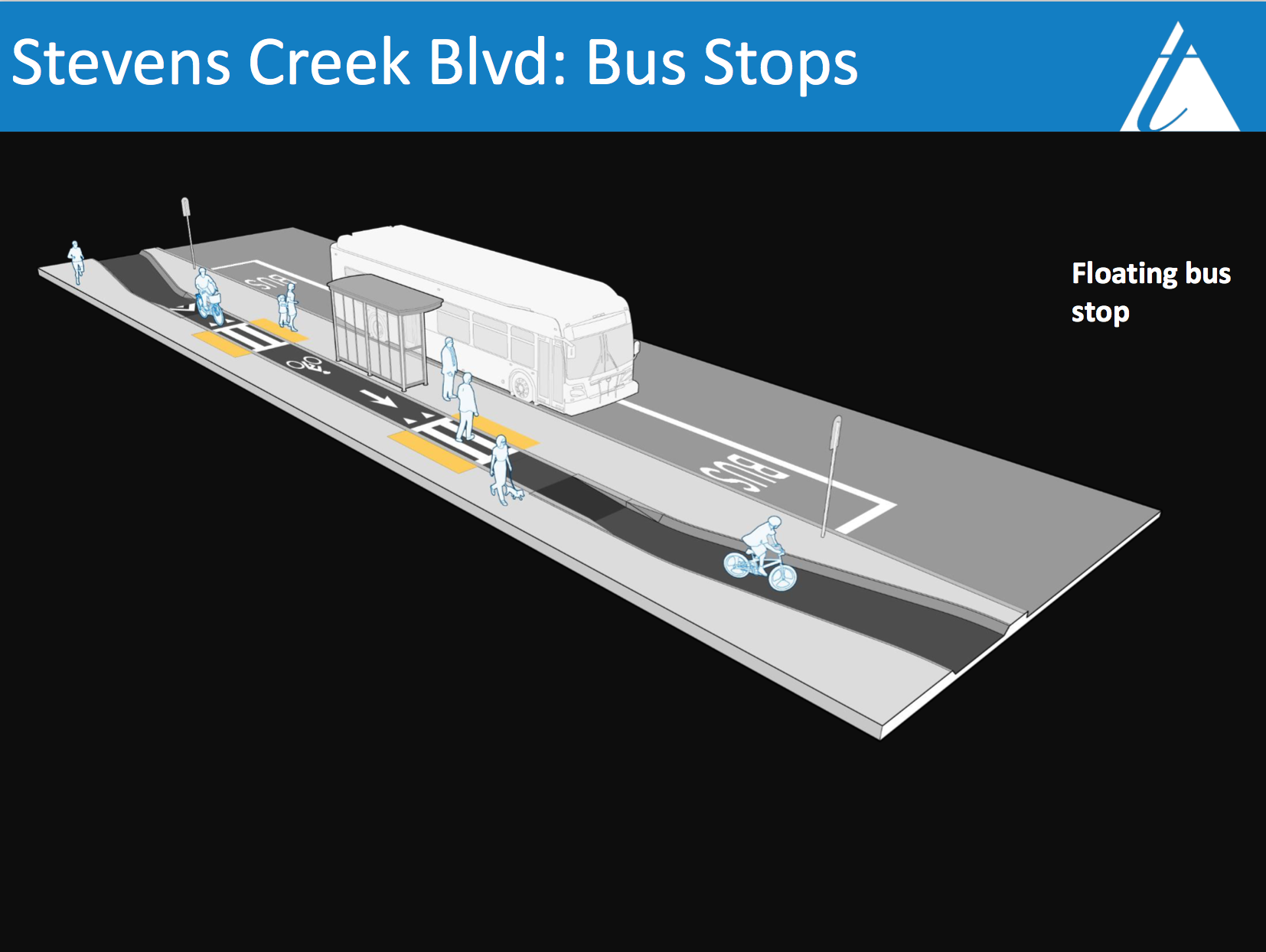 The second type of bus pull-off treatment is called a Bus/Bike Weave, or Full Bus Pullout.  The buses pull through the bike lane into a separate stopping space outside the bike lane.  (See picture, below).  The locations for this treatment will be:
Westbound at Phar Lap Drive
Westbound at Stelling Road
Eastbound at Torre Ave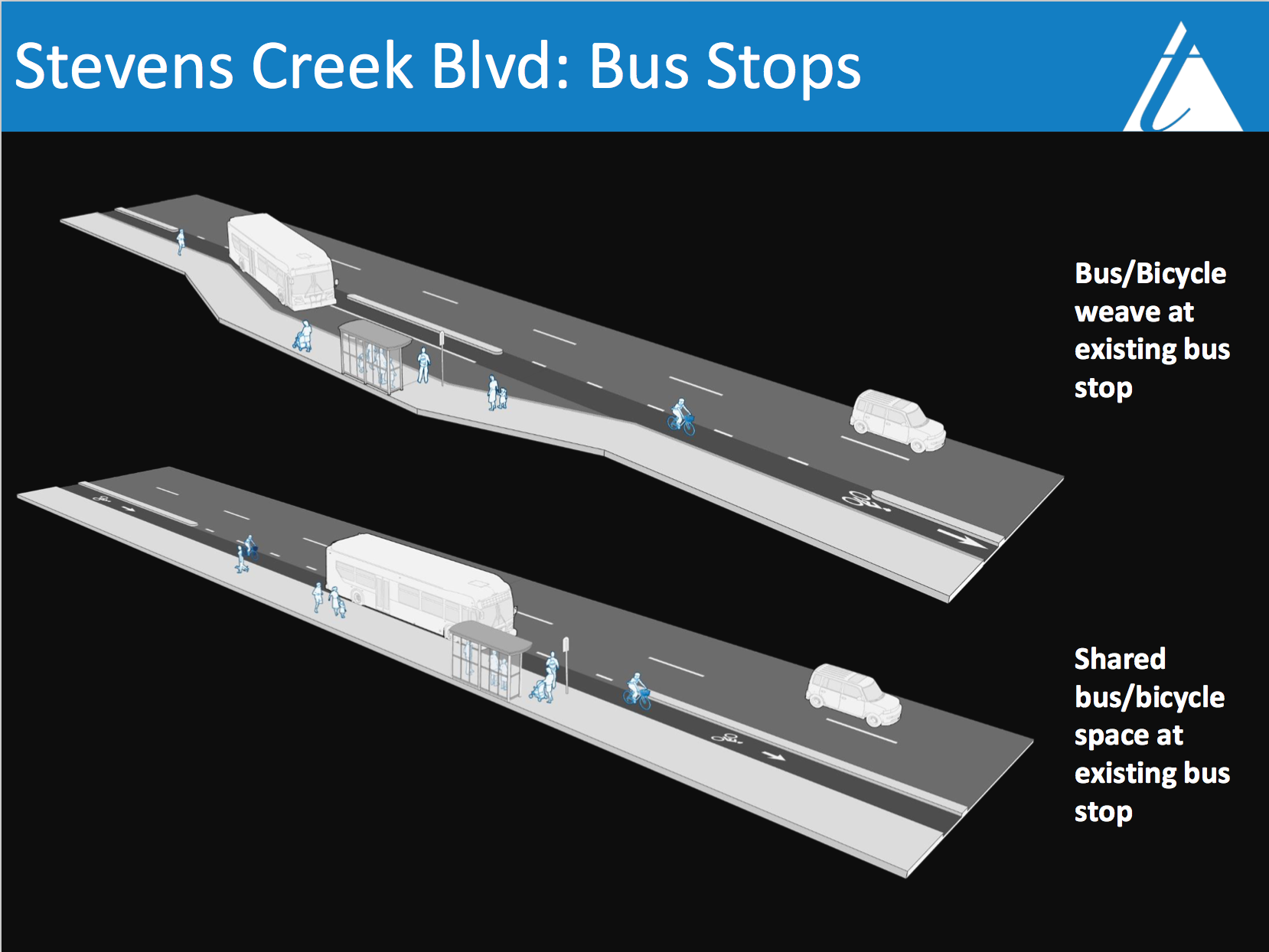 All remaining bus stops will be as per today (as shown above), with the bus and bicycle sharing a lane while passengers are getting on and off the bus.  There will be openings in the bike lane to allow for the buses to go into the bike lane to do this.
Traffic Lights:
With the new bike lanes, traffic lights must be adjusted so that there are not conflicts between cyclists heading straight through an intersection and vehicle traffic turning right.  This will be accomplished through traffic signal changes at major intersections which will include bicycle-specific lights which are triggered by bike lane sensors.  Only if there is bike traffic will these lights cycle.  Right-turn only lanes will be made at these intersections, with a 'no right turn on red' due to the conflict with the bike lane.  These 'right turn only' lanes will be signaled.   An example of this, at Stelling and Stevens Creek, is shown below.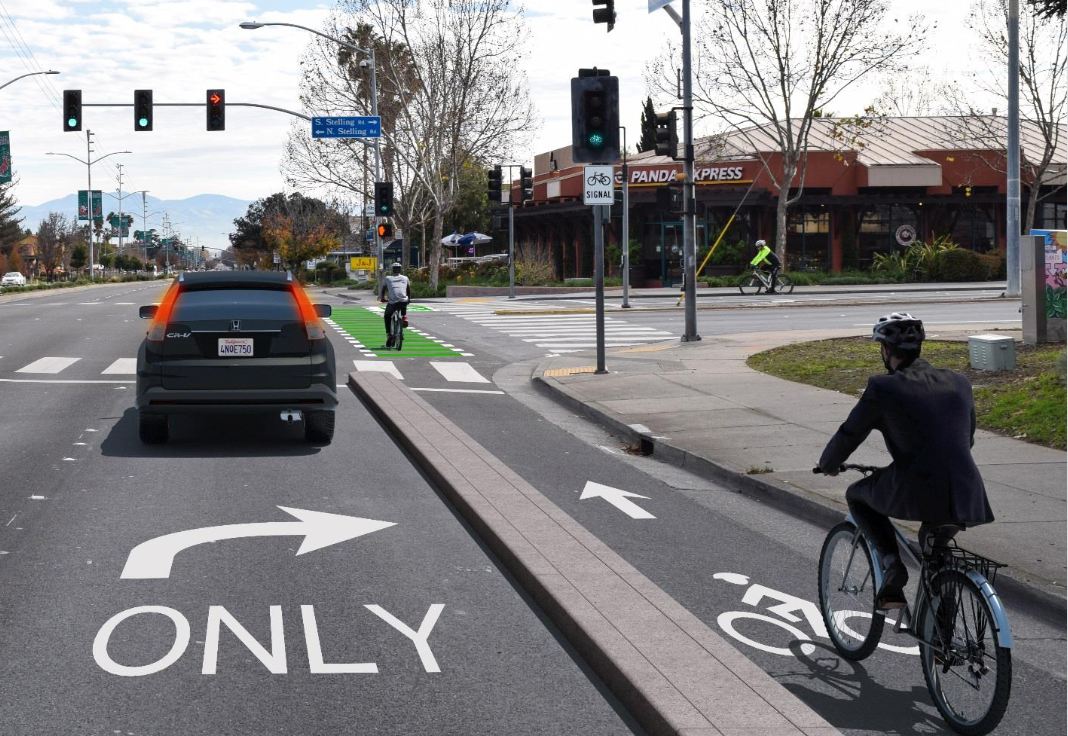 The new Class IV bike lanes along Stevens Creek will bring many changes to the roadway, which should improve cycling safety and access in our community. Look for more updates here on the Walk-Bike Cupertino website for upcoming progress.