Guten tag! Walk-Bike Cupertino Board member and Vice-Chair of the Cupertino Bike Ped Commission Hervé Marcy met with Eva Mahling and Johan Buchholz, board members of Allgemeinen Deutscher Fahrradclub in Munich (ADFC München), a large cycling advocacy organization.
The ADFC Munich is a non-profit organization that is passionately committed to promoting a bicycle-friendly city and safe cycling. With currently 9,200 members in Munich alone and a total of 220,000 members throughout Germany, the ADFC is a strong advocate for the interests of cyclists.
It's clear that in Munich they struggle with similar issues that we have here in the Bay Area. Read on to hear how they are approaching their challenges and how they advocate for better biking infrastructure.
What's the biggest issue you see in Munich for cyclists?
One common problem is that many bike lanes are too narrow. This frequently leads to conflicts between cyclists traveling at different speeds, pedestrians, and, of course, motor vehicles. However, the biggest conflicts occur between cars and bicycles, with parked or stopping vehicles in bike lanes, intersections blocked by parked cars, and dangerously close overtaking maneuvers.
Why do these conflicts matter?
Not only is the ease of biking compromised, but the safety of cyclists is also at risk. The stated goal of "Vision Zero," which aims to eliminate traffic fatalities and serious injuries, is far from being achieved. While overall accident statistics in Bavaria are decreasing, the numbers unfortunately show an increase in accidents involving cyclists compared to 2019.
Furthermore, conflicts with other road users, whether due to lack of consideration or unsafe traffic management, also need to be addressed. The ADFC is actively involved in raising awareness and promoting understanding and acceptance for cyclists. Through educational efforts, the organization aims to foster a better understanding of the needs and rights of cyclists among all road users.
Compared to Cupertino, Munich's biking infrastructure seems very well developed.
When you first arrive in Munich, you will be impressed by the excellent bicycle infrastructure that the city has to offer. However, appearances can be deceiving, as the well-developed bike paths hide a story of change and adaptation to the growing number of cyclists.
What was early biking infrastructure like?
In the 80s, many bike lanes were built directly alongside pedestrian walkways in Munich. At that time, the number of cyclists was relatively low, and the existing infrastructure seemed sufficient to meet the needs of the time.
So what is it like right now? Has Covid affected anything?
In recent years, the situation has drastically changed. The number of cyclists has increased rapidly, partly due to the impact of the pandemic. More and more people are switching to bicycles and using them as a practical and environmentally friendly mode of transportation. And it's not just traditional bicycles on the roads; there are also various types of cargo bikes, bicycles with child trailers, and delivery bikes from services like DHL and UPS.
This shift in transportation habits has put pressure on the existing bike infrastructure in Munich. While the city initially had a good foundation, it now faces the challenge of accommodating the growing and diverse cycling community. The infrastructure needs to be adapted and expanded to ensure the safety and convenience of all cyclists.
Is the city doing anything to address these changes?
The city of Munich is aware of these changes and is working towards improving the bike infrastructure. Plans are in place to address the current limitations and make the necessary adjustments to meet the demands of the increasing number of cyclists. By investing in the expansion and enhancement of the bike network, Munich aims to provide a comprehensive and interconnected system that supports the diverse needs of cyclists.
While the initial impression of Munich's bike infrastructure may be positive, the reality reveals the ongoing efforts to adapt to the changing landscape of cycling in the city.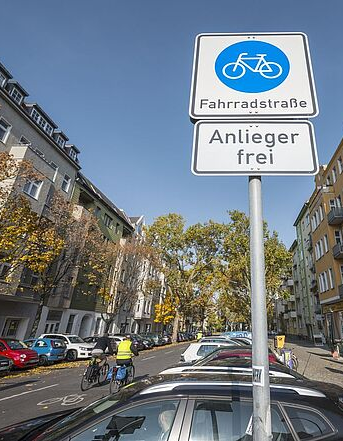 A bicycle-only street in Munich (except residents).
Does the city "organically" add new infrastructure for bikes, or are there municipal requirements for it?
In 2019, Munich witnessed the most successful citizen initiative of all time, demanding a better bicycle infrastructure in the city. Within just four months, over 160,000 signatures were collected.
The Munich City Council recognized the demands of the citizen initiative in June 2019 and passed measures to enhance the bicycle infrastructure. As a result, the Mobility Department was established in Munich on January 1, 2021. Since then, this institution has been working on solutions to make cycling in the city safer and more appealing.
How has the implementation of the solutions been going?
Despite the clear public will to improve bicycle infrastructure, the implementation has been progressing slowly. One reason for this is the lack of resources. Additionally, the current guidelines and traffic laws are outdated and present obstacles to progressive bicycle infrastructure.
To counteract this situation, the ADFC Bayern initiated a statewide citizens' initiative in 2022. The goal of this initiative is to establish a bicycle law for Bavaria [which includes the city of Munich], which obligates the state government not only to talk about environmentally friendly mobility but also to actively implement measures to promote cycling.
Nevertheless, many dedicated cyclists are frustrated today, as the implementation of the citizen initiative's goals in Munich is progressing slowly. In recent years, numerous plans and measures have been developed, but the reconstruction and transformation of the infrastructure often take much longer than expected. These delays lead to frustration and impatience among all those advocating for a bicycle-friendly city.
Are you seeing resistance to bike projects?
As one of the most densely populated cities in Germany, Munich struggles with limited public space and high traffic volumes. In fact, the city has been the number one congestion capital in Germany for years, which also has a negative impact on air quality. 
To meet these challenges, the public space in Munich needs to be reallocated. Since the streets cannot be widened, it is necessary to reduce either traffic lanes or parking spaces. However, this reallocation of public space is often met with resistance, as the elimination of parking spaces can be met with opposition.
How has your group responded to this opposition?
This is where ADFC Munich can make the greatest difference–by counteracting the resistance through advocacy. The ADFC inspires people to cycle, increasing the number of people who desire better infrastructure and care less about parking. The ultimate goal is for people to realize that they no longer need a car and sell theirs after a few years of cycling. Currently, only 40% of Munich residents own a car.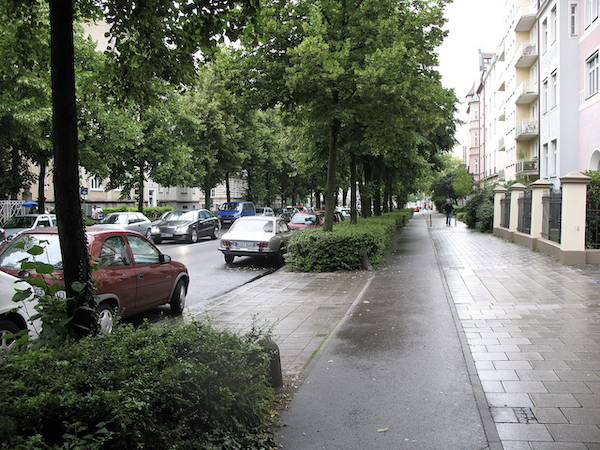 Typical street infrastructure in Munich. The bikes go on the paved portion, and pedestrians walk on the bricks.
What's the overall mission of your organization? 
The vision of the Allgemeinen Deutschen Fahrradclub in Munich (ADFC München) is to ensure that all citizens can ride safely and comfortably in and around Munich. 
What are the key issues that your group works on?
Secure bicycle infrastructure is a top priority. The ADFC advocates for not only the main roads but also the side streets and residential areas to be bicycle-friendly. A well-developed network of bike paths is essential for cyclists to travel their routes safely and without unnecessary hazards. This involves more than just the length of the paths; the quality of the infrastructure is equally important. The ADFC advocates for secure bicycle infrastructure for not only the main roads but also the side streets and residential areas to be bicycle-friendly. A well-developed network of bike paths is essential for cyclists to travel their routes safely and without unnecessary hazards. This involves more than just the length of the paths; the quality of the infrastructure is equally important. 
This includes providing adequate bicycle parking facilities, eliminating obstacles and hazardous spots, and ensuring clear signage. Special attention is given to the safety of cyclists on the roads, both in relation to motor vehicles and pedestrians, and adding new bike lanes to create a seamless biking path. 
How do you prioritize the work in your organization?
The organization is divided into various working groups, each focusing on specific topics. In addition to advocating for cycling-related policies and working with local and regional decision-makers, the association offers a wide range of services and activities for its members.
What are the focus areas that you work on most?
One of the ADFC Munich's main concerns is promoting bicycle safety. They offer bicycle safety training and cycling schools to educate cyclists about road safety. The association also operates a self-help workshop where members can learn to repair their bicycles independently. 
Another highlight is the organized day and multi-day tours, providing members with the opportunity to explore the beautiful surroundings of Munich and beyond together with like-minded individuals. 
The ADFC Munich is also actively involved in bicycle theft prevention. One of their working groups, for example, offers bicycle registration marking to deter theft and increase the chances of recovering stolen bicycles.
The "Tandem" working group deserves special mention as it enables visually impaired individuals to ride tandem bicycles with a sighted partner.
How do you encourage membership? Are there fees?
Being a member of the ADFC Munich comes with many benefits. In addition to the activities and offerings mentioned above, members receive free legal advice and roadside assistance. With an annual fee of only €78 for a family, joining the ADFC not only supports the organization but also contributes to promoting a bicycle-friendly future.
Improving the bike infrastructure in Munich is crucial not only for the comfort and safety of cyclists but also for promoting sustainable and active transportation options. By investing in a comprehensive and well-designed bike network, the city can encourage more people to choose cycling as a means of transportation, reduce traffic congestion, and contribute to a healthier and greener urban environment.
Thank you to Eva Mahling and Johan Buchholz and for sharing their insights on how they are working to improve biking in their part of the world. Vielen Dank and Auf Wiedersehen!