Growing up abroad, American school buses are an unmistakable sign of American culture. Everyone knows their yellow paint and flashing red lights, which can be seen in so many TV series and movies. (What would the storyline in Spider Man have looked like, if Peter Parker had driven his own car to go to school?)
When we moved to the Bay Area, we found out there were none of these anticipated school buses, but my son's principal at Eaton Elementary mentioned a different type of bus she'd like to see for students: a "pedestrian bus".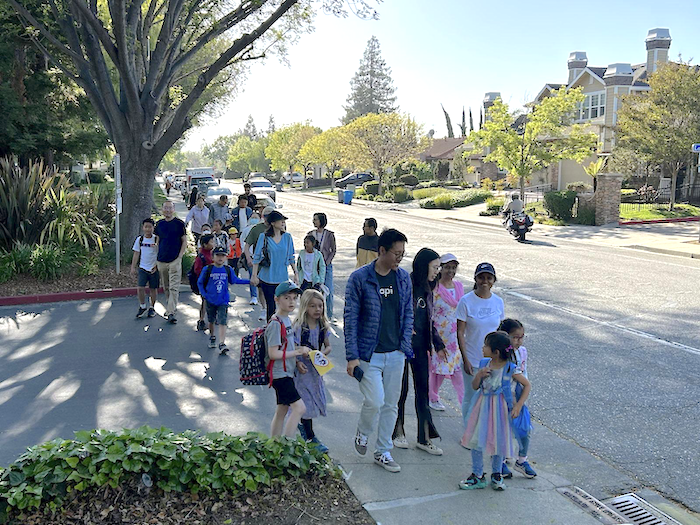 This piqued my curiosity.  The Walk-Bike Cupertino team referred me to Safe Routes to School (SR2S), a partnership between the City of Cupertino, schools, parents, and community members. The goal of SR2S is to create a safer environment for students and families in Cupertino to travel to and from school actively. They were excited about creating one of these for Eaton, as they have been successful at other local schools such as Stevens Creek Elementary.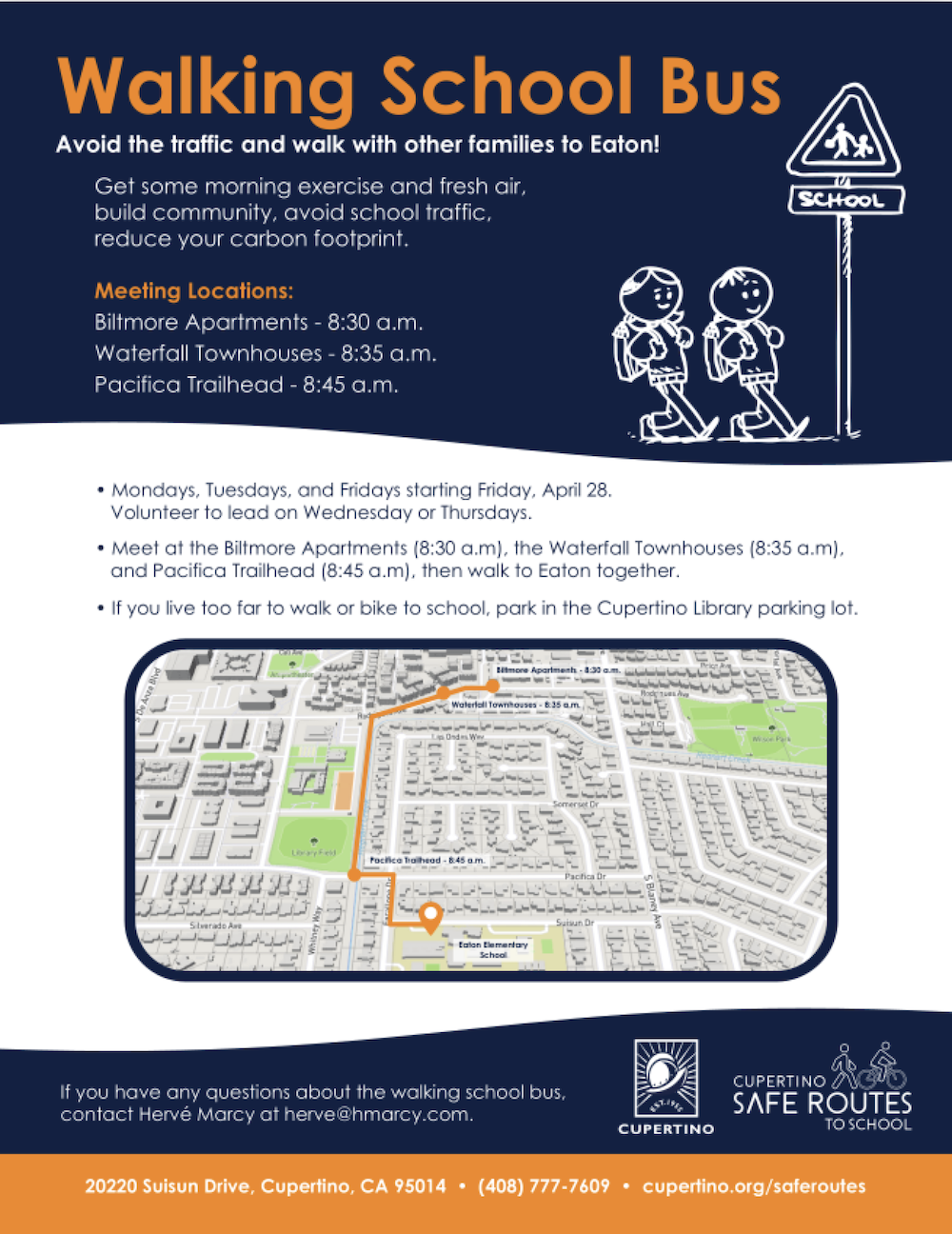 We started to brainstorm about the best way to make this pedestrian bus happen. First we mapped the route, starting from The Biltmore and Waterfall apartment complexes on Rodrigues. With the Regnart Creek Trail now open, it's an easy and safe walk down the trail from Rodrigues to Pacifica. Eaton Elementary is then only about 300 feet (100m) away. 
What's a Walking School Bus?
A walking (or pedestrian) school bus is a group of children walking to school with one or more adults. If that sounds simple, it is, and that's part of the beauty of the walking school bus!
How do I get one at my school or join Eaton's?
Contact Safe Routes to School Coordinator Cherie Walkowiak (saferoutes@cupertino.org) to plan a walking bus at your school, or contact Hervé Marcy to join the walking bus at Eaton (eatonbus@proton.me).
We held the first Pedestrian Bus on April 28, 2023. Eaton was very supportive, and encouraged parents to come with a flyer. I was very pleased to see 20+ people at the first stop (Biltmore Apartments). The kids then were amazed when they saw that the Santa Clara Sheriff Department had sent a Deputy on his motorcycle to watch us safely cross Rodrigues Avenue and our group grew to 40 people at the Pacifica entrance to the Regnart Creek Trail. Finally, Cupertino Mayor Wei welcomed the group and shared with us how she appreciated the fact that people walked on the Regnart Creek Trail to safely and actively go to Eaton Elementary.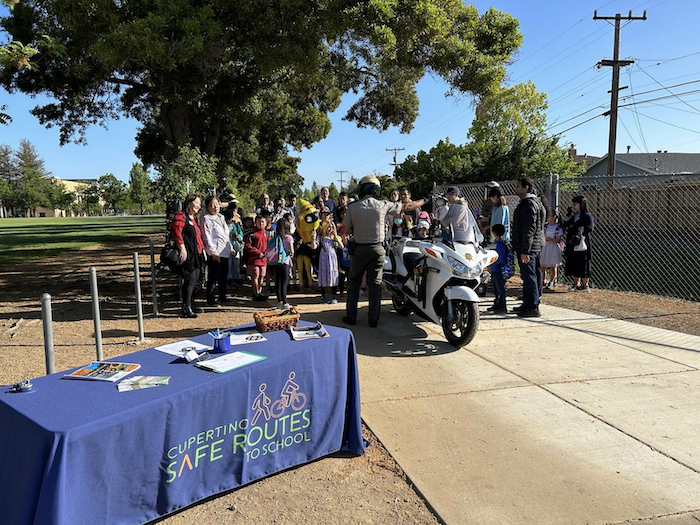 This was a very exciting first bus and our objective for the next year will be to make sure this pedestrian bus happens every day and to grow the awareness in the community. The gate from the Regnart Creek trail leading to the library now open, so next fall students will also be able to walk with the school bus toward home after school, but then take a left through the gate if they wish to visit the library right after school.
What are the benefits?
getting active exercise everyday

social time during the walk

being more green by avoiding using a car

increased safety with the larger number of children walking together

increased concentration at school, leading to better academic outcomes.

it's fun!
This school bus was definitely different from the ones I had seen on TV when I was a kid, but it made me think that not everyone has to be Peter Parker to be a hero: walking to school is already a good start to do something good for the environment. 
FInally, I'd like to thank the following individuals for their support: Seema Lindskog and Jennifer Shearin from Walk-Bike Cupertino, Cherie Walkowiak and Birgit Werner from SR2S, Mayor Wei, Mrs. Ho, Eaton Principal, and all those who have and will use the Eaton pedestrian bus! See you next school year!
The information in this article is solely the opinion of the author and Walk-Bike Cupertino and does not reflect the opinions of any other organization or entity. For more information, contact WBC at info@walkbikecupertino.org.