Walk-Bike Cupertino is proud to give back to our community. We volunteer our time, advocate to local governments for better bike lanes, sidewalks, and trails, and support events around the local area. Here are some ways that we've made a difference in the past month.
Cupertino Bike to Wherever Day
May 18 was the South Bay Annual Bike to Wherever Day. The Cupertino Bicycle Pedestrian Commission held their annual Energizer station on Stelling and McClellan. As in previous years, Walk-Bike Cupertino partnered with the Commission to staff the station and bring snacks to share.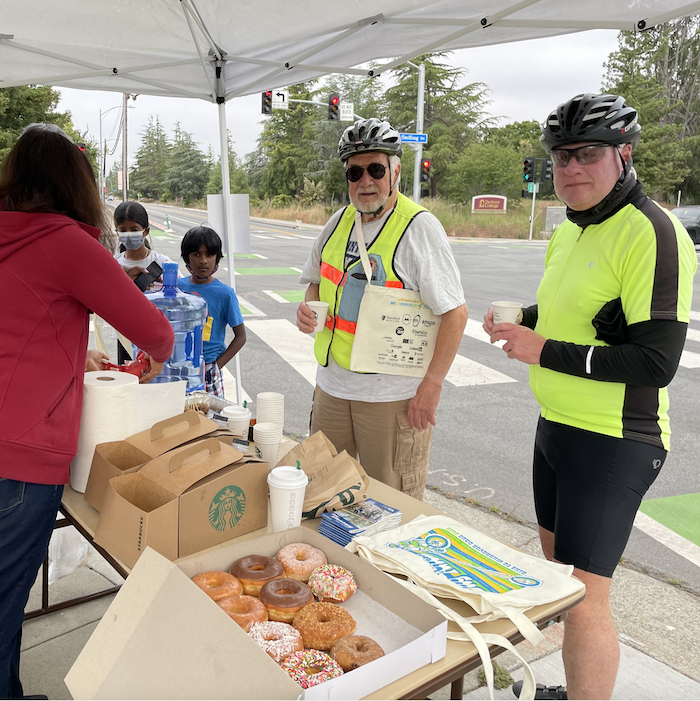 Local biking neighbors enjoyed the doughnuts, cinnamon rolls, fruit and snacks from WBC.
The number of adult cyclists seemed to be fewer than in previous years, though as one rider put it, "The weather is perfect. Not too windy, and not too hot."  Usually the station sees a few large groups of people who are cycling together from one company, but there were no such groups this year.
The same decrease in numbers was not true for student cyclists. There were markedly more students traveling on McClellan in the protected bike lanes than there have been in past years. Unfortunately, most students could not stop to enjoy the station as they had to be in school at a set time. A few took a donut to go, though!
We hope you were able to stop by this year, and share some good conversations and snacks with us.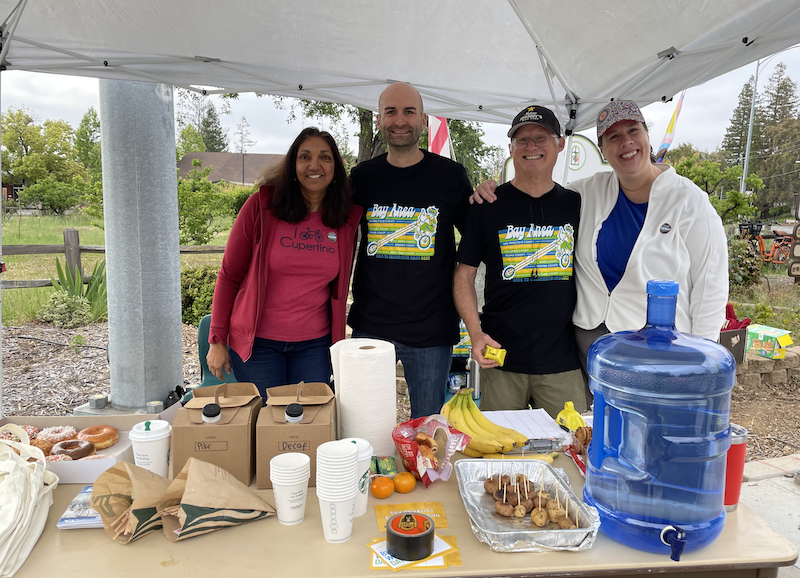 Our WBC and Commission team: Seema Lindskog, Hervé Marcy, Joel Wolf, and Jennifer Shearin. Helene Davis was also a big help at the station!
The Cupertino Bicycle Pedestrian Commission has run a Bike to Wherever Day Energizer Station for over 15 years!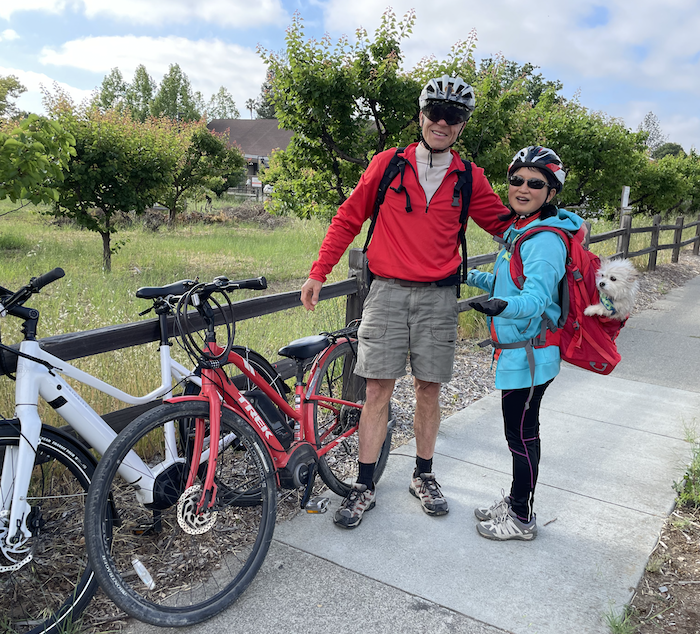 Many biking neighbors showed up to get their Bike to Wherever Day bag. This couple even brought their dog for a ride!
De Anza College E-bike Program
On May 3rd, De Anza College inaugurated its first e-bike loaner program. The program will initially loan out (for free) 23 e-bikes to disadvantaged students that need a way to commute to campus. We think this might be the first e-bike loaner program at a community college in the country!

Our community working together made this great program a reality. Walk-Bike Cupertino provided helmets so the new cyclists could ride safely. Sponsors of the e-bikes were the Rotary Club of Cupertino, Hammond Climate Solutions, the BQuest Foundation, and college administrators from De Anza.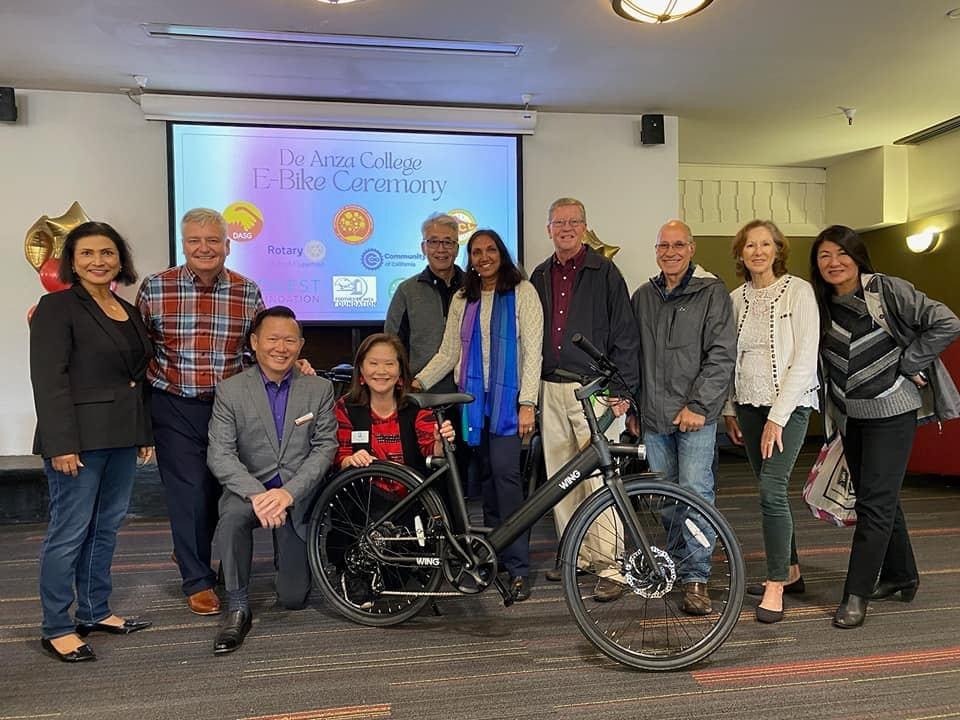 WBC Board members Seema Lindskog, Larry Dean, Dino Saakas, and Helene Davis were on hand to celebrate.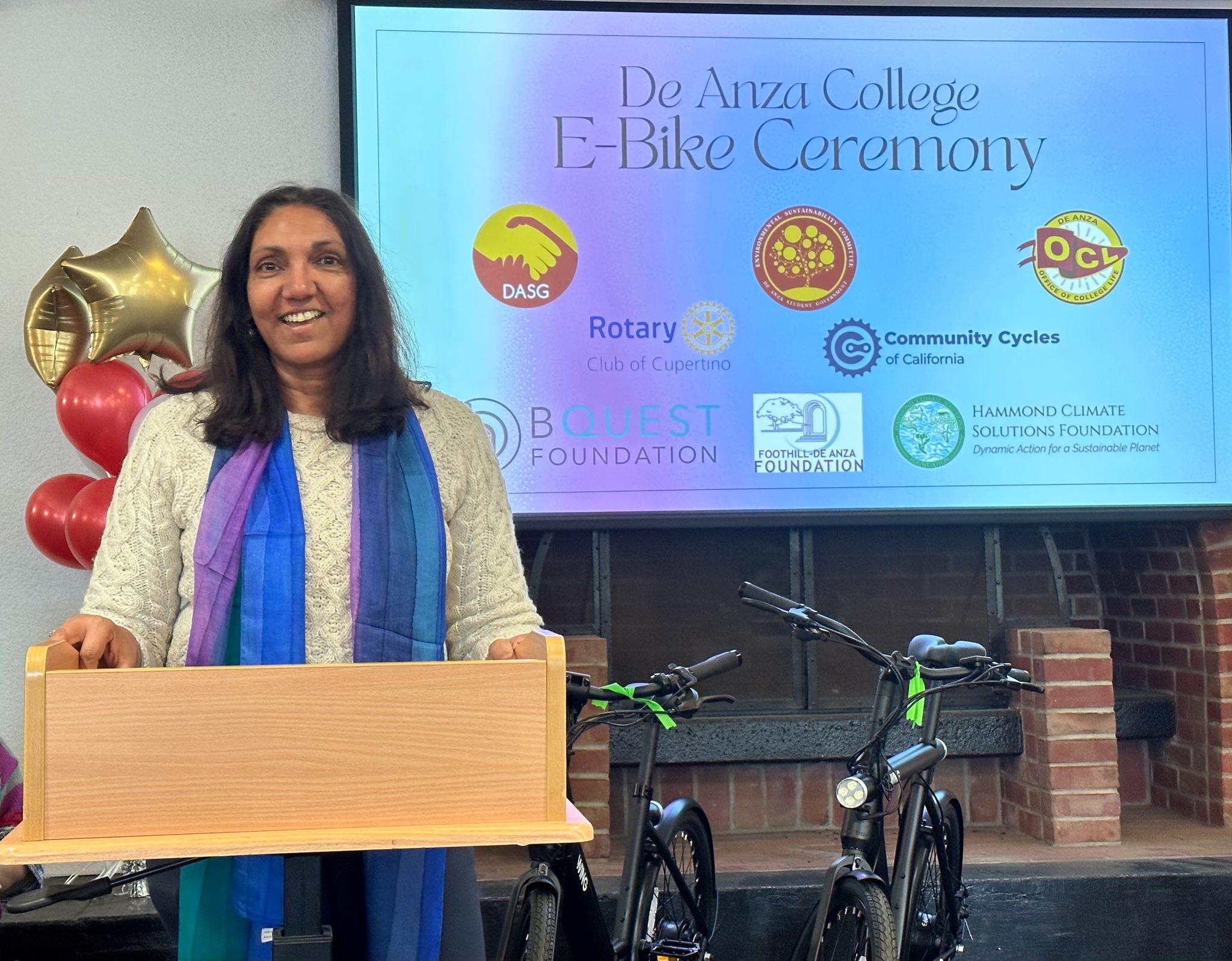 Mayor Hung Wei and FUHSD Board Trustee Stanley Kou joined the celebration, as did Advisory Board members from Walk-Bike Cupertino and Cupertino Rotary's Climate Action Committee. Resident Seema Lindskog, who spearheaded the project, cut the ribbon. She is the Chair of Walk-Bike Cupertino and the co-chair of the Cupertino Rotary Climate Action Committee.
Walk-Bike Cupertino celebrated with the City of Cupertino at their Earth Day Festival on April 22, 2023.
At the festival, WBC gave out 39 helmets for free to local residents of all ages who need them to ride their bikes and scooters safely. As always, the helmets came with a free fitting and instructions. The WBC booth also had information on local trails–including the newly opened Regnart Creek Trail, just steps away from the booth location–and updates on local projects.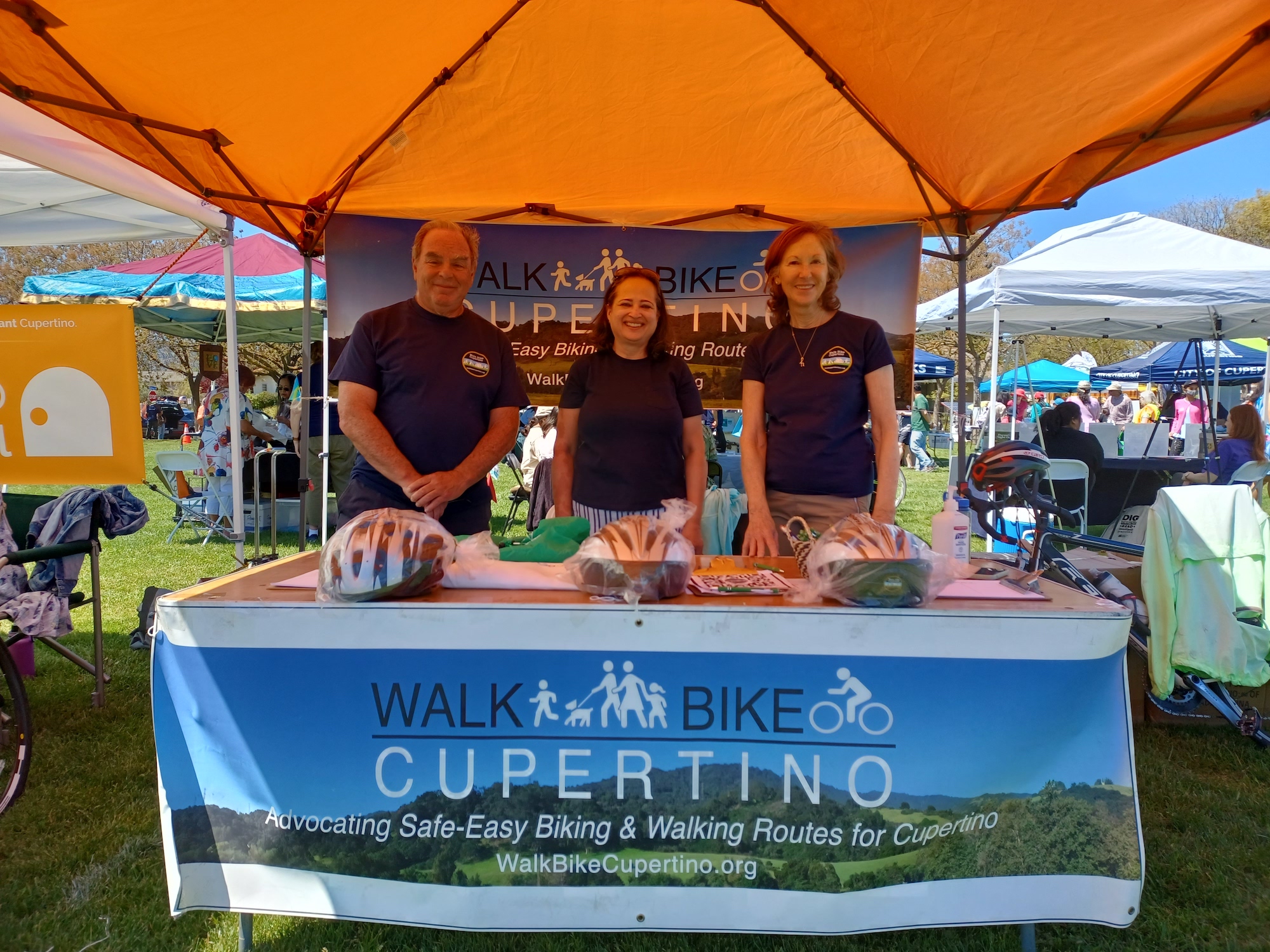 WBC Board members Stuart Rosenberg, Meenakshi Biyani, and Helene Davis gave out and fitted the helmets.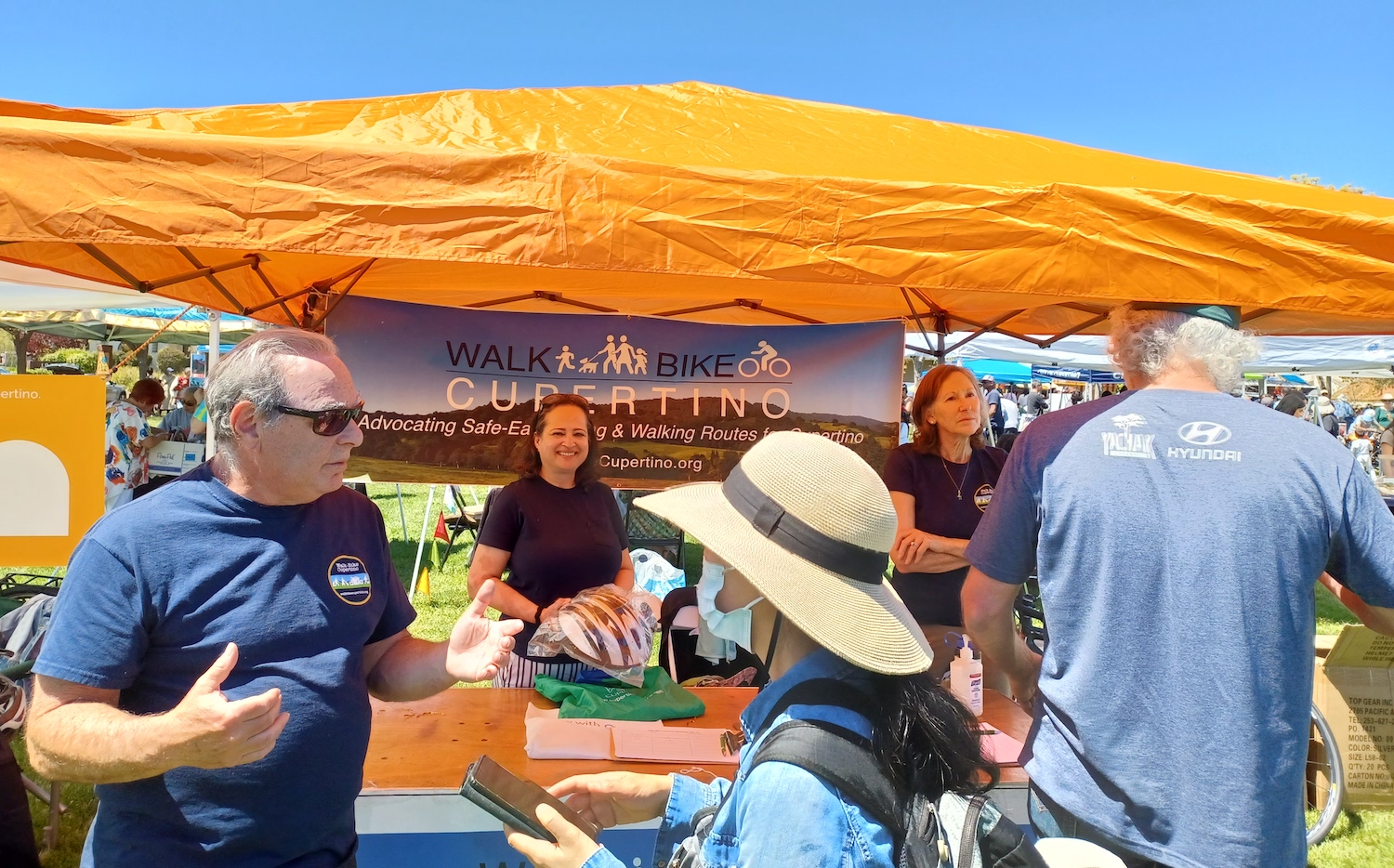 It was a sunny spring day, with many residents stopping by. Our booth was busy the whole day!"
We'd love to have you join us at our next event and help in our efforts to make it safer and easier to walk and bike in Cupertino! For more information, contact us at info@walkbikecupertino.org.