The results of our election year Candidate Survey are again informative and surprising! We asked Cupertino City Council candidates their views on walking and biking infrastructure and biking and for encouragement of both of them. We scored the responses and ranked the candidates based on these scores and their previous public statements and actions.
We encourage all readers to consider this information when voting for a particular City Council candidate.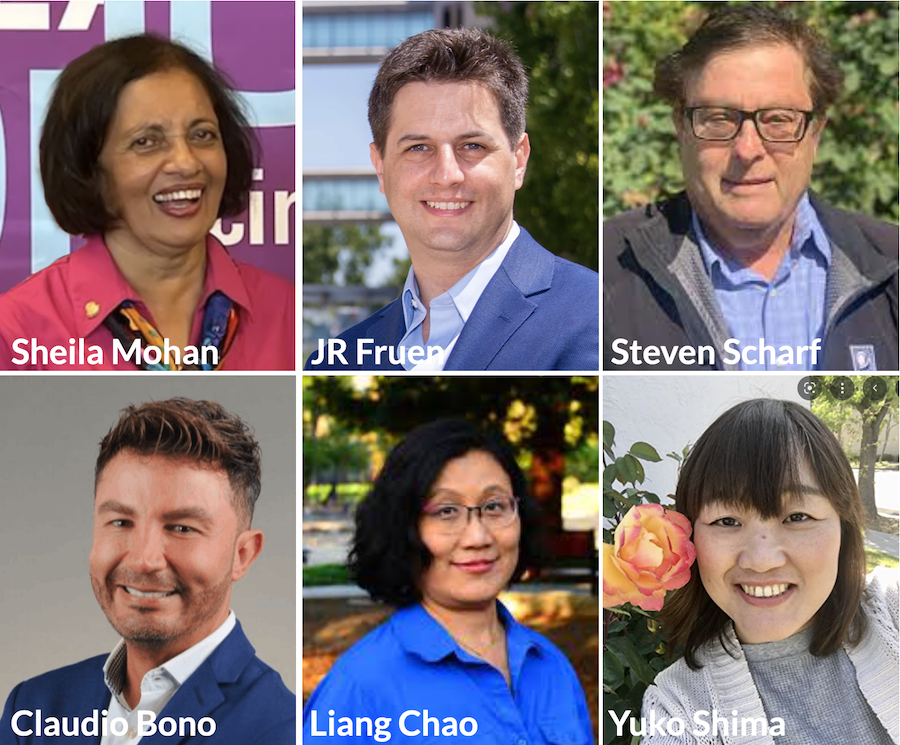 How did the candidates do? Most candidates scored well, with four of the candidates receiving an overall score of 40 or more points without any red answers, which nets them an overall green score from us. (Read on to learn about scoring of individual questions.)
Receiving top marks in order of most points were J.R. Fruen who had a perfect score; Steven Scharf and Claudio Bono (tied); and Sheila Mohan.
Candidate Govind Tatachari is not included in these survey results, as we did not receive a completed survey from him.
What should you do with this information? Consider it carefully when you vote. Polls show that in Cupertino, more than 80% of residents wish for more and better places to walk in our city, including new trails, and safe places to bike are highly supported for traffic mitigation and sustainability.
If a candidate claims they are resident-focused, or "for the residents" then they should have scored well by wanting better walkability, bikeability, and the infrastructure to support those issues for the benefit of all Cupertino residents.
After the candidates returned the survey, the Walk-Bike Cupertino board scored their responses based on a rubric of support. We also considered public statements and actions taken previously by the candidates, such as City Council meetings.

These questions were designed to determine whether individual candidates have thought about the local walking and biking issues here in Cupertino, and what their level of support for improvements were, especially if there was a conflict with those that preferred a continued car-centric city.
Here are shortened versions of the questions that we asked: (click on image for larger view)

✔︎  For the full text of all of the questions, click here.
In order to provide a better sense of each candidate's positions, this year our questions were focused on whether the candidates understood the importance of walking and biking in our neighborhoods for health, sustainability and traffic mitigation and their overall views about infrastructure. We think this provides a clearer picture of the position of individual candidates than asking about specific city projects.
We were pleased with the candor and consideration of their answers that each candidate gave us this year.
✔︎  Click the following links to read the full answers from each candidate who completed the survey. 
Here are some quotes taken from what the candidates would like all voters to know (candidates are listed in order of their score). For the full responses of each candidate to all the questions, click on their names listed above.
(Note: All quotes shown here are either the full responses, or the substantial focus of the answer to survey question #10. Answers have been edited for typos and grammar. See the full undedited responses above.)
JR Fruen
"…we need to transition our city plan to one that intentionally also promotes walking, biking, transit…our residents will reap the benefits of a city that is not built entirely around cars…"
Steven Scharf
"New bicycle and pedestrian infrastructure doesn't mean that everyone in the City is expected to not use a motor vehicle…but we are trying to encourage residents, who are able, to bicycle or walk for shorter trips."
Claudio Bono
"I want to be an advocate and a champion for bike safety issues in Cupertino and bring our city into its new green and healthy chapter!"
Sheila Mohan
"I am passionate about walking, I walk 5 miles a day, and am an avid hiker. I want our City to be the most bike-friendly and walk-friendly city in the country."  
Yuko Shima
"Protecting the safety of pedestrians and bikers is the first and foremost priority. Promoting community planning to encourage safe walking and biking is welcome and appreciated. 
Liang Chao
"Cupertino has funded an on-demand microshuttle system… with…bike racks, since 2019. I hope more people utilize Via so that it is more feasible to bike and walk in Cupertino…"
We at WBC thank all the candidates for taking time to fill out the survey and allowing us to share their answers. We hope that they consider the benefits to all the residents of Cupertino when considering walking and biking infrastructure projects once they are Council members.
The contents of this article are solely the property of Walk-Bike Cupertino. No use or reprint of any of this information is allowable except by the express permission of the Walk-Bike Cupertino Board.