Family, friends and community members are mourning a tragedy in Mountain View this past month, which is eerily similar to a similar accident in Cupertino in 2014. In both cases, a young student riding to school on a bike was fatally hit by a truck making a right turn. The recent investigation of the Mountain View tragic accident revealed that the driver and cyclist were both following the letter of the law, with the truck coming to a full stop at a red light before making a right turn. "Based on the location where [the 13-year old student] was riding from – behind the gas station and in the truck's blind spot – the driver couldn't have seen [him] prior to the collision and did not know he had been involved in the collision until a bystander let him know what had happened," police said.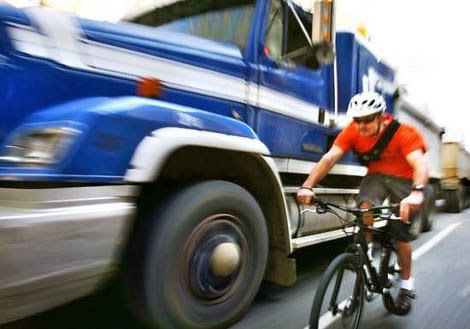 These were the same circumstances that resulted in a heartbreaking fatal accident in Cupertino in 2014. A gravel hauler truck traveling west on McClellan Road turned right onto Bubb Road and killed a 15-year old boy also traveling west on McClellan Road. The death of this student galvanized Cupertino, which subsequently installed protected bike lanes on McClellan and elsewhere in the City, banned trucks on streets close to schools at school dropoff and pickup times, launched a comprehensive effort to improve walking and biking safety at all Cupertino schools, and greenlighted the off-street Regnart Creek Trail and I-280 Trail.
Whenever cyclists and a vehicle have a collision, it is always going to be the cyclist that will receive more severe injuries. Though accidents are frequently not the fault of the cyclist, because of this propensity for greater injury, they need to take more responsibility for avoiding a conflict with road vehicles. Here's some things you can do.
Be mindful of truck blind spots when cycling
Trucks have large blind spots all around them. Be aware of them and stay visible. 
Don't ever stop at an intersection on the right side of a truck or bus such as in a painted bike lane. If this happens, get off your bike and move to safety on the sidewalk–your life is worth the inconvenience. If you are at a light, it's better to stop in the general traffic lane if you arrive first. 
Don't linger next to a truck when riding. If you are going the same speed, slow down until you are behind the truck. If a truck passes you, also slow down to let it get far enough in front of you that it can see you in its side view mirrors.
If you are in a painted bike lane and passing stopped traffic, do not pass a truck unless you can be clear of it before approaching any intersections or driveways and before traffic begins moving again. Bike lanes can often give a false sense of security, when cars and trucks can easily drift into them when driving straight and are expected to use them when turning right.  
Don't stop right in front or back of a truck, it can't see you. Trucks have big blind spots both in front and back of them. If stopped at a light and a truck comes up behind you, move forward or to the side so that the driver can see you. When riding behind a truck, make sure to leave at least 30 ft of space, to ensure you are visible in its side and rear view mirrors.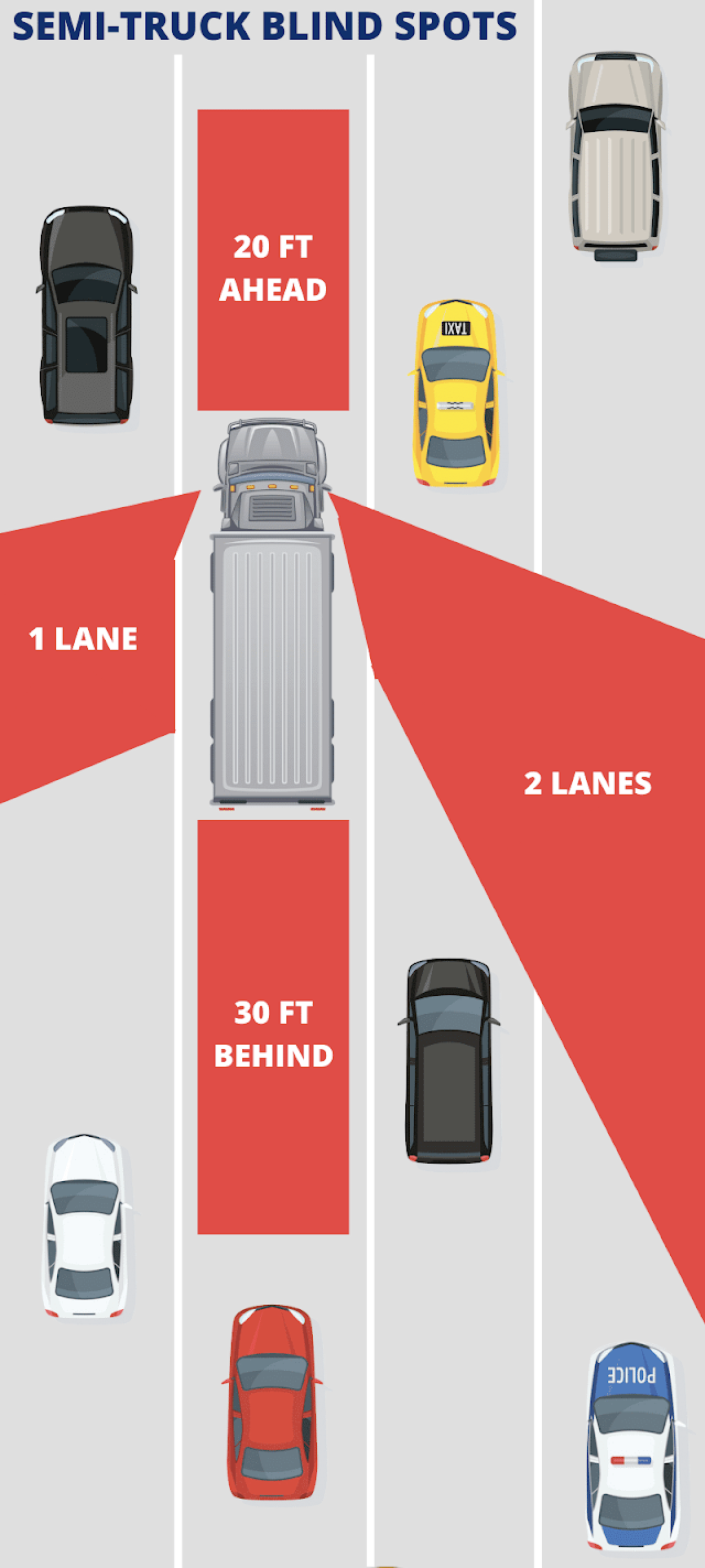 Advocate for protected bike lanes and safer streets
The best way to avoid a collision is to make the streets safer. Help Walk-Bike Cupertino advocate for more protected bike lanes, nature paths, protected intersections, and slower streets.
Protected bike lanes and nature paths separate cyclists from cars entirely and are the safest solution by far, especially near schools and on streets that students use to get to and from school. 
Intersections are often the most dangerous place where cars and bikes cross paths. Most car/bike accidents happen at intersections. Walk-Bike Cupertino advocates for safer intersections with protected corners, a forward stop bar for cyclists, a setback bicycle and pedestrian crossing, mid-street islands, and bicycle-friendly signal phasing.
Many cities are lowering speed limits in residential streets and creating slow streets. Research shows that lowering speed limits have a great impact on street safety for pedestrians and cyclists alike. Slower streets reduce the number and speed of cars, allow kids to play in the street and pedestrians to walk safely  in their neighborhood. They increase the quality of life of residents of all ages and increase our property values too. It's a win-win.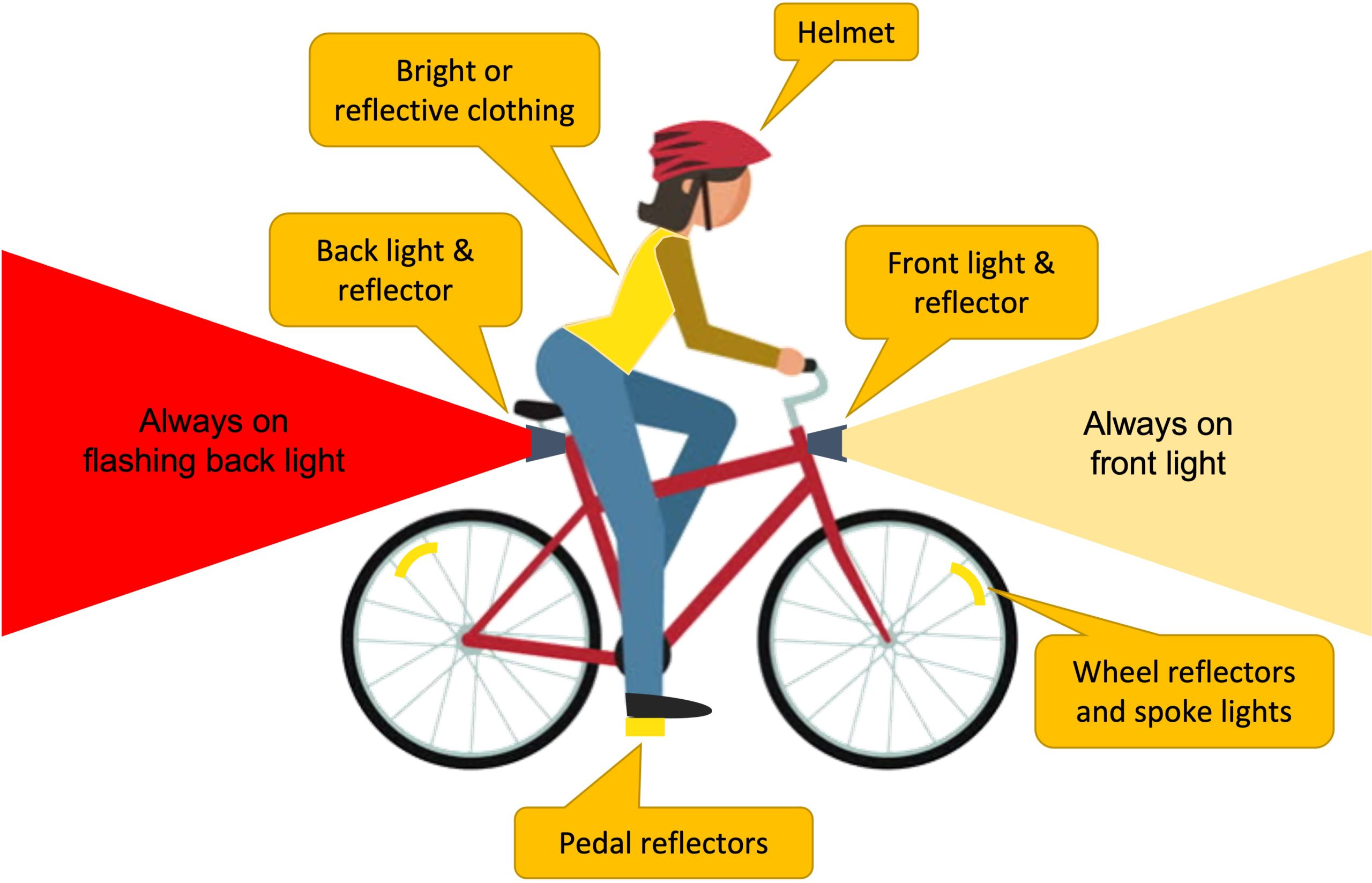 Be visible
Just like cars now use their headlights in the daytime, it's a very good idea to use bike lights every time you ride to make sure cars can see you. Flashing daytime-visible front and rear lights is one of the most effective ways to make sure you are visible. Spoke lights ensure side visibility and come in fun patterns which appeal to kids. High-visibility apparel such as reflective vests and bright neon jackets are also a good idea. Research shows most cyclists overestimate how visible they are by over 700%. Better to be lit up like a Christmas tree than to risk not being seen by cars and trucks!
Cyclists hit by turning trucks unfortunately seems to be a repeating news story. It highlights the need for cyclists to be more careful and vigilant beyond just the rules and laws of the road. Using the safety measures discussed above is a great start. To make the city safer for cyclists of all ages, please help us advocate for more protected bike lanes, nature paths, protected intersections, and slower streets.
Class IV protected bike lanes – such as the ones on McClellan Road and those being installed on Stevens Creek Boulevard – are a much surer way to prevent these types of accidents.  Nature paths like the Stevens Creek trail through Blackberry Farm, the Regnart Creek trail, opening in Winter 2022, and the planned Carmen Bridge all separate pedestrians and cyclists from cars completely for the safest, most enjoyable solution.
Redoing our high-traffic intersections into protected intersections, alone, would significantly reduce the number of accidents in the city. Implementing slow streets around schools and in small residential streets would make the city safer and our neighborhoods more friendly and walkable for all of us, especially children and seniors.

Walk-Bike Cupertino urges all cyclists to be careful when out on your bike!