This article is written by Bruce Barton and published by
Los Altos Town Crier on July 8th, 2021
. Many bicyclists in Cupertino use the Foothill Expressway, so we post this article here to bring more attention to these safety issues. Los Altos officials and local cyclists want to see Santa Clara County quickly address what they say are safety hazards created by the new Foothill Expressway expansion project. County officials responded by proposing a workshop. Last week's meeting of the city's Complete Streets Commission laid out the concerns, chiefly the lack of a designated bike lane on what is regarded as a well-traveled expressway for cyclists, and designated bike slots to the left of two right-turn lanes at intersections that require cyclists moving left from the right shoulder into space where cars are moving right. The problems, cyclists claim, are especially acute at the southbound Foothill-El Monte Avenue intersection.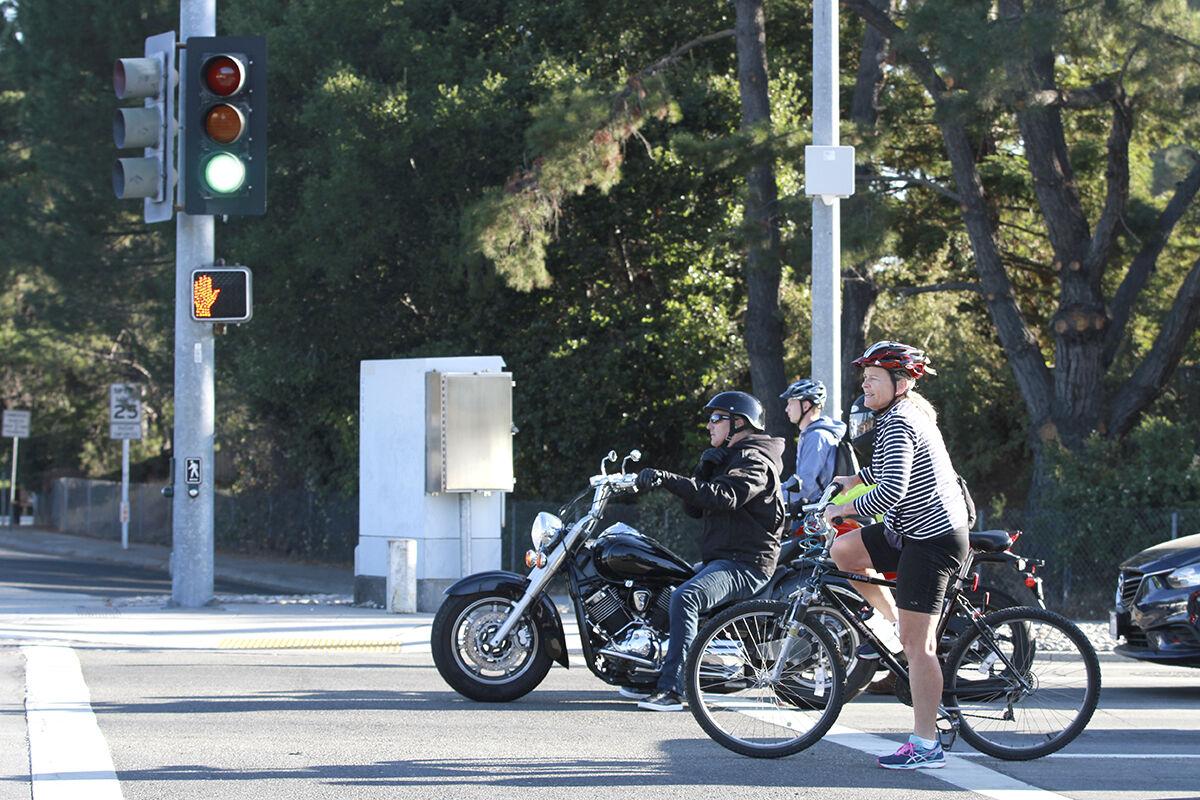 "This is a death zone," said Los Altos resident and cyclist Peter Ludemann. "It's one of the most unsafe areas I've ridden and basically I just avoid it now. … Someone's going to get hurt or killed."
Jim Sandoval, Los Altos engineering services director, agreed.
"The new improvements provide no guidance for bicyclists on how to maneuver or position themselves as they ride southbound on Foothill and approach El Monte Avenue from San Antonio Road and cross the two right-turn lanes to enter the bike slot that channels them across El Monte Avenue," Sandoval wrote in a June 15 letter to Harry Freitas, director of the county's Roads and Airports Department.
In response, Freitas noted the project had been "planned and designed progressively" since 2014, incorporating "extensive outreach/coordination" with Los Altos staff and committees.
"The project plans were developed to accommodate and address all comments received from various stakeholders," Freitas wrote.
The $6.7 million project, funded primarily by the 2016 voter-approved Measure B half-cent sales-tax initiative, adds auxiliary lanes in each direction of Foothill between the El Monte and San Antonio Road intersections. Prior to the pandemic, the area was subject to traffic congestion during commute hours.
In addition, the project added a second through lane on westbound El Monte, squared intersection corners at El Monte-Foothill to eliminate "free right turns," added a second right-turn lane from southbound Foothill onto westbound El Monte and added designated bike slots at both intersections.
Commissioner Suzanne Ambiel asked about on-street markings directing cyclists into the bike slots across the two right-turn lanes. Ananth Prasad, a principal civil engineer with the county, said there are no right turns allowed at red lights for cars in the double right-turn lanes.
"There'll be no conflict with the right-turn lanes at all," he said.
Rocelia Kmak, a county principal civil engineer in charge of the project, suggested a workshop (no date was revealed at the June 30 meeting) "to have a more open dialogue and to be able to hear directly from the community – and give some time for us all to observe the situation and understand it better. … We just completed construction recently and we'd like to have some observation time."
In response to the initial complaints, the county installed additional signage alerting motorists to the presence of cyclists. However, county officials remained noncommittal about changing guidelines that would designate bike lanes on the expressway.
"If you're talking about policy changes, that's a completely different issue," Prasad said.
County officials are in the process of reviewing those guidelines, which have not been updated since 2003, that "delineate bike travel width, but not … designate bike facilities as formal bike lanes." The reasoning is to discourage less-experienced riders from using the expressway.
Designated bike route
Jim Fenton, Los Altos resident and cyclist, said: "I think a lot of the difficulty here has to do with the 'delineate but not designate' policy and, really, this applies in particular to this intersection but actually all the way through Los Altos – Foothill Expressway should be designated as a bicycle route."
He said current guidelines giving "tacit approval" to cyclists "is really the opposite of a vision-zero policy. You want the drivers to be aware of the bicycles that are present, and you want the bicycles to be aware of what they should do and how they should position themselves, and that's really lacking right now, and I think it's a dangerous situation that we have that needs to be corrected quickly."
Fenton wants the Los Altos City Council to request that the county designate all of Foothill Expressway as a bike route.
"It's mostly a matter of paint. It should not be a huge budgetary issue," he said.
According to cyclist Chris Hoebner, at rush hour, it won't be physically possible for bicyclists to cross the right-turn lane within the indicated transition zone.
"This is not just my opinion," Hoebner said. "I go through that every day on both my bicycle and my car, and it's observed fact."
Hoebner, who writes the Town Crier's "Sharing the Road" column (see page 21), noted the current configuration creates unpredictability among cyclists and cars, "and traffic safety depends on the predictable behavior of motorists and bicyclists."
He added the conflicts could result in incidents of "road rage."
Ludemann said he was looking forward to the greater bike safety county officials had touted with the expressway improvements.
"My first time through, when there was almost no traffic at all, just absolutely astonished me, frightened me, to be frank," he said. "Since then, … without very much traffic, I've been unsafely passed a couple of times by cars. I can't imagine what it would be like at rush hour."
Prioritizing safety
Commissioners were in favor of treating the cycling concerns as a priority issue.
"I think it is a priority for us to work with the county collaboratively to address this immediately," said Commissioner Stacy Banerjee. "This can't wait until late 2022 when the updated bicycle guidelines are targeted to be done and getting approval from the Board of Supervisors. I think it needs to move forward much faster."
Commissioner Steve Katz said what he hasn't heard from the county is "the recognition that it is a safety issue."
Freitas explained the county's position.
"We pretty well understand what we've been hearing about the intersection," he said. "I also want you to please understand that we're operating a high-speed roadway here. It moves a tremendous amount of traffic off Los Altos streets … congestion was becoming a problem. We worked carefully with this design and really worked with stakeholders.
"We don't want to start thinking that we've heard clearly all of (the) tradeoffs necessary to make the intersection better. … We are never rigid in our designs, and we are always ready to modify them. … We think it is very important to have a two-way conversation. We have to have the conversation of what we would do instead.
"We know a lot about the dangers of bicycles on these types of roadways. We've heard today from very experienced bicyclists. … When we designate routes, that's a public policy decision and it applies to everybody from 8 to 80. Any mapping application will tell you Foothill's the way to go. Well, I'm not sure. But that's a policy decision, and I think the Los Altos City Council and Board of Supervisors are going to have to weigh that very carefully."
Jaime Rodriguez, Los Altos consulting traffic engineer, told commissioners that anything short of a Class IV Bike Lane would not be effective. A Class IV designation calls for protective elements such as a physical buffer from the roadway and "vertical elements" such as posts.
"There really is no other way for you to fix the issues that were created on Foothill Expressway without the introduction of vertical delineation in the roadway. … It just has to happen," Rodriguez said.