Cupertino Safe Routes to School is holding a video competition for 6-12 grade students to showcase their creativity. We're looking for videos that advance the mission of Cupertino Safe Routes to School. Submissions shall inspire people to walk, bike, scooter or take any other active transportation to school or provide tips on how to be safe using active transportation. Video content could be in the form of a music video, short story, public service announcement, TikTok, animation, or any other type of video. Winning videos will be streamed on our Cupertino website and in the lobby of City Hall and Quinlan Center when they are open to the public. They may also be played at school, school events, or through bicycle education classes the City of Cupertino offers. Winners will also receive Cupertino Safe Routes to School gear, an interview in the City Newsletter (the Scene), and public recognition from the City Council.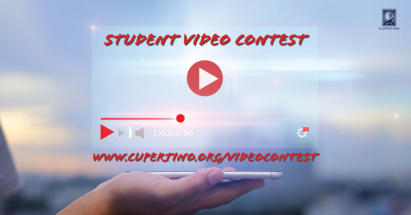 On April 28, at 5:30 p.m., Cupertino Safe Routes to School and the Teen Commission will host a Q&A Session for anyone who has questions about the SR2S student video contest. Attendees may bring any questions they have about the contest or their particular project.
Note: this will be a webinar and attendees will not be visible, nor will they be able to share their screen. If you have any visuals you'd like to share to discuss during the meeting, please send them by April 27 to SafeRoutes@Cupertino.org. City staff will be happy to present your visuals while you present your question.
Submissions Due: May 28 before midnight. Download the Entry Form here.
Winners Announced: August 11, 4pm during SR2S Working Group Meeting