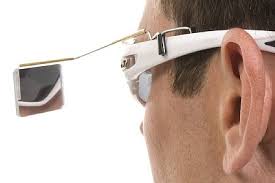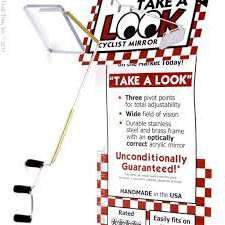 Ever since my first week-long Cycle Oregon, I've ridden with a rear-view mirror.  Once you use one, you'll never go without it. You feel safer, and are more secure knowing when a vehicle or cyclist is approaching you.  (Check our site for some great safety tips. WBCSafetyTips )

I've tried many types of mirrors  – those that attach to your helmet, bicycle handlebars or your sunglasses.  My preference is the metal framed mirror made by Take a Look that attaches to your sunglasses frame.   They are much hardier and flexible than plastic mirrors.  Having them mounted on your glasses makes the rearview/response much clearer and sharper. They minimize cars sneaking up and "surprising" you on the road.   You will find the Take a Look  mirrors in most every bike shop, They run about $12 – $15 per set and come with a lifetime guarantee – no questions asked! But if you want to browse further, here is a link to a Best Bicycle mirror review.
Cupertino is home to three excellent bike shops that have a great selection of road, mountain, kids and electric bikes – Cupertino Bike Shop, Trailhead Cyclery, and Calabazas Cyclery.  (Calabazas is in San Jose, but right at the edge of Cupertino.) Inventory is coming back up to normal levels,  so we recommend that you go visit their shops and see what's  on display. In addition to great selections of bicycles, they will have a great selection of biking gear from shoes and socks to helmets and gloves. Check them out!