JR Fruen, according to the Mercury News, is "an attorney, is co-founder of Cupertino for All, the nonprofit dedicated to making Cupertino more sustainable for future generations."  All of his answers were detailed and strongly supportive of pedestrian and bicycle improvements in our city, earning all green scores, which is our top mark. It was very noticeable that Mr. Fruen was thoughtful and complete in all his responses to the survey. In our experience, Mr. Fruen has been a solid supporter of pedestrian and walking projects for years, consistently emailing the city and speaking at council meetings in support. A great summary for Mr. Fruen on his support for walking and biking in Cupertino is his quote "When it comes to bike-ped policy, I literally walk the walk. "
Some notable quotes from Mr. Fruen: "I would want to create a predefined community benefits program for new development that prizes bike-ped infrastructure–both in terms of new trails, and separated paths in on-street paths and the upgrade/maintenance of such existing infrastructure." and "I absolutely support the 2016 Bicycle Transportation and 2018 Pedestrian Transportation Plans." Furthermore, he supports a new city Bicycle/Pedestrian Transportation Plan (using a public process) next year and shows strong support for a Complete Streets plan to create a more "environmentally friendly" city. Mr. Fruen supports the Carmen Bridge Project, the Regnart Creek Trail and the Stevens Creek Trail and "[has] actively advocated for all three."
Steven Scharf, an incumbent Councilmember and current Mayor, also received all top green scores from Walk-Bike Cupertino for his answers to our survey. Mr. Scharf is an embedded systems engineer, who is associated with Better Cupertino, an organization that advocates for "sensible growth". His answers to each question were detailed, specific, and knowledgeable. As part of our scoring, we consider past public statements and actions by candidates in addition to their replies to the survey. Mr. Scharf has consistently spoken in favor and voted in favor of bicycle and pedestrian projects for the city during his time as a council member. We agree that Mr. Scharf has, as he states, "strongly supported the expansion of bicycle and pedestrian infrastructure in Cupertino."
Some notable quotes from Mr. Scharf: "We should be prioritizing bicycle traffic wherever possible, doing traffic calming where appropriate." and "I support the current prioritization, but depending on funding sources I'm willing to change the priority to take advantage of any corporate or government funding." He further thinks that we should "expand the protected bicycle lane network" and supports the Carmen Bridge project, the Regnart Creek Trail, and the Stevens Creek Trail, saying, "They are all part of creating a complete network of trails." Mr. Scharf supports a new Bicycle/Pedestrian Plan right now, stating, "I support a new Bicycle Transportation Plan. We will need to choose Bicycle-Pedestrian Commissioners that support a new plan."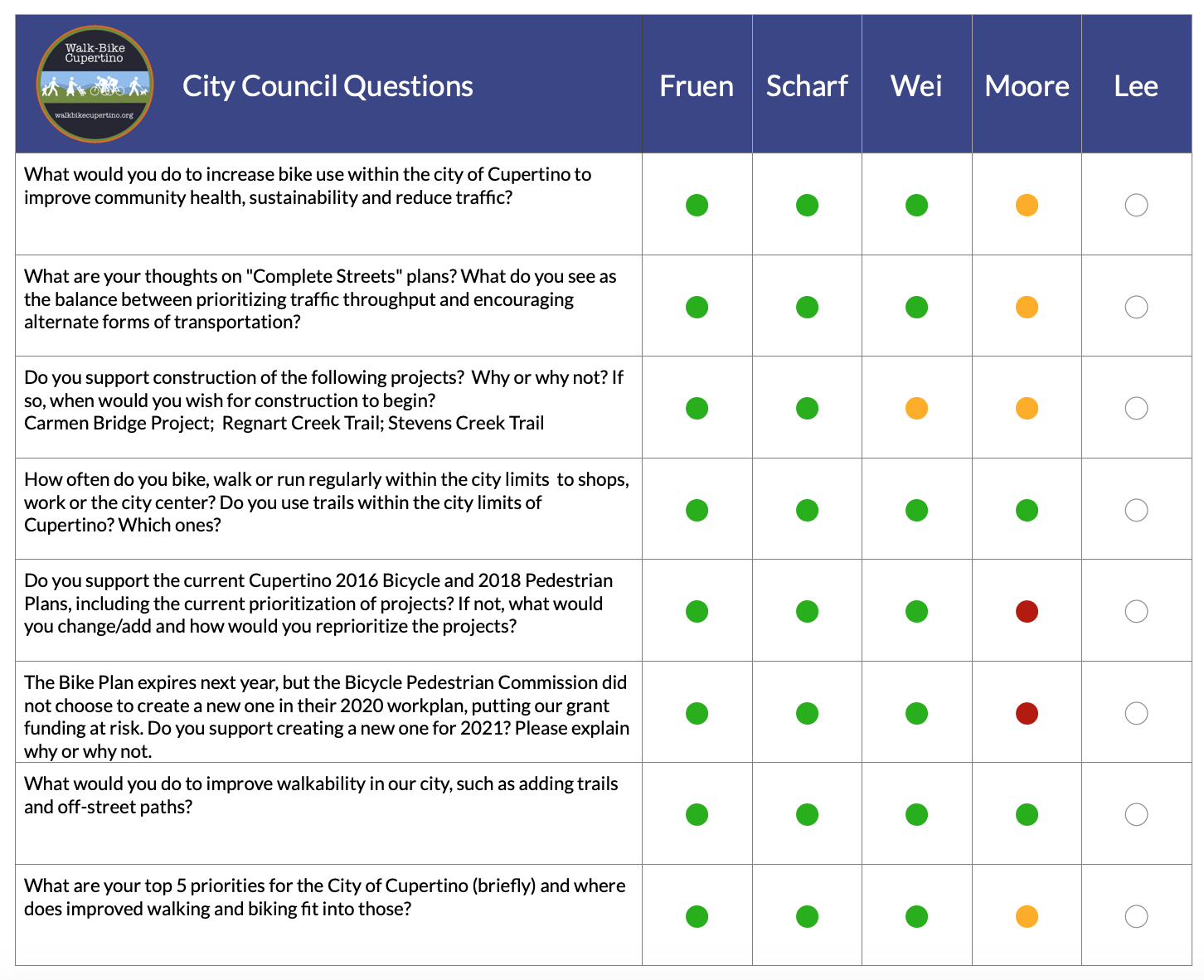 Click on the image for a larger version. To learn about how these ratings were developed, click here.
Hung Wei scored almost as well as Mr. Fruen and Mr. Scharf, receiving top marks in all but one category.  Ms. Wei is a former FUHSD School Board Trustee, and states we need new councilmembers that can provide "experience, vision, and results." Ms. Wei pledges "I will support Walk and Bike Trails projects, separate bike lanes, and road diet projects in the City to support walking and biking to reduce local traffic, and to encourage healthy living styles. "  Ms. Wei further states, "Planning safe biking trails leading from residential neighborhoods to public transit stops and office locations will encourage people to bike to and from work/home daily, thus reducing vehicle travel miles and GHG emissions."  She supports the 2016 Bicycle Plan, the 2018 Pedestrian Plan, and creating a new Bike/Ped plan in 2021. Ms. Wei says, "I support Complete Streets design and implementation, providing safe access for all users, including pedestrians, bicyclists, motorists, and transit riders of all ages and abilities."  She "support[s] moving Cupertino forward as a biking and walking friendly city."
Kitty Moore, a civil engineer, is also associated with the Better Cupertino organization. She states, "Getting people to use bikes for transportation is a challenge due to safety concerns and distance of commutes. More well-placed trails and lanes can help this." While she supports the Regnart Creek trail, she is not as vocal a supporter as candidates JR Fruen, Hung Wei, and Steven Scharf. Ms. Moore does not express support for the public process to create a new Bike/Ped Plan, preferring to leave what projects get built to the five-member City Council: "City Council can elect to move forward projects they wish to see…"  She also does not support the current Bicycle and Pedestrian Transportation Plans, stating "I would work on adding sidewalks in areas which have none. Improve intersection cross-walk safety as 59% of pedestrian accidents occur there." She has concrete ideas to get more people walking: "Increase the shade tree canopy…add interesting public art…Provide off-street paths for peaceful walking." Ms. Moore completes her statements by stating, "Providing safe pedestrian and bicycle pathways and trails helps maintain the city's well-being. "
The last candidate on the ballot, Charlene Lee, did not respond to the survey request. Engagement with residents is an important issue; we hope that, if elected, Ms. Lee will work with residents on these issues.
We at Walk-Bike Cupertino are grateful to all the City Council candidates for considering these important issues and for sharing their views with voters. 
As a voter, please use this information to help make your decision for the best future councilmembers here in Cupertino!
The information in this article is solely the opinion of the author and Walk-Bike Cupertino and does not reflect the opinions of any other organization or entity. For more information, contact WBC at info@walkbikecupertino.org.