The Cupertino City Council passed the resolution to fund and continue the Regnart Creek Trail project at the August 21st city council meeting. After a five hour session and strong advice to communicate and work with the La Mar Drive, De Palma Lane and Farallone Drive neighbors, it was passed unanimously by Mayor Darcy Paul, and Councilmembers Savita Vaidhyanathan, Rod Sinks and Barry Chang.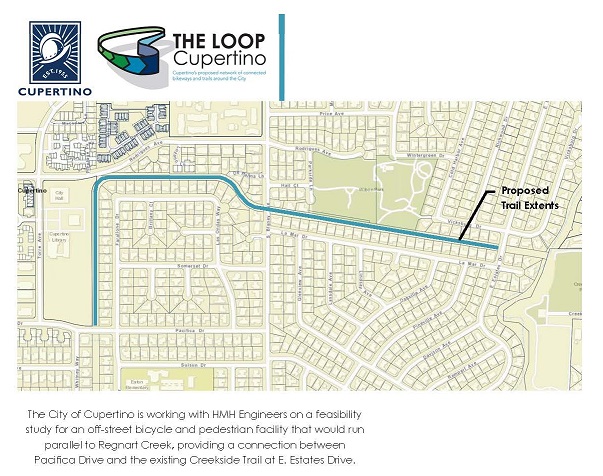 (Councilmember Scharf recused himself as he lives within 500 feet of the trail). Please thank them for their support of this important trail!
Specifically, the council approved funding to conduct the Environmental Impact Report and general engineering drawings.  The council also instructed staff to work closely with the neighbors to best plan and mitigate issues related to privacy and security.
The Walk-Bike Cupertino team (including you!) demonstrated major support for the RCT in submitting a petition of support signed by nearly 500 community members. A big pat on the back and congratulations to RCT Task Force led by Jennifer Shearin and her team of Meenakshi Biyani and Seema Lindskog, who performed yeo-women's work in orchestrating and assembling the team of 47 speakers at the session. Also key to this decision was the support and advocacy of the Cupertino Bicycle-Pedestrian Commission for this trail and the overall Cupertino Bicycle Transportation Plan, especially Commissioners Pete Heller, Jennifer Shearin and Erik Lindskog.
The petition included parents, students and motivated community leaders, past council members and mayors, the majority of CUSD and FUHSD school board members and the Cupertino Chamber of Commerce. See list of endorsements.
This trail is a key link in the 2016 Strategic Cupertino Bike Plan – the East/West portion of the Cupertino Loop and will boost connectivity in the community. It will be good for healthy recreation, lowering traffic at schools, connecting individuals within neighborhoods and connecting neighborhoods.  The Regnart Creek Trail will easily serve Cupertino community for the next 100 years and will prove to be a wonderful and wise investment in our community.
A big shout-out to the Walk-Bike team and community!