FARGO — When you were a kid, all it took was begging your mom for permission to jump on your bike to claim the open road forever with your friends … at least until dinner. But as you age, your biking expertise becomes riddled with potholes. What do you wear? Where should you ride? What do you need to know to be safe?
Fear not — avid cyclists offer their tested tips and techniques to fill any information gaps.
Trail etiquette refers to who has the right of way on single track-trail. Although it can vary by location, bikers usually yield to hikers and runners, according to rei.com.
Ramstad, who grew up mountain biking in Detroit Lakes, spent more than 90 hours on a bike during the last three months. He says he's obsessed with biking. Still, he's had to learn new skills.
"If you're going to commute by bike, then you'll need to know traffic hand signals. If you're doing road riding, then you'll need to know how to ride in a group," he says.
Learning how to draft and match pace with other riders is essential in large group rides. Starting June 4, Great Rides hosts Riding 101, a weekly group ride at 6:30 p.m. on Mondays. Ramstad says this ride will be perfect for locals who are new to group riding etiquette.
5 tips for beginners
Although the specific etiquette depends on where and how you will be biking, here are five guidelines to consider.
1. Respect the rules of the road.
"Use hand signals, be visible with lights and reflective clothing and, generally, ride defensively," says Aaron Jost, a Fargo cyclist who completed 30 Days of Biking last month.
Visibility is key.
"The harder the lights or clothing to ignore the better. Ride predictably, like a vehicle, going with traffic and following traffic rules," says Josh Majeski, a 24-year-old cyclist who commutes to work at Twenty Below Coffee Co. in downtown Fargo every day.
2. Ride with another person or a group.
Ramstad says that riding alone isn't always a good idea, especially if you're new cyclist.
"Riding with one other person can really add to the enjoyment of the ride, give riders the opportunity to draft and increase safety," he says.
Drafting is when cyclists rotate through a line, taking turns riding up front. The rider in front is the leader, charged with "pulling" the other. Leaders are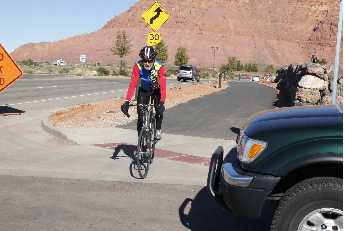 advised to keep a steady pace. Those who follow are instructed to stay close, overlapping your front wheel with leader's rear wheel if possible. But don't risk this closeness if you're not comfortable. When it's time to switch, the leader peels off and latches onto the back.
"The worst is if you're riding with a person who never takes turns," Ramstad says. "If riders in the Tour de France do it, then you should probably draft, too."
3. Try out different routes.
"Find some bike route maps in town and just go use them," says Jon Walters, a 29-year-old outdoor enthusiast and founder of Nature of the North.
Jost says his most positive experiences are when he's riding with his family or in a group.
Those interested can join the celebratory 30 Days Ride and Bike Giveaway today at 2 p.m. (Read more about other locals 30 Days of Biking experience at inforum.com.)
4. Test out routes before commuting by bike.
Majeski also recommends a test run on a weekend before commuting by bike.
"Anyone commuting should give themselves extra time than they expect they need in case of problems," Majeski advises. The extra time can eliminate surprises.
5. Check the weather, then your wardrobe.
"Often if I'm going to ride with a more experienced rider, I'll look at the types of clothes they are wearing," Ramstad says. "If they're wearing long sleeves, then I might consider a T-shirt since I know I'll have to work harder to keep up with this person."
Ramstad also says padded pants or bike shorts are a must. "They really make a difference for those longer rides," he says.
Other clothing items he recommends are tights for the colder days, lightweight jersey shirts (long sleeves, T-shirts and sleeveless) and gloves.
"I use my padded gloves all the time when I'm mountain biking," Ramstad says. Padded gloves shield his hands from the bumpy ride.
3 tools and maintenance techniques
To area cyclists, the bike's beauty lies in its simplicity.
"Bicycles, in general, are fairly simple machines," Walters says. "With a little basic understanding, you can get those machines to last longer and perform better overall."
Both Ramstad and Walters say it's important to give your bike a quick check before summer.
"A simple standard tune can greatly improve your summer biking experience," Walters says.
Ramstad says tools like a bike pump and chain lube or chain oil are necessary as well.
Perhaps more importantly, safety checks on specific bike parts are vital.
"I always think it's important to have enough basic understanding of your equipment that you can maintain it effectively," Walters says. "Maybe not fix everything, but enough to keep you going."
Before pedaling to your heart's desire, check these four things on your bike.
1. Brakes
Check to see if your brakes are clean, working and properly positioned. Also, know the type of brakes on the bike (rim brakes, disc brakes and drum brakes).
"Although each bike model will have different guidelines about when to check or replace parts after a certain amount of miles, it's still always important to check your brakes whenever you start to ride after a long period of time," Ramstad says.
Ramstad says a mechanic from a local bike shop can always answer questions.
2. Tires
"Make sure all your tubes are fine," Ramstad says. "If you're running tubeless, then make sure the sealant (on the tires) is fine."
Area cyclists advise a quick check of tires each day. (Most have a story of when they didn't and paid the price of a long walk, dragging their bike home.)
"It's essential to know how to fix a flat when anyone leaves home to go a distance further than they want to drag a bike, " Majeski says.
3. Chains and derailleurs
"Make sure the chains on your bike are properly oiled," Ramstad says.
The derailleurs are gears on a bike consisting of a chain, multiple sprockets of different sizes and a mechanism to move the chain from one sprocket to another.
"Make sure your derailleurs are in semi working order," Ramstad says. "But this is not a huge deal because you can still make it in if there is a problem."
Chains and derailleurs will likely last a awhile, especially on road riding bikes, according to Ramstad.
"My road bike has lasted more than five years without much maintenance," he says.
Majeski recommends searching the web for tutorials if you're confused about how to check any of these features.
"Basic care like chain and brake maintenance are good and can be learned via YouTube, but anyone can take it into a shop and have that done there fairly inexpensively," Majeski says.
Walters says many area bike shops will help area cyclists, but the skills for simple tune up are more than accessible for the average bike owner. T
"Hunter Nickel and I decided to partner on this event after our paths crossed helping Wild Terra create their 'Bike and Outdoor Market' (planned for May 31) this summer," he says. "I knew that I wanted to learn more about my own bicycle and get it ready for the season, so I figured partnering with someone that lives and breathes and then providing that to our community would be nothing but a great idea."
This workshop will teach brake and shifter adjustments, chain and gear maintenance. Even if a person can't attend this workshop, Walters and other cyclists agree.
"The only thing stopping you from riding your bike is yourself," Walters says.