PUBLISHED:  | UPDATED: 
New bicycle repair stations are set to be installed at Cupertino High School, Fremont High School, Homestead High School and Lynbrook High School by June.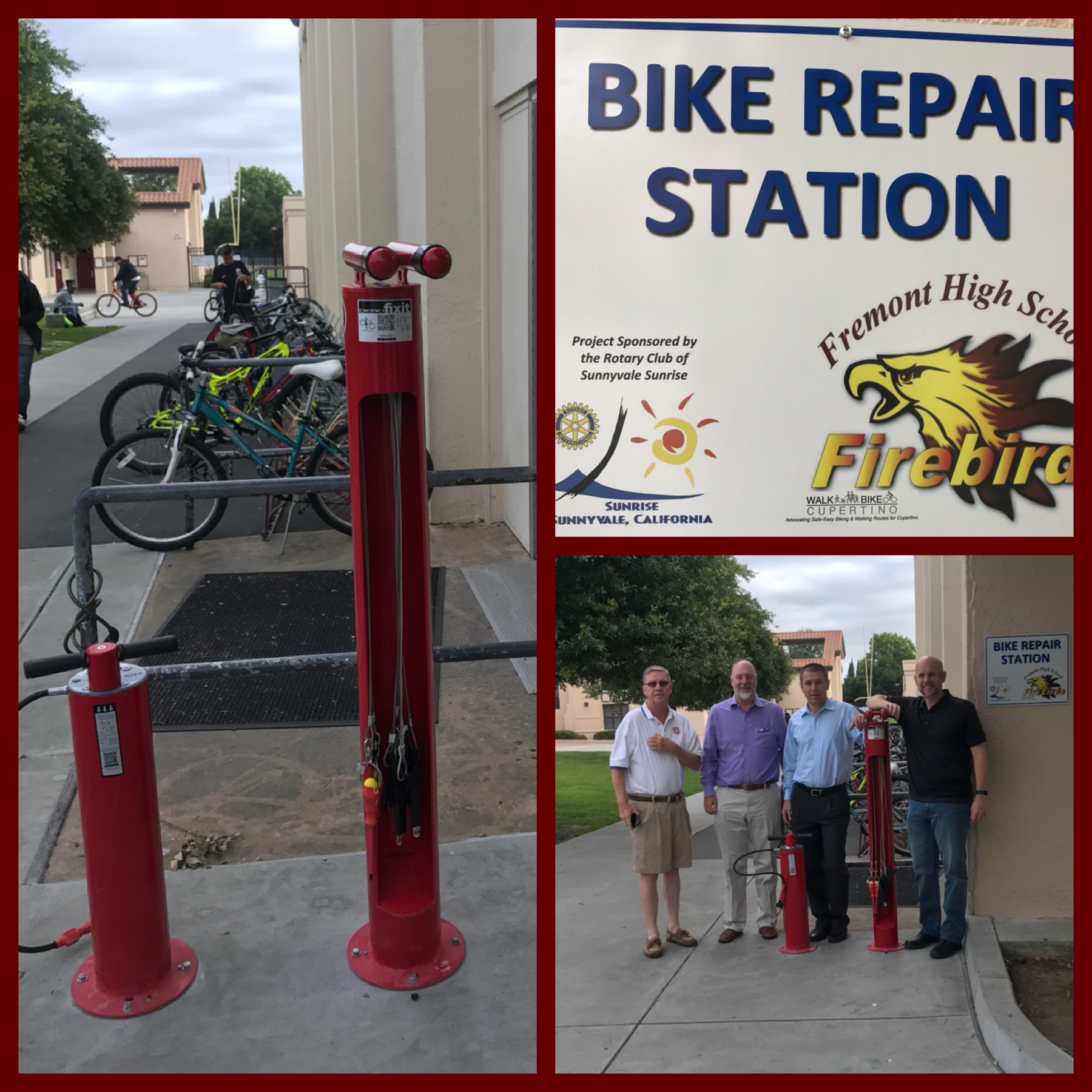 The campuses will join Monta Vista High School and De Anza College, both of which already have repair stations.
The effort is the result of a partnership between the Fremont Union High School District, advocacy group Walk Bike Cupertino, and the Cupertino and Sunnyvale Sunrise Rotary clubs.  Larry Dean, founder and board member of Walk Bike Cupertino, says the repair stations can help "further provide an environment where it's safe and easy to cycle."
"There are two main reasons why students don't ride their bikes: safety and flat tires," he said. "The city is working hard at making it safer with the implementation of the Bike Pedestrian Plan and the Safe Routes 2 School programs. We are helping the student community in making the proper tools and air pumps more easily accessible."
Dean said each repair station costs about $1,800. Cupertino Rotary is funding $900 toward each station going in at the Cupertino schools, while Sunnyvale Sunrise Rotary is contributing $900 for Fremont High's repair station. The schools will cover the remaining costs.
De Anza College installed its first repair station in fall 2015 and has since installed one more. Monta Vista High School installed a station last year.
The stations are manufactured by Dero Corporation in Minnesota.
Each repair station includes a mounting rack, a set of standard tools attached to the station and an "industrial grade" bicycle pump, according to Dean.
Erik Walukiewicz, director of facilities with the district, said that the repair station at Monta Vista has proven helpful.
"Kids use it; I think it's really cool," he said. "In the last several years the district has seen a huge increase in kids biking to school. We really try to build up the infrastructure to make sure kids have places to park all these bikes. The amount of bikes goes up every year, and we think that's a good thing."
He adds that the repair stations can be an extra measure to help keep students safe.
"If a kid gets a flat tire or needs to fix something on their bike like adjust the seat, it's good to have the station there so they can do a quick repair and get home safely," Walukiewicz said. "I think any time you have something, even a pump to put air in tires, that's a benefit."
Dean said he hopes to see more stations installed around the city to encourage more people to venture out on their bicycles.
"We have a vision of these systems being strategically placed around the city, perhaps at selected parks, along major bikeways or high traffic businesses," he said. "Next year, with Cupertino Rotary support, I hope to have the bike pumps installed at all five (Cupertino Union) middle schools."