I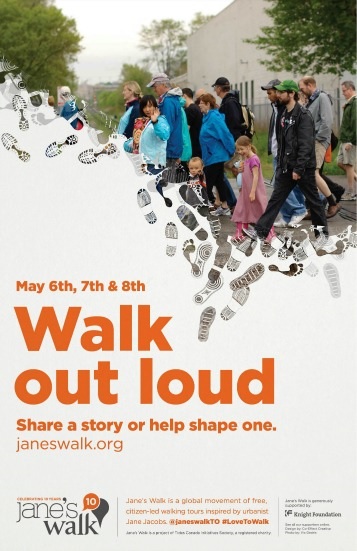 'm writing to invite you to lead a Jane's Walk and share your story about your neighborhood. As you already know, San José is a diverse, inspiring city with a rich history. Jane's Walk provides an engaging way to celebrate San José's past, present, and future.
Last year, Jane's Walk weekend in San José included 8 walks and a bike ride. You can see some of the highlights from 2015 in our Storify collection. We've also got a short video that reflects on Jane's Walk in San José—please take a few minutes to watch to get a better sense of why walkability is so important to me and to our community as a whole.
This year, we're aiming for even more citizen-led tours in all corners of the city, from downtown, to our trails, to your neighborhood—you can connect with us and begin planning your walk on our San José Jane's Walk page.
May 6th, 7th & 8th: Jane's Walk 2016 International Festival
Jane's Walk is a global movement of free, locally led walking tours inspired by iconic writer and urban activist Jane Jacobs. The walks help get people to explore their city through walking conversations about what matters to them. In 2015, there were more than 1000 walks in more than 130 cities across 6 continents. For more information on what the Jane's Walks from around the world look like, take a look at their blog.
Anyone can lead a walk. Or a ride!
Everyone knows something about where they live. Every perspective is important to building vibrant and healthy cities. Jane's Walk is about sharing the stories that bring communities together. Anyone can lead a Walk and organizing one is easy. It involves planning a route, thinking through the stories, places, people and ideas you want to hear and talk about, and then registering it online through the San José Jane's Walk page.
Leading a Jane's Walk can be as simple and informal (or as detailed and formal) as you like—it's your walk to celebrate your community.
Think you might know someone who would make a great Walk Leader? Please share this email and put us in touch with them!
Join us for Jane's Walk 2016.
While each walk is organized and led by a Walk Leader, California Walks is here to help! We've got access to promotion tools and templates, tips for Walk Leaders, and more. Don't hesitate to contact JanesWalkSJ@californiawalks.org for additional information. Thanks very much and we hope to see you out there!
Sincerely,
Jaime Fearer
___
Jaime Fearer, AICP
Planning & Policy Manager
California Walks
Cell: 408.693.0602
www.californiawalks.org
Stepping Up for Health, Equity & Sustainability