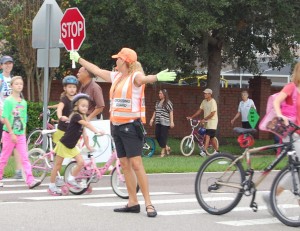 Riding on Sidewalks and in Crosswalks
The state vehicle code specifies that individual cities may create their own laws regarding bicycle riding on sidewalks and in crosswalks.
Cupertino's ordinance regarding cycling in crosswalks states that it is illegal for bicyclists (including minors) to ride in a crosswalk – you must get off and walk. Cupertino is the only city in Santa Clara or San Mateo Counties with such an ordinance. This applies to both marked and unmarked crosswalks at controlled and uncontrolled intersections.
Cupertino's ordinance regarding sidewalks also states that children aged 12 and under may ride on a sidewalk or pedestrian path as long as they are considerate of pedestrian safety.  Adults may ride on the sidewalk only if accompanying a qualifying child.
Unfortunately the ordinances regarding riding on sidewalks vary by city and by county, making this a complicated issue for cyclists riding through multiple jurisdictions. For more discussion and city-by-city ordinances, see this link.