What We Have Done
Since Walk-Bike Cupertino's inception, the city has committed more than $15m in bike/ped safety projects, with most of the costs covered by grants. This is a distinct turnaround from the prior ten years of very low resource allocation. See the buttons below for specifics on each project.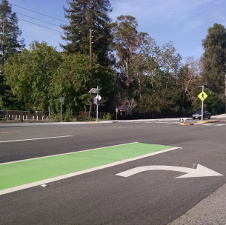 Bike/Ped City Budget – In 2019, the Cupertino City Council accepted a $9.8M donation from Apple to fund many bike/ped projects; designated $2.1M for construction of the Regnart Trail, $600K for the construction of the Linda Vista Trail, and $1.3M for sidewalk improvements on Orange and Byrne. These are in addition to other projects that have already been funded for Feasibility study, design and/or construction in the past several years. This is a huge turnaround from prior to the start of Walk-Bike Cupertino.
Walk-Bike Cupertino has been the foremost and most vocal advocate for all these projects, directly leading to their approval and to the acceptance of the grants from Apple to fund many of them.
Planning. We work closely with Cupertino City staff and the Cupertino Bicycle-Pedestrian Commission to identify and prioritize Bike/Ped projects and provide guidance in their design.
Newsletters. Walk-Bike Cupertino publishes a regular newsletter available to anyone, and also sends out email updates on key events and milestones for biking and walking. (We do not share our mailing list with anyone.)
Collaboration with local schools, colleges and organizations. We worked with DeAnza College to open up bike entrance on McClellan Road;  we worked with Cupertino Rotary to fund a bike repair station at DeAnza College; and we provide assistance to elementary schools through creating "how-to procedures" for safe drop off/pick up and tips for all CUSD parents published in their monthly newsletters. We provide support to Safe Routes to School, especially with their Walk Audit projects.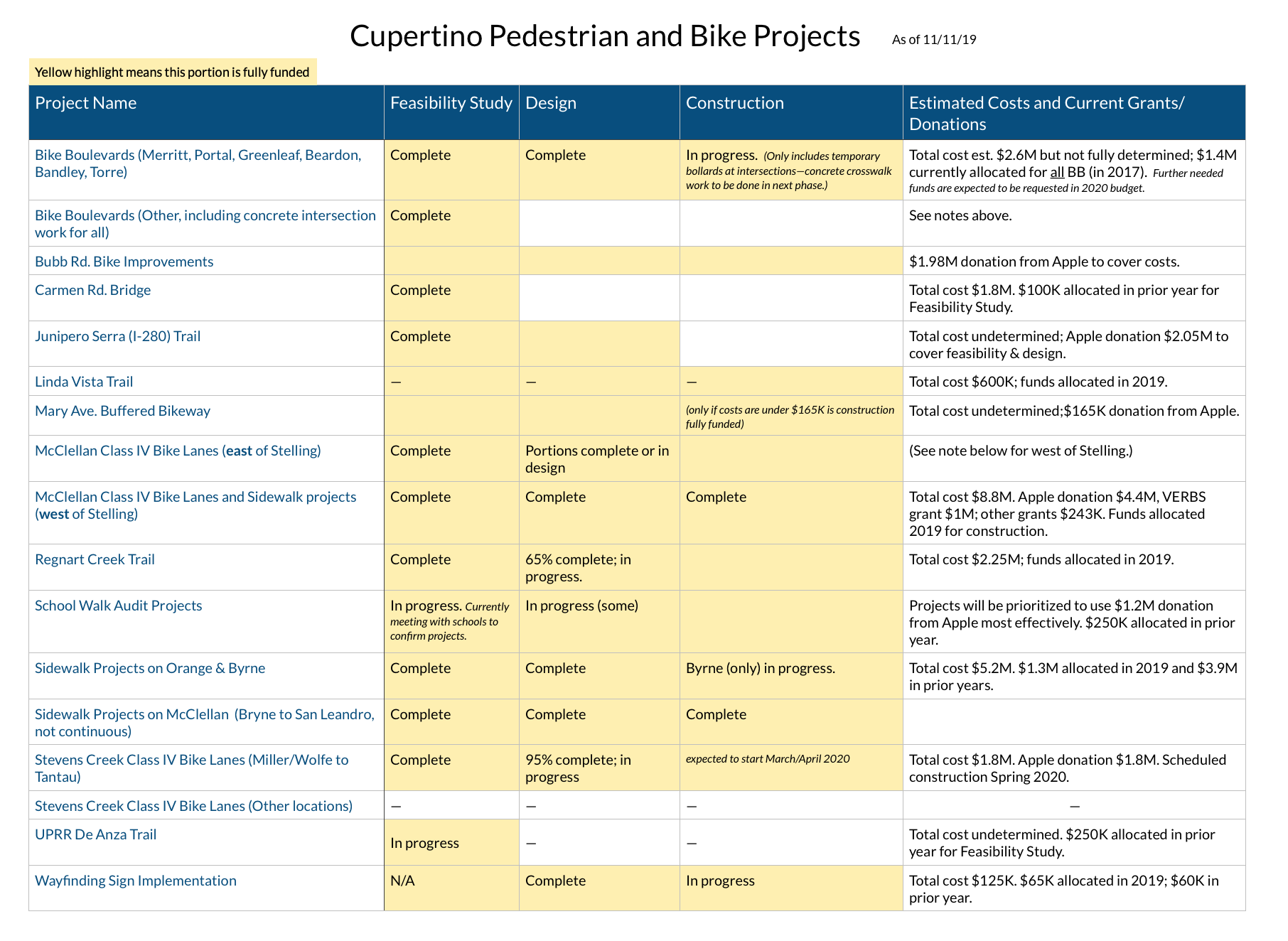 What's a feasibility study?
A Feasibility Study is created by the City Staff for large Transportation Projects. It simply answers the question, 'is this project possible? with a ballpark cost for several options, without details such as final costs, environmental studies, site plans, etc. There are often several alternatives mentioned in the study, one or more which may become the recommended design before or during the design process.