Key Facts About the Walk Audit Projects
Cost of Construction: $1.2M donated by Apple
Projects: Projects are all located at or adjacent to Cupertino schools, at locations around the city.
Type of Project: Varies, depending on location.
Preliminary 2017 Walk Audit reports of planned projects can be found here from the City of Cupertino's website. 
Current Status (November 2021): Preliminary plans for each school were reviewed in meetings of school administration, Safe Routes Champions (parents), and City Staff members at each school location. The projects were divided into three phases: minor (Phase 1), moderate (Phase 2) and major (Phase 3) improvements. Phase 1 improvements are complete. Phase 2 improvements were prioritized in December 2020 and are currently in design.
Why Does Walk-Bike Cupertino Support this Project?
A safer way to school
These improvements will help all our neighborhood schools to be easier and safer to reach by walking or biking to them.
Areas for improvement identifed by parents and school administration at each school
Parents that send their children to the neighborhood schools and the administration at each school know the problem spots most. They have been the creators of the improvements with the support and guidance of the Cupertino Transportation Department.
Actively getting to school is beneficial for students
Getting to school by walking or biking improves children's academic performance and promotes healthy bones. Children who do have lower levels of childhood obesity and promotes healthy bones. (Source:https://www.portlandoregon.gov/transportation/article/281464)
Less traffic at schools and in neighborhoods
If kids are able to walk or bike to school safely, parents may let them! All our local schools have extremely high traffic congestion during school pickup and dropoff times. Every child that walks or bikes to school means one fewer car on the road. The additional cars that are on the road each morning driving students to school are a likely contributor to congestion in our neighborhoods, too.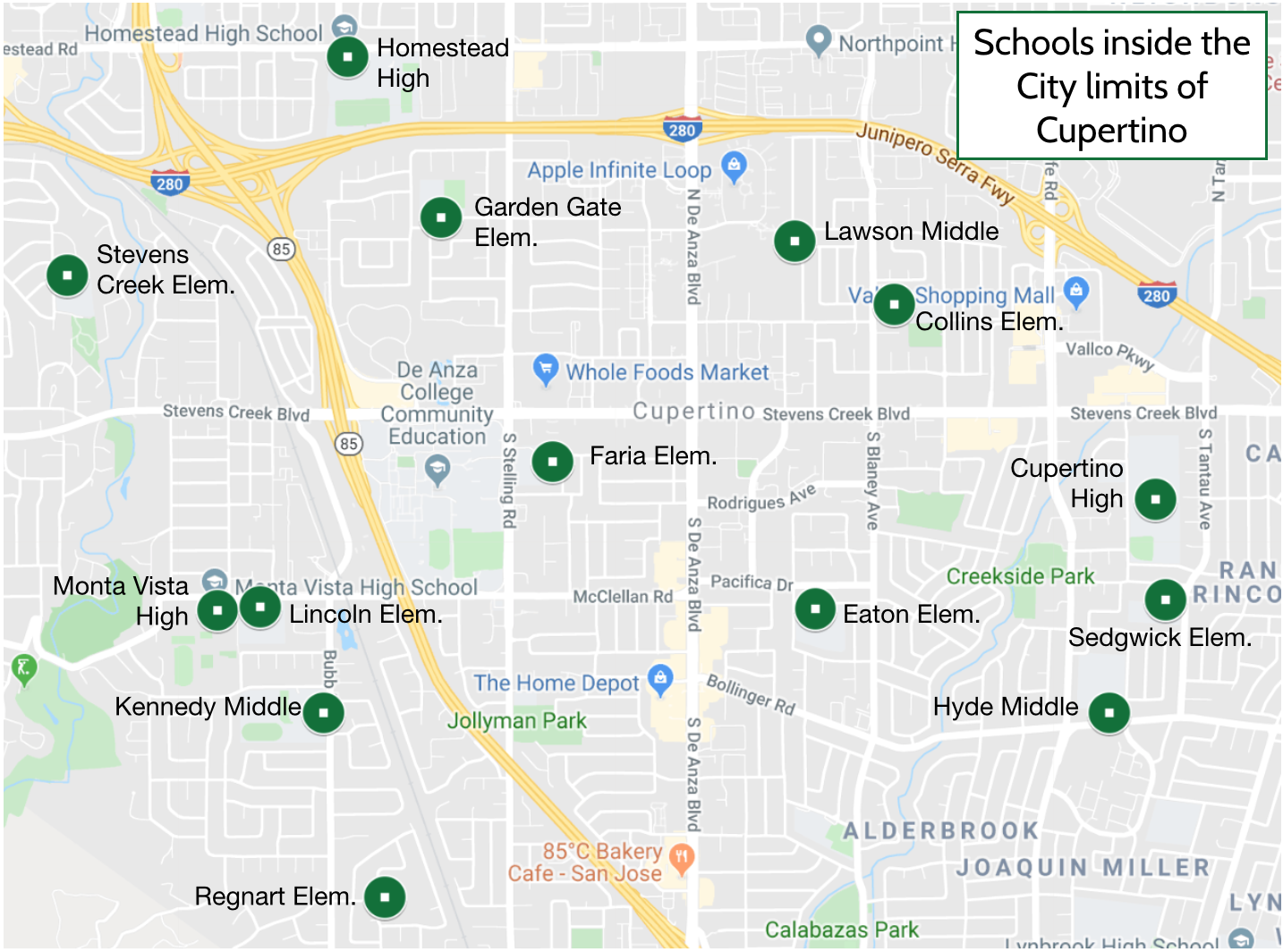 Here is a sample map from Cupertino High School. For all the maps and memos regarding the walk audit projects, click here.
How Walk-Bike Cupertino has actively supported this project
Walk-Bike Cupertino has:
Been an active participant, including acting as Parent Champions for Safe Routes to School, in creating and implementing Walk Audit Projects in Cupertino.
Provided information, maps and data to residents, City Council and Staff regarding numbers and locations of school children and necessity for these projects; actively participated in walking and biking audit counts of students at various schools.
Kept supporters up to date on upcoming events and milestones for the project via email newsletters;
Coordinated and gave vocal support at City Council meetings, when this topic was to be discussed;
Met with City Staff, Bicycle Pedestrian Commission, and Cupertino City Councilmembers and attended public outreach meetings to discuss details of the various projects and to encourage progress and adequate staffing.